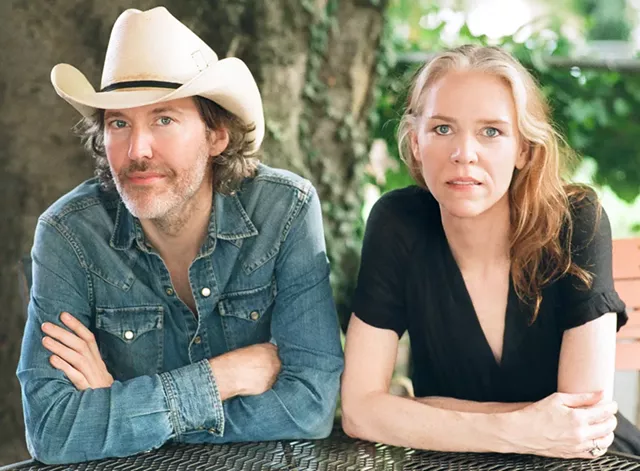 Courtesy Of Henry Diltz
David Rawlings and Gillian Welch
These days, when Gillian Welch and David Rawlings cut a record, they literally cut a record. In 2013, the longtime musical duo purchased a record lathe so that they, along with mastering engineer Steven Marcusson and assistant engineer Brent Bishop, could cut their own master discs — the plates that record plants use to press vinyl LPs.
Doing so has allowed Welch to reissue her earlier albums on vinyl for the first time. Last year she rereleased 2011's The Harrow & the Harvest on her label Acony Records. Next up, also on Acony, is 2003 album Soul Journey, available on vinyl August 10.
It's almost inconceivable that Welch's music hadn't received the record treatment until now. The depth and nuance of her gorgeous, gothic brand of acoustic Americana would seem tailor-made for the sonic richness and intimacy of vinyl. And, in fact, it is. As Welch recently said, "We've always worked with the LP in mind." But, she noted, when her career began in the 1990s, "vinyl was temporarily dead." Indeed, her first two albums, Revival (1996) and Hell Among the Yearlings (1998), were released on CD and cassette.
Soul Journey is a curious album in the Welch canon. Following her placement on the soundtrack of the 2000 Coen Brothers hit O Brother, Where Art Thou? and the release of her critically adored 2001 record Time (The Revelator), Welch was entrenched as a rising star in the exploding realm of acoustic Americana. But Soul Journey was different — a notion illustrated by its two most famous cuts, album bookends "Look at Miss Ohio" and "Wrecking Ball."
The former opens the record in archetypal Welch/Rawlings fashion: A sleepy dobro breezes around the loping strum of an acoustic guitar. Then, on perhaps her most recognizable lyric, Welch sings of her restless Miss Ohio: "She says, 'I wanna do right, but not right now.'" Thirty-nine minutes later, "Wrecking Ball" closes the album with anthemic folk rock, including — gasp! — electric instruments.
In between, Welch, Rawlings, Son Volt bassist Jim Boquist and Austin songwriter Mark Ambrose weave a tapestry of typically beautiful acoustic numbers ("Make Me a Pallet on Your Floor," "One Little Song") and more rambunctious — for Welch, at least — full-band cuts, such as the chugging "Wayside/Back in Time" and the organ-tinged "Lowlands." As Welch put it to Seven Days by phone, "Soul Journey was a tiny bit of a crazy quilt."
Welch and Rawlings perform on Thursday, July 19, at the Flynn MainStage in Burlington.
SEVEN DAYS: I understand you've taken a rather hands-on approach to pressing your records. Can you tell me more about that?
GILLIAN WELCH: You may not know this, but it used to be that whoever was actually cutting the groove would inscribe their initials. If you look at old records, you'll see them. Well, if you look at our records, it's Steven Marcusson, David Rawlings, Gillian Welch and Brent Bishop. I don't know how many artists out there are actually cutting the groove on their phonograph record. So all that is to say is that, yes, it's pretty hands-on. We purchased a lathe and custom-built the lathe to be able to produce acoustic music the very best way possible.
SD: Why go to all that trouble? That's not something a lot of folks would do.
GW: Ever since I was a kid, I was listening to music off phonograph records. And it always made me sad that when we came along and when I actually started putting out albums, they weren't albums. So the fact that we were finally remedying that, it was really important to us to do it right. David and I put so much effort and care into every step of recording.
We still record on tape, even though they don't even really make tape anymore. We bought tons of tape before they stopped making it. We work in an analog studio that has no Pro Tools or digital recording devices in it, because that's not how acoustic music sounds best. It's not to be antiquated; nothing is arbitrary. Everything is a tool to get the final product.
The same is true for the vinyl. Every step of the way is so that it would sound beautiful. And I kinda think we built the best-sounding lathe in North America. I can't speak to the rest of the world, but I haven't heard anybody else's that sounds better.
SD: In an interview with Stereogum, you said that the process of cutting the LPs has enriched your understanding of the albums. How has that helped you better understand Soul Journey?
GW: I'm really happy to say that this phonograph pressing of Soul Journey sounds about 100 times better than CD. The albums hangs together better on vinyl than it ever did before. There's something that happens with the phonograph sound waves that makes the record sound more cohesive.
SD: How has your relationship to that material changed over the last 15 years?
GW: I don't think I could have told you that "Wrecking Ball" would have hung around and become some people's favorite song. I think when we started the session, "Wrecking Ball" wasn't even in it.
Also, we knew that a lot of the songs weren't going to be acoustic duets. We knew they were different kinds of songs, but we didn't have much of a plan. We didn't really know what we were doing. Like, I don't think we had any idea that Dave was going to play organ. Dave played virtually no guitar. He played organ and drums and a little bit of guitar.
So what strikes me now about the album is that we had really open minds, and we weren't really judging ourselves. Whatever seemed like the thing to do to the song, that's what we did. It was an extremely un-hung-up record. That's what I like about it now. So I'd like to applaud us for not being hung up. [Laughs.]
SD: I applaud you, as well! I was reading reviews of the record from 2003, and it seemed many critics didn't approach it with quite the open minds you had when making it.
GW: Yeah! I totally agree. But I like that we weren't really worried about it. In some regards, I feel like it's about the closest we've come to making a record the way I've imagined somebody like Neil Young would make a record. I've always had this impression that he just doesn't worry about it, that he just does it and keeps moving forward.
SD: It's been a while since you've released an album of new material. Do you have plans for a new studio album at some point soon?
GW: Yeah. We've just barely started doing some recording. We actually have made two Dave records since the last Gillian record. So it feels like we've been busy. I mean, we've definitely been busy. It's not like we've been on a vacation.
SD: Well, you did build a lathe.
GW: We built the lathe. And we started releasing our records on vinyl. And we started our bootleg series and put out the first volume of that, which is all the studio outtakes and demos from Revival. So, yeah, I'd say we're due for another Gillian Welch record.