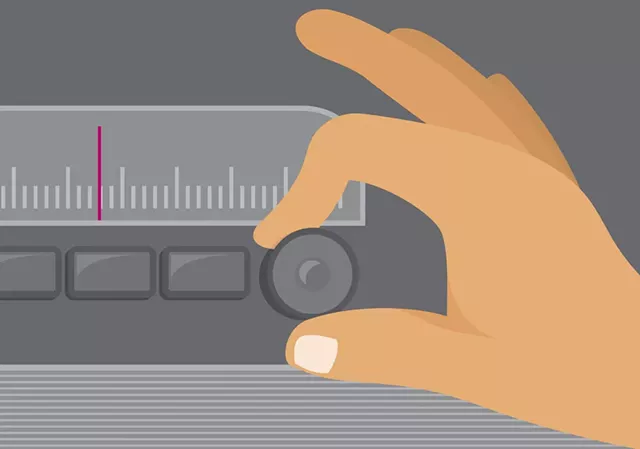 Longtime Seven Days reader and habitual Whiskey Tango Foxtrot idea contributor Steve Crafts wrote in this month to ask whether someone at Vermont Public Radio is deliberately messing with his mind.
In recent years, Crafts has noticed that, while listening to VPR on 107.9 FM in his car, he periodically hears a "strange echo or stutter" that makes it sound as if speakers were repeating their last word or phrase.
Initially, Crafts thought his car stereo was getting a little hinky — until he heard the glitches in other vehicles, too. He's noticed them only on VPR, not on other local FM stations, seemingly ruling out explanations such as radio signals bouncing off mountains or getting caught in some atmospheric aberration.
"Am I getting tweaky from listening to too much real news?" Crafts asked. "Or is there a hippie boomer getting creative with their soundboard?"
Many regular VPR listeners know that "Morning Edition" local host Mitch Wertlieb is a big Deadhead, as we noted in a previous edition of this column ("What's With All the Grateful Dead Music on Vermont Public Radio?," April 12, 2011). This time, however, we can't pin the spacey sound effects on "Morning Dew" Mitch — who, incidentally, is a member of Generation X, not a boomer.
Turns out, that freaky phonic phenomenon is an unavoidable consequence of the digital broadcast technology VPR uses to provide enhanced service to its listeners. Kira Parker, a VPR broadcast engineer, walked us through the wireless weeds to explain why the stutter occurs.
In 2006, VPR became the first radio station in Vermont to broadcast using in-band, on-channel (IBOC) technology, a method of transmitting digital and analog radio signals simultaneously over the same frequency. IBOC is more commonly known as HD Radio, a trademarked brand developed by iBiquity Digital. According to the company's website, "HD" is not an abbreviation of "high definition" or "hybrid digital," though the website doesn't specify what it actually stands for. (Heavy duty? Hip dysplasia? Häagen-Dazs? Your guess is as good as ours.)
Basically, HD technology overlays a conventional analog FM signal with a higher-quality digital signal that has none of the static, hiss, pops and fades of conventional radio signals.
HD Radio has other capabilities, as well, including multiple channels of content. If you're listening to 107.9 FM in Burlington on a conventional radio, you'll hear news, music, pledge drives and the like. On an HD Radio, you'll hear the identical content on 107.9-HD1, but you can also switch channels to hear VPR Classical on 107.9-HD2 and BBC News on 107.9-HD3.
As Parker explained, the broadcast power behind the digital HD signal isn't as strong as the analog one. So, if you're listening in an area where radio coverage is spotty, or if you drive into a tunnel or "fringe area" of the broadcast range, the digital signal will drop out before the analog signal does. Assuming you're listening on an HD Radio when this occurs, the radio will automatically switch to the analog signal.
This switch doesn't always happen seamlessly, though, because HD Radio is subject to "diversity delay drift." (Warning: weeds ahead.) When VPR sends its audio signal to its 28 transmitters throughout the state, the analog signal goes there directly, while the digital signal must travel through a series of additional processors. That extra processing creates a lag time between the two signals, Parker said. So the system delays the analog signal for eight to 12 seconds to make the two signals match up as they go out over the airwaves.
That lag time or "diversity delay" between the analog FM and digital HD signals varies based on factors such as how the signal gets sent to the transmitters in the first place. For example, there are two different means of delivering the signal to the top of Mount Mansfield, where VPR has a broadcast tower: a microwave feed and an IP link, each with its own unique lag time.
Because HD Radios must be able to switch between digital and analog, Parker continued, VPR has equipment whose sole function is constantly to monitor that diversity delay and, using complex algorithms, correct it before the signal is emitted.
Still, radio signals are constantly drifting, Parker noted. Most of the time, those corrections aren't noticeable to listeners. But occasionally there's an audible lag as the algorithmic alchemy catches up, hence the echo or stutter that sounds like a skipping CD.
VPR listeners are most likely to notice this phenomenon in their vehicles, Parker said, though it can happen on home HD Radios, too, particularly to listeners in fringe areas. It can also occur when VPR is temporarily broadcasting at a lower power. Obviously, you won't hear this acoustical anomaly when streaming VPR online, because the signal doesn't go through any HD hocus-pocus.
Why has Crafts noticed the echo only on VPR and not on other local stations? That's an easy one: VPR is one of just three stations near Burlington broadcasting in HD; the others are 91.9 FM WAMC (aka Northeast Public Radio), which transmits from Plattsburgh, N.Y.; and 91.5 FM WGLY (aka the Light), a religious station.
As for whether Crafts, or anyone else, is "getting tweaky" from listening to too much "real news" — sorry, but as they say in broadcast news, sometimes the truth hertz.