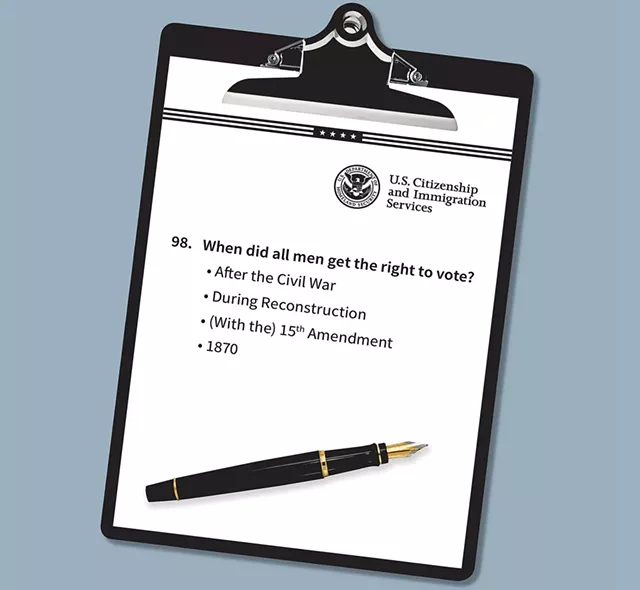 Most weeks, Whiskey Tango Foxtrot seeks to answer questions that befuddle or pique the curiosity of our readers and staff, such as: "Why are there suddenly so many rabbits around?" "What's that golf ball-shaped dome overlooking St. Albans?" and "Why can't Vermonters be composted when they die?" Other times, the column highlights outrageous, absurd or inexplicable observations.
This week's column falls into the last category.
On December 1, U.S. Citizenship and Immigration Services changed the naturalization test it administers to foreign-born individuals who are applying for U.S. citizenship. The oral exam has two parts — English and civics — and only the civics portion was changed. But immigrant rights groups have expressed concerns about the revisions, including their timing, which were announced only weeks before taking effect.
Here's how it works: For the old test, applicants prepared for 100 possible questions, from which an examiner would choose 10 for them to answer. An applicant had to answer six correctly in order to pass. In fact, once the person answered six correctly, the test was over.
With the new test, applicants must prepare for 128 questions, from which they're asked 20. Test takers must still get 60 percent, or 12 answers, right. But, inexplicably, even if the applicant gets 12 correct, the examiner still asks all 20. Why? To earn extra credit?
In its November announcement, USCIS officials explained that the test would be changed to ensure that new citizens have a more comprehensive understanding of the American system of governance. But some immigration advocates contend that the changes were done to make the test harder to pass, part of the Trump administration's broader efforts to stanch the flow of legal immigration.
Clearly, some questions are harder. For instance, applicants must now be able to name five of the original 13 states — previously, it was three — and the old test asked people to identify just one of the three branches of government; now they must identify all three. Incoming U.S. senator-elect Tommy Tuberville (R-Ala.) botched that one recently when he identified the three branches as "the House, the Senate and the executive."
Leslie Holman, an immigration lawyer with the Burlington firm Holman Immigration Law and a past president of the American Immigration Lawyers Association, said that some of the changes on the test seem politically or ideologically motivated.
Among them is this question: "Who does a U.S. senator represent?" On the old test, the correct answer was "all people of their state." On the new test, however, the correct answer is "all citizens of their state."
"That's a very nuanced change," said Holman, noting that if an applicant says, "all people," the examiner will mark it wrong. This change, she said, reflects the Trump administration's controversial efforts to exclude noncitizens from the 2020 U.S. Census count.
Other questions seem aimed at whitewashing American history rather than evaluating applicants' civic knowledge. Michele Jenness is legal services coordinator for the AALV. The Burlington nonprofit, which serves refugees and new immigrants to Vermont, assisted on 223 naturalization applications in 2019.
Jenness said she found several of the changes objectionable, including this new question: "When did all men get the right to vote?" The only acceptable answers are: "After the Civil War," "During Reconstruction," "(With the) 15th Amendment" or "1870."
But, as Jenness pointed out, those answers are not only disingenuous but historically inaccurate. Never mind that the question excludes women, who didn't win the right to vote until 1920. The acceptable answers also ignore Native Americans, who were officially granted U.S. citizenship in 1924 but who didn't secure their right to vote in all 50 states until the 1960s. Also overlooked is the Jim Crow era of poll taxes, literacy tests and other acts of voter suppression, which, some argue, continue to deny people of color their voting rights today.
Jenness said that, for many of her clients, some of whom fled war-torn countries, these changes are stressful. Some of her clients raced to file their applications before the December 1 deadline lest they face the more difficult exam.
"People are getting very nervous, [asking] 'What more do I have to learn?'" Jenness said. "It's just making it much more difficult to become a citizen."
"Just another brick in the wall," added Holman. She described the revised test as emblematic of an administration that, for four years, has tried to rewrite immigration laws through "executive orders and tweets" rather than through conventional rulemaking processes.
"We've had [new] rules that have gone into effect the following day, so we've been living in lawsuits," she said. "It's nuts!"
As USCIS Deputy Director for Policy Joseph Edlow explained in a November 13 press release about the new test, "Naturalization allows immigrants to become fully vested members of American society, with the same rights and responsibilities as citizens by birth..."
By now, though, it's clear that many "citizens by birth" couldn't pass their own country's citizenship exam. Jay Leno, former host of NBC's "The Tonight Show," regularly quizzed American citizens on these same questions and invariably revealed their head-slapping ignorance.
Leno wasn't the only one. In 2018, a survey of 1,000 Americans, commissioned by the Woodrow Wilson National Fellowship Foundation, found that only one in three could pass the U.S. citizenship test, even if given as a multiple-choice exam.
Among its more disturbing findings: Fifty-seven percent didn't know how many justices serve on the U.S. Supreme Court; 60 percent didn't know which countries the U.S. fought in World War II; and only 24 percent could say why the colonists fought the British.
The majority of Americans surveyed knew what led to the Cold War, but 2 percent said "climate change," which, even Leno would surely admit, is pretty funny.