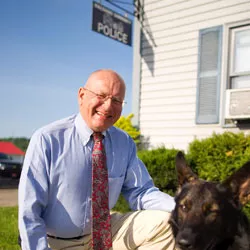 Jeb Wallace-Brodeur
Chris Morrell
Vermont's small-town police departments have seen plenty of drama in the past few years, from Vergennes' drug-addicted chief to a department-wide porn probe in Rutland. In April 2009, Hinesburg started the process of dismissing its top law enforcer. Now, after more than a year of silence, town officials are talking about the chain of events that led Hinesburg to fire well-liked Chief Chris Morrell.
Morrell tells Seven Days in an interview that he was forced from his job by conflicts with a deputy chief whose "aggressive" tactics eroded the department's credibility and a town hall that didn't back him up.
Hinesburg Town Administrator Jeanne Wilson and Fred Silber, the former deputy who is now Hinesburg's police chief, are firing back that Morrell was a passive and ineffective manager who allowed petty disputes to escalate and poison the department.
Little was known about the tensions roiling in the police department when Morrell was placed on administrative leave more than a year ago. But a 135-page arbitrator's report released when the town officially fired Morrell in March 2010 reveals how trivial squabbles festered into serious problems that led to distrust on all sides. Morrell was fired for fostering poor morale in the department and for not letting the deputy chief do his job, according to arbitrator Michael C. Ryan. Ryan determined the town of Hinesburg was justified in letting Morrell go.
Now Morrell is bringing a bombshell wrongful-termination lawsuit that demands his job back and adds more fuel to the fire — dredging up old incidents and accusing Silber of roughing up suspects. Morrell's lawsuit points to a 2007 interrogation of a drug suspect that Silber carried out and admits was unlawful.
Speaking publicly for the first time about the saga, Silber tells Seven Days the interrogation was a mistake but says Morrell's accusations of unnecessary force are baseless. Silber, who came to Hinesburg in 2006 after 30 years working narcotics, sex-crimes and other units for the Miami-Dade police force, believes Morrell felt threatened by the professional experience he brought to the department.
The Hinesburg ordeal shows that a few personality conflicts in a small police department can be enough to upset long-standing relationships and balances of power.
For her part, Wilson says the department is functioning better now that Morrell is gone. She wants the town to move on. But with Morrell's lawsuit working through the discovery phase and lawyers prying for more details, her wish will most likely be delayed.
By all accounts, Morrell was a well-regarded and skilled police chief who ran the department without incident for years. He was hired as Hinesburg's first chief in 1994, after two decades working as a deputy sheriff in upstate New York. In Hinesburg, he was the first full-time officer, running the department out of a small office with no phone, firearms or even a working typewriter.
In 2003, Hinesburg retained former Vermont Public Safety Commissioner James Walton to evaluate departmental operations. Walton praised Morrell's shop as a "model" for how Vermont towns should do community policing and called the chief a "visionary police manager with the energy and stamina needed to lead a small agency into maturity."
But Walton also noted Morrell was "stretched thin," and increased workloads were straining his officers. By then, there were three full-time officers, three part-timers and an administrative assistant. Walton recommended hiring a second-in-command to take some pressure off the chief.
Meanwhile, minor disagreements were sowing division within the department. The arbitration report documents how small problems blew up, as indicated by chapter headings such as "Neckties" (a female officer fought with Morrell over his insistence she wear a necktie as part of her uniform) and "File-Cabinet Issue" (the chief put a new filing cabinet on blocks so its top would be flush with others, then scolded an officer when she removed the blocks.)
The arbitration report portrays Morrell as a nonconfrontational manager who resorted to "passive resistance" when Wilson and the select board made decisions he didn't like. Town officials also accused him of gender discrimination, but the report cleared Morrell on that count. It does indicate the chief admitted he might have expressed a preference for performing CPR on large-breasted women.
Over Morrell's objections, the arbitrator writes, the town made the second-in-command a deputy chief's position. Morrell warned it would make the department too top-heavy. Sergeant or lieutenant would be a better rank, the chief recommended.
Morrell tells Seven Days he believes Silber was a poor fit for Hinesburg and had trouble adjusting to small-town police work. Morrell says he became aware of several incidents in which Silber allegedly used unnecessary force on individuals.
The first was a 2006 roadrage incident in Burlington in which Silber physically restrained an irate driver who accosted him at an intersection. Silber forced the driver to remain face down on the hood of his car until police arrived. Silber's report to Morrell on the incident downplayed the confrontation, saying only that he "directed" the driver back to his car — a description the arbitrator found "a bit evasive."
That driver, Doug Knox of Hinesburg, initially signed a statement saying Silber taunted him with the words "You're not so tough now." But now Knox says Silber wasn't overly forceful or unprofessional in any way.
The second incident occurred when Silber and other officers broke up an underage drinking party in Hinesburg on July 4, 2007. One of the youths reached for a cellphone, and when Silber went to restrain him, the kid dropped to the ground. The kid later told Morrell that Silber threw him down "like a sandbag."
Both encounters are subject to conflicting reports by the parties involved, and Silber disputes using unnecessary force in either instance.
What's not in dispute is that Silber unlawfully interrogated a drug suspect at Hinesburg police HQ in January 2007 — an incident cited in Morrell's lawsuit.
In that case, Silber was questioning Phat Nguyen. The night before, Nguyen had given his best friend OxyContin pills that ended up killing him. Silber read Nguyen his Miranda rights, and the suspect refused to waive them. Nguyen told Silber, "I'm going to plead the Fifth" and asked for a lawyer.
But Silber continued to question Nguyen for several minutes in hopes of getting a confession. According to a partial transcript of the interrogation, Silber told the suspect at one point that prosecutors would almost certainly charge him with a crime, adding, "It's up to them whether they want to fucking bang your ass. That's how it works. That's the real world. It's not TV ... This ain't 'Law & Order.'"
Nguyen went on to make incriminating statements and consented to a search of his body that turned up a balloon with heroin inside.
In her ruling on a motion to suppress the evidence gained during Silber's interrogation, Judge Christina Reiss found that Silber's continued questioning of the suspect constituted a "clear violation of his Miranda rights."
The transgression didn't end up affecting Hinesburg's case; police had sufficient evidence to convict Nguyen anyway.
But Morrell says Silber's conduct was "quite disturbing" and unlike anything he'd ever seen in Hinesburg.
"I had concerns my credibility might have been diminished by these actions," Morrell says. "Credibility isn't something you build overnight. I mean, it took me 12 years to get to this point, and I see somebody knocking it down."
Silber admits that the interrogation should have ended when Nguyen asked for a lawyer and says he probably wouldn't perform it the same way again.
"Clearly I wanted a confession," Silber says. "Every cop wants a confession. But what did we lose at this point? The man's in prison."
Silber maintains Morrell ran a dysfunctional police department plagued by insubordination.
"I come into the department and see subordinates are essentially running the department and doing things he didn't want done," says Silber, a University of Vermont graduate who moved back to his native Miami for a police job in 1975.
Silber says the chief cut him out of key management decisions, preventing him from doing the job he was hired to do. Silber admits he can be a "stubborn S.O.B." and is a passionate investigator, but he insists he's not overly aggressive.
"Am I violent? Prone to violence?" Silber says. "If that's what 'aggressive' means, no, I'm not. Am I aggressive in my pursuit of a case when I'm looking to solve a crime? You're darn right I'm aggressive."
Over time, friction between Silber and Morrell grew. Morrell told an underling that Silber was Jeanne Wilson's "pet project" — a remark that got back to all involved. When Morrell pressed Silber to admit that he "dumped" the youth, Silber complained to Wilson, who ordered Morrell to drop the probe. She didn't have the authority to do so.
After Silber and another officer threatened to quit over tensions with Morrell, the town asked Morrell to resign and, when he refused, placed him on administrative leave.
To this day, the accusations against Silber have not been investigated to a fact-finding conclusion. Wilson says the allegations weren't brought to the town's attention until months, sometimes years, after the fact. Town leaders were also dubious of Morrell's claims, she says, because his dislike of Silber was well known. The unlawful interrogation of Nguyen came to light only during arbitration, Wilson says, and the town lawyer advised her it was "not something to be overly concerned about."
Ryan, the arbitrator, concluded Morrell was right to look into the claims about Silber — even if they ultimately turned up nothing. Ryan faults Wilson for calling off the investigation, but adds that it's "hard to understand" why Morrell backed down.
As a manager, Morrell believed in "correcting" bad behavior rather than disciplining officers. Ironically, he was fired without any of the warnings, or disciplinary memos that Morrell afforded his own officers when he was chief. He's now a part-time officer in Shelburne.
Morrell's lawyers charge that Hinesburg ignored its own code of "progressive discipline" by removing the chief without warning him he was on thin ice.
The arbitrator disagrees, saying the "handwriting was on the wall" and Morrell should have seen it.