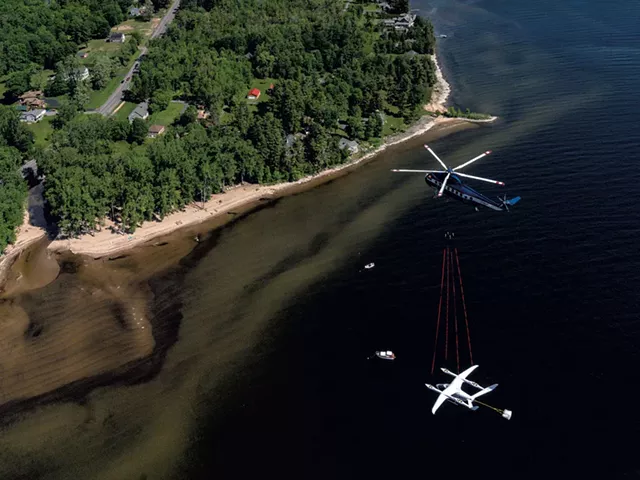 Eric Adams; Courtesy Of Beta Technologies
Sikorsky S-61 helicopter delivering eVTOL "Alia"
The skies over the Winooski River and Lake Champlain normally teem with avian species this time of year. But anyone who was near the river or happened to be driving Interstate 89 through Burlington on the morning of Friday, June 12, may have noticed a pair of unusual "birds" migrating from Burlington International Airport to Plattsburgh, N.Y. Like the mythical stork that delivers babies, the larger of the two had the smaller one dangling beneath its belly like a swaddled bundle of joy.
The "stork" — a massive, five-blade Sikorsky S-61 helicopter, similar to those used by the U.S. Coast Guard for ocean rescues — was delivering a newborn breed of aircraft: an electric vertical takeoff and landing vehicle, or eVTOL, which combines the flight characteristics of a helicopter with a drone and a fixed-wing airplane. The full-size prototype, named "Alia," was completed last year by South Burlington startup Beta Technologies and just received its airworthiness certificate from the Federal Aviation Administration in January.
Why did Alia have to be airlifted across the lake, requiring a half dozen law enforcement agencies briefly to shut down Interstate 89 and other roads in its flight path, rather than fly itself?
In short, because it needs more tests. To date, the FAA has never certified a commercial electric aircraft. The folks at Beta Technologies aim to build the first. But before the company can reach that milestone, its craft must undergo many more months of testing, all of which must be done at Plattsburgh International Airport, which lies in a less populous area than BTV, where Beta is headquartered.
"It was a pretty striking event," Tom O'Leary, Beta's chief operating officer, said about the June 12 lake crossing. The company hadn't yet unveiled its new bird to the public, mostly to avoid the hassle of fielding queries and photo requests from nosy reporters and aviation enthusiasts, he said.
However, after federal, state and local authorities made it clear they wouldn't allow the airlift to happen under cover of night simply to keep Beta's experimental aircraft a secret, O'Leary said, "We figured, people are going to take pictures, so we might as well do a soft reveal."
Alia — not its final production name — is a sleek, 40-foot-long craft with a 50-foot wingspan. It tips the scales at 6,000 pounds once its rechargeable batteries and other equipment are in place. (It was stripped to a lean 3,800 pounds for its 17-mile trip to Plattsburgh.) The eVTOL has four fixed horizontal rotors on top and a fifth vertical rotor in the rear for forward propulsion.
Beta's performance goal for the craft is flying 250 miles on a single charge, then recharging in less than an hour. That benchmark was set by its main client, United Therapeutics, which is developing artificial organs for human implantation. Eventually, Beta's aircraft will have other possible uses, such as delivering packages and transporting passengers.
As first reported by Wired magazine, which got the exclusive heads-up on the June 12 airlift, company founder Kyle Clark based the aircraft's design, including its arched wings and tapered wingtips, on the Arctic tern, which has the longest flight migration of any creature in the animal kingdom.
To date, Beta hasn't released all the specs on Alia, including its maximum airspeed.
O'Leary noted that, by normal flight standards, the 20-minute transport from BTV to PBG happened at a veritable crawl — a mere 60 miles per hour. Why so slow? If the hauling helicopter had flown any faster, he said, the air moving under the eVTOL's wings would have made it fly on its own.
Speaking of unusual flyovers seen in and around the Burlington area: A reader wrote in last month to ask about four single-engine airplanes he spotted flying in a tight diamond formation and being trailed by a red helicopter.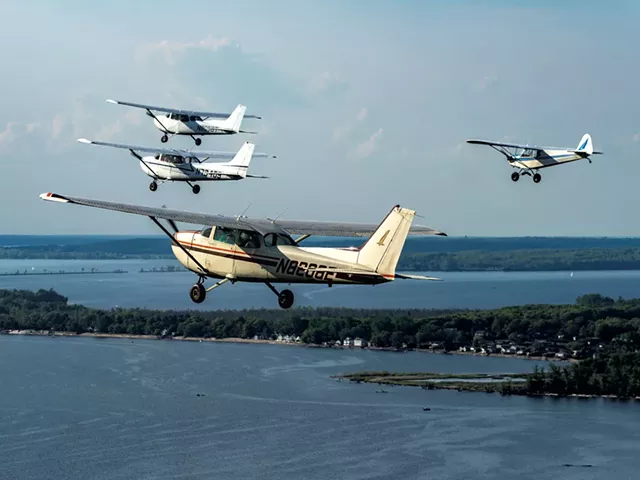 Eric Adams; Courtesy Of Beta Technologies
Beta Technologies' flying formation
As it happens, that formation was also the work of Beta. When Clark, himself a pilot, founded the company in 2017 and assembled his team of engineers, software designers and aviation industry experts, one of the perks he offered was free flight lessons. The rationale: There's no better way for developers of an experimental aircraft to understand the language, mechanics and physics of flight than by learning to fly themselves.
Last month's aerial formation, O'Leary explained, was at the request of Gene Richards, BTV's director of aviation. On August 15, the airport will mark its 100th anniversary, and the recently rehearsed flyover will be part of that celebration.
It's no wonder Beta is getting so much buzz of late. With global aviation responsible for about 2 percent of all human-caused carbon dioxide emissions, industry experts see a promising future in electric aircrafts. Aerospace companies have been racing to get their eVTOLs off the ground, and Beta is among the leaders. The company has grown from 21 employees in 2018 to 75 today — and, according to O'Leary, it's looking to hire about a dozen more.
Not a bad gig if one has the right skills and wants to learn how to fly. A fringe benefit for all of us: Unlike the newly arrived F-35 fighter jets, Beta's bird isn't loud enough to rile up its neighbors.