Tony Clark chats with a guest
Ask enough fans to describe Blueberry Hill Inn, and the word that comes up time and again is "magical." Five miles down a remote Forest Service road in sleepy Goshen, with the round bulk of Hogback Mountain rising behind it, the bright-blue farmhouse is surrounded by 22,000 acres of the protected Moosalamoo National Recreation Area. It's isolated but idyllic — the kind of place that longtime guest Cindy Allen describes as feeling "a little bit out of time."
In the summertime, guests explore the adjoining gardens and blueberry bushes; in the winter, they glide past on skinny skis. There's a wood-fired sauna for unwinding at the end of the day, and a spring-fed pond for those brave enough for an icy dip.
Presiding over this quintessential Vermont inn is Tony Clark — "the consummate innkeeper," says Rep. Willem Jewett, tiny Goshen's Democratic representative to the Vermont House. Clark's guests call him charming, a skilled raconteur, charismatic. "The real deal," proclaims Megan Smith, a former innkeeper herself and Vermont's commissioner of tourism and marketing.
"He knows how to host people, and he knows what people are looking for," she says — and that often looks easier than, in fact, it is. "Everybody is looking for a different amount of interaction," says Smith. "You're only successful if you can judge that, and Tony gets that."
Clark chalks it up to his puddle-jumping pedigree — English dry humor meets French reserve, with a healthy dash of American enthusiasm. "It comes so naturally for me," admits Clark. "You have to be intrigued, you have to be inquisitive — but not be in their face. It's that fine balance."
But what happens when Mr. Hospitality himself wants to check out? That's the question Clark now faces.
In June, after more than four decades as the proprietor, he listed Blueberry Hill Inn for sale at $1.2 million. Clark insists that he's just testing the waters, but he's put the inn on the market at a time that's notoriously bad for sellers: There's a glut of properties available, and, with financing hard to come by, buyers are few and far between.
At 68, Clark is tired. And after two failed marriages, he says he's learned the hard way that taking care of others first and your family second is a recipe for regret. Though Clark delights in his guests, his can be a lonely life.
"The inn-keeping business is like a conveyor belt of people coming through your life," he says. Occasionally, though, a friendship will stick.
"I love every minute of this operation," says Clark, who manages a staff of six employees who help run the inn. "But my energy level is obviously not as strong as it used to be."
Change of Newhart
Inn keeping has a romantic appeal. It's probably fair to assume more people are daydreaming about entering the profession than leaving it.
"We always called it the Bob Newhart effect," says Smith, referencing the 1980s sitcom in which the affable comedian played an innkeeper in rural Vermont. In short, she says, too many would-be owners only imagine decorating, baking and perhaps playing the handyman in an old, rambling house — all while living somewhere beautiful.
"It is all of those things, but it's just a whole lot more work than that," says Molly Francis, who for nine years has owned the Shoreham Inn with her husband, Dominic. Their inn has been on the market for two years.
There's really nothing romantic about it, says Smith, who owned an inn in Mendon for 14 years with her husband. It's a round-the-clock job, with few opportunities for rest or vacations. For smaller operations, inn keeping can encompass everything from cleaning the toilets to keeping the books. For larger inns, there's the added challenge of managing a staff.
None of this is new. What is changing, though, is a growing awareness among innkeepers that a stodgy old bed-and-breakfast may no longer appeal to travelers, especially when fewer people are taking vacations. That, in part, is what goaded the Professional Association of Innkeepers International to launch its Death to Doilies campaign last year.
"It's time to burn the doilies and rip off the wallpaper," says Smith.
Clark, for his part, rails against what he's nicknamed the "Laura Ashley" bed-and-breakfasts, poking fun at the line of frilly textiles and home furnishings.
The reason? Experts such as Smith say that travelers today — especially younger ones — aren't looking for tchotchkes and trinkets in their lodging. They want wireless internet access and plenty of outlets for their electrical devices. In old buildings, some of which don't even have three-prong outlets, that can be a challenge. "I had no TVs in my inn, and no telephones in my rooms," recalls Smith. It attracted some visitors and appalled others; a few checked out upon arrival.
Gone, too, are the days of taking reservations by telephone; at Killington's Snowed Inn, upward of 80 percent of bookings are made online. Trying to compete with online booking engines and sites such as airbnb.com, shrewd innkeepers are tapping into social-media sites, including Facebook and Twitter. That's a challenge for some older innkeepers — Clark, for one, outsources those duties to his staff — or those who don't have reliable, high-speed internet where they live.
Even when everything goes well, few innkeepers make a lifelong career of the work. "We were warned that … seven years is about when you start to burn out," says Smith.
Francis says she and her husband knew what they were getting into when they purchased the Shoreham Inn — but, after nearly 10 years, she says, they're ready for a change.
"In my head it makes sense that it would be a good time to buy," says Francis. There are plenty of inns on the market, after all, and interest rates are low. She points out that if a buyer purchases an established business — she points to Blueberry Hill Inn and the Shoreham Inn as examples — "you'd be walking into a job."
It's not quite so simple as all that, says Wendy Beach, Clark's broker for Blueberry Hill Inn. Beach is no stranger to the hospitality industry; her husband is a fourth-generation owner of the Basin Harbor Club in Ferrisburgh, and she lives year-round with her family at the lakeside resort. It's also the de facto headquarters for the Hearthside Group, a real estate agency that Beach runs along with partner Gary Gosselin, which focuses exclusively on marketing hospitality properties in Vermont and New Hampshire.
Beach says that never before in her career has she seen so many distressed properties in the hospitality industry. Occupancy rates are down. Fixed costs are on the rise. Prospective buyers may have trouble unloading other assets — typically a home in another part of the country — to free up money for a purchase. Add to that another major hurdle: According to Beach, Vermont lending institutions are incredibly wary about financing for the hospitality industry.
While Francis holds out hope for buyers with visions of Bob Newhart dancing in their heads, she's also realistic. "It's not like we've had a parade of people coming through to look at our place," she admits.
Perfect Conditions
Clark knew next to nothing about inn keeping when he got into the business in 1971. But by some happy convergence of location, recreation and natural hospitality, Blueberry Hill Inn thrived.
Clark spent his childhood in Bordeaux, France — but as his crisp English accent suggests, he comes from British stock. His grandfather built a small empire exporting marzipan-stuffed prunes to upscale English grocery stores such as Harrods. Clark's parents fled France during World War II — he was born in 1944, in Wales — but returned when he was a small child. The Clarks sold the family business, and Clark's father exported the wines for which Bordeaux is famous. As a boy, Clark attended the local lycée and then was "whisked off to boarding school" on the Channel Islands off the coast of Normandy.
He came to the United States in 1964 on what was, to hear him describe it, a lark. His older brother was studying at Harvard, and Clark had a mind to pay him a visit. While applying for his visa, the U.S. embassy official offered Clark a choice: He could opt for an extended travel visa or apply for a green card. Clark took the latter, though he didn't intend to stay long. He was young and energetic, and imagined hitchhiking around the world.
Instead, Clark landed a job teaching French at a private school in Deerfield, Mass., where he met the woman who would become his first wife. Martha was a young widow with a baby. "At age 22, 23, something like that," he says, "I thought that I would take care of this person." It was Martha who introduced Clark to Vermont, and she who, in 1967, purchased Blueberry Hill after a call to Clark when she reportedly told him, "I've found it. I found the place."
The inn was pretty run down at the time, and had been tied up in estate court. But Goshen was, Clark says, a "magnet" for young people, and he and Martha were caught up in the excitement of working the land. The two were married the following year. Clark taught at a private school in Burlington, but when the school folded a year or two later, he was scrambling for work — until he found a gig as a ski rep for a Norwegian company.
"I remember well going up to Trapp Family Lodge and visiting with Johannes von Trapp and selling him skis, and him saying, 'Why don't you open a place up at Blueberry Hill?'" Clark says. "He was kind of the avant-garde of developing the cross-country ski business. I didn't know much about it, but thought, Why not?"
So in 1971, Clark and Martha put up a shingle. They opened the inn and a small touring center concurrently. They cleared a few trails — "hadn't got a clue whose land we were skiing on," Clark says, but they soon found out after a visit from "the National Forest boys." The approach, he says, was to "do it and then plead complete ignorance." And as it happened, he worked out the first special-use permit for National Forest land in Vermont.
In the beginning, it was Martha, not Tony, who was synonymous with Blueberry Hill. In a 1990 article in the Rutland Herald, onetime Goshen resident Yvonne Daley recalls that Martha was the woman who could whip up breakfast, weed a half-acre garden and lay out a six-course dinner all in the course of a day. "Tony was the guy in the background," Daley writes. As Clark himself wrote in a 1990 cookbook, he was "the promoter — the idea person — in charge of marketing the inn and developing the cross-country ski center."
And his ideas paid off. It turned out that Clark had tapped into cross-country skiing at exactly the right moment. The 1970s back-to-the-land ethos, coupled with renewed interest in physical fitness and a growing rebellion against the expense of alpine skiing, primed the pump. "The sport just went gangbusters," Clark said, and the following decade was the heyday for skiing at Blueberry Hill.
"We'd go out and slog. We had our wooly knickers on and gaiters, one foot in front of the other. I didn't even know what the word 'groom' was in those days," recalls Clark. "Now the question is, 'How many Ks do you have groomed? Do you groom for skating?' It's completely changed."
Snow Way Out
That's just one of the reasons Clark sounds exhausted when he talks about the business of inn keeping these days. He contends that with the glut of bed-and-breakfasts in Vermont — an estimated 350, according to the fledgling Vermont Inn and Bed and Breakfast Association — it's no longer enough to offer a nice room and a hearty meal. There has to be some other draw — often location, in a college town or ski resort. Beach says properties in Stowe, Manchester, Woodstock and Middlebury consistently perform well.
In off-the-beaten-path Goshen, Clark found a different carrot: skiing. But he now suspects the days are numbered for small, recreational ski areas like Blueberry Hill.
"I hope he's just feeling a little blue about last winter," says Rep. Jewett, when confronted with Clark's glum forecast for smaller cross-country ski areas in Vermont. A booster for his district, Jewett borrows a term coined by Mike Hussey, the director of the Rikert Nordic Center in Ripton, to describe the region: "the Addison Alps."
It's hard not to draw comparisons between Rikert and Blueberry Hill and wonder if Clark doesn't have a point. Owned and operated by Middlebury College, Rikert boasts a new 5-kilometer course certified for ski-racing competitions that is guaranteed by new snowmaking equipment along the course. The college renovated the previously shabby ski center, where skiers can now outfit themselves in branded jerseys and caps.
The improvements seem to be paying off: Rikert will host the NCAA Nordic championships in March. And though the late-December snowstorm had something to do with it, Rikert is reporting its best holiday week ever. The rush on season passes was so great that, by New Year's Day, the ski center had run out of materials to print up additional passes.
For Hussey, who took charge of the ski center two years ago, the improvements — especially snowmaking — were a long time in coming. "The Nordic industry is about 35 or 40 years behind the alpine industry in that sense," he says. By the early 1970s, he says, downhill ski areas had realized they couldn't rely on Mother Nature. If they were going to sell season tickets, they had to deliver snow.
If Nordic skiing was late to the snowmaking game, it's because the industry had a "cultural divide to get over," says Hussey, citing the idea that the typical Nordic skier is someone who wants to get out in the quiet woods, and relies on natural snow to do so. Those skiers still exist, and in great numbers, but Hussey points to skiers he classifies as fitness skiers. "They want to ski, and they're willing to ski on a kilometer as long as that's available."
What does that mean for low-tech ski areas such as Blueberry Hill?
Clark admits he's happy to be just a few miles down the road from Rikert. After a year in which many guests postponed or cancelled reservations because of the lack of snow, it's helpful to be able to offer guests complimentary passes to the nearby ski area, and he advertises its snowmaking equipment on his own website. This March, Blueberry Hill will host the entire University of Utah Nordic team for the week of the NCAA championships — a reservation made with the understanding that Clark would provide wireless internet throughout the inn, which he's now installing.
But for Clark, that doesn't translate to optimism for the future. Like Hussey, he draws comparisons to the development of the downhill skiing industry. "In the '40s and '50s, every bump in Vermont had a rope tow," Clark says. Then came chair lifts, gondolas and snowmaking — and the ski areas that couldn't keep up folded.
"The same thing is happening in cross-country skiing," Clark says. "The subtle difference is, you can't make snow for more than five Ks, unless you have a sugar daddy like Middlebury College. And do you, as a tourist, actually want to go around and around and around — I call it gerbil-cage skiing — on a one-kilometer loop? Not me."
Clark predicts that the number of touring centers in the state will shrink to a half dozen or so in the next five or 10 years. The areas that invest in snowmaking will survive — and those that can't, won't.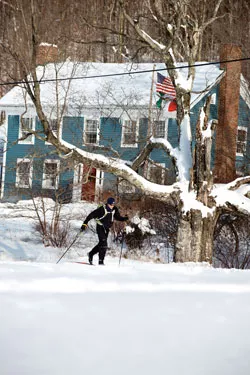 Here Today
Clark has navigated plenty of obstacles in the hospitality business. When he and Martha divorced in 1982, Clark was thrust overnight into the roll of head innkeeper, with little idea of how to run a household, let alone an inn. "I didn't know how to boil water," he told the Rutland Herald in 1990.
These days, he occasionally cooks for the inn's guests himself — as many as 24 on a busy night. And he's not whipping up bachelor-pad food; it might be elegant duck confit or puff pastry with escargot.
Facing more recent challenges — namely, the volatility of the ski industry and an economic recession in which many travelers balk at rates as high as $190 per person — Clark is shifting back into the role of "idea person," at least for now. He's already refocusing his efforts on summer and fall business. The same trails that lure cross-country skiers in winter are also popular with hikers and walkers, who represent a larger potential market.
Summer? Gone are the days of $100,000 weddings, but the four or five more modest affairs that Blueberry Hill Inn hosts during the warmer months bring in reliable revenue.
The business is also substantially easier to run in every season other than winter. Clark doesn't groom ski trails much anymore, but, he recalls, "the Sno-Cat stuck at 2 o'clock in the morning, and shoveling it out — I've been there."
Clark isn't sure what life after Blueberry Hill would look like. "I don't really want to be rocking on the porch telling stories," he says. Perhaps he'd move to nearby Middlebury. Spend a few weeks or months a year in France. He daydreams about writing a book — Vermont's answer to Peter Mayle's A Year in Provence — chronicling the life of an innkeeper in a rural mountain town. If the inn doesn't sell, he imagines he'll be an absentee owner and find a couple to run the place.
Clark dismisses the notion that he's essential to the operation of Blueberry Hill. He sees himself as a steward of the land — he championed the creation of the Moosalamoo National Recreation Area in 2006 — and expresses hopes that whoever comes next will take care of the place.
"Honestly, I don't think he really, really wants to sell," confides Beach, Clark's broker. "If he had his druthers, I think he'd stay right up there."
And it's true: Clark speaks lovingly about Blueberry Hill. Ask him about his favorite time of the year at the inn, and he waxes about kicking leaves in the woods in late fall ("I'm a great kicker of leaves"), the last ski of the season, the wildflowers in early spring.
But it's lonely at the top, says Beach, and Clark isn't getting any younger. None of his children — including a stepson and three biological children — wants in. The youngest from his second marriage, to Shari Brown, is still in high school; Clark jokes that his son from his first marriage, Chris, moved west to escape the hospitality business.
So begins the matchmaking — Beach's role as Clark's real-estate agent. Even in cases where one personality is intimately tied to a property, she says, "It's amazing. It keeps right on. Because whoever buys it has already formed some kind of fundamental attachment to it. It's the match between the property and the people. The person who comes and buys Blueberry Hill is going to care about it just as much as Tony Clark does."
That's good news for the devoted clientele that has been visiting Blueberry Hill — in some cases, for decades. Another plus for Clark's succession strategy: Guests seem to love the place first; the innkeeper, second. Maryland native Cindy Allen first visited the inn 19 years ago with a childhood friend; the two women were celebrating their 40th birthdays. Nearly every year since, they've made the trek back to Goshen.
"There were a couple of years where we did something else, but we were always really sorry," she confesses. "Really, we just eat and read and ski and eat some more," says Allen. "Because it's one of the rare times that either of us gets away from our family and our regular life, there's a really wonderful sense of relaxation and freedom there."
As for Clark, she describes him as the kind of innkeeper who makes his guests feel more like visitors than paying customers but still finds time to sweat the details, such as the way butter is served at dinner.
On a recent, bitterly cold January day, Clark is just as accommodating as ever. There's hot coffee in the pot and soup simmering in the cozy farmhouse kitchen that dates back to 1813. A guest up from D.C. is passing through the sunny sitting room with her young daughter; they've just come in from a mid-morning ski, their last before they hit the road. The thermometer reads 2 degrees Fahrenheit. Clark clicks effortlessly into host mode, teasing the girl with grandfatherly humor. "Did you fall?" he asks with a twinkle in his eye.
Within an hour, the conveyor belt will rumble into motion again, and the two guests will be gone.
Photos by Caleb Kenna.