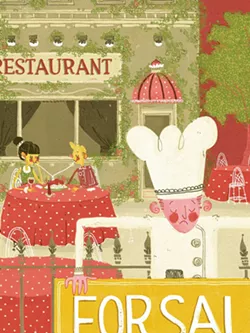 On May 4, Vermont diners got a surprise announcement, and the news wasn't good. After six years in business, a move to downtown Burlington and a semifinalist nod from the James Beard Foundation, Bluebird Tavern had served its final meal.
In July, L'Amante's owners, Kevin and Kathi Cleary, revealed that they would close their 12-year-old Burlington Italian destination at the end of August. But perhaps most shocking was the announcement that came 20 days later. The chef-owners of Richmond's Kitchen Table Bistro, a Beard-nominated jewel in Vermont's locavore crown, had put it up for sale.
Yes, all restaurants have a life span, but this rain was pouring hard. Foodies had reason to wonder whether the cluster of closings was coincidental or marked a disturbing trend. To learn more, we spoke with the restaurateurs and consultants in their business. We learned that, while changes in the industry do pose threats to fine dining, such closures often have another, more personal, motive: Chefs are aging out of the hellfire of working a kitchen line.
Industry-wide, white-tablecloth dining appears to be on the wane. Robin Schempp, owner of consulting company Right Stuff Enterprises, closed Waterbury's the Mist Grill in 2005 after nearly seven years in business. Though she lives in Vermont, she travels across North America for business and says she's noticed restaurants trending toward more casual dining.
That's particularly true in Vermont, where even the "up-end restaurants are not particularly elaborate. And, while rural and urban diners laud historically significant, long-running, fancier restaurants, loyalty can often be limited to special occasions," Schempp told Seven Days via email from Dallas last week. A shrinking clientele means that even with higher pricing, fine-dining restaurants can find it hard to make money.
Nicole Ravlin of People Making Good PR represents Sue Bette, owner of the Bluebird brand. Bette and her staff members refused to comment for this story, but Ravlin agrees with Schempp that relaxed restaurants seem to be replacing more formal dining. "As Americans, we're a much more casual culture than we used to be," she says.
Perhaps that's why when Bette scaled back, she retained the less formal Bluebird Barbecue as her brand's center, with a pair of Bluebird Coffee Stops also holding steady. Similarly, the Clearys will now spend their days at their more casual establishment, the 2-year-old Vin Bar & Shop. Lara Atkins, one half of the couple that opened the Kitchen Table, already left her husband Steve's line in favor of their Richmond café, Parkside Kitchen, late last year.
Eric Warnstedt of Hen of the Wood in Burlington and Waterbury is one of the success stories of Vermont fine dining. He opened his own lower-key restaurant, Doc Ponds in Stowe, a little more than two weeks ago.
Unless chefs are "pimping out garbage food," Warnstedt says, it's always a struggle to hit the profit-margin sweet spot. Outside Burlington, he notes, even a tiny downturn in business can cause the budget of a stable restaurant, such as his Waterbury location, to spin out of control. "I can tell you openly that the bank account is at zero several days a week — and we're busy," he reveals. "Maintaining margins is close to impossible up here."
Even when a restaurant is making a profit, hardly anyone is getting rich. Steve Bogart founded A Single Pebble in Barre in 1997. He now works as a consultant, having transferred ownership of the popular A Single Pebble in Burlington to Chiuho Duval in 2008. When he ran A Single Pebble, Bogart says, he considered a 5 percent profit ambitious; besides salaries, regular costs included laundry, insurance, garbage and other utilities. And that was before tighter restrictions on drinking and driving mowed down liquor sales. "There are no two ways about it," Bogart says. "You really make all your money in alcohol."
Given Vermont's passion for good food, warnings such as these haven't dissuaded new restaurateurs from trying their luck. That strong entrepreneurial spirit introduces another factor: competition. Even in Burlington, Bogart found it difficult to pay his rent while keeping his prices low enough to entice diners, he says.
Kevin Cleary suggests that, given its population of little more than 40,000, Vermont's largest city simply has too many restaurant seats available each night. "Most people think the more restaurants the better, and the cream will rise to the top, but that's not always the case," he says. "There's a lot of competition out there."
The seasonality of Vermont tourism also hits restaurants hard. In the summer, all those open tables might be filled, but come winter, fewer diners are willing to brave a blizzard for a dinner out. As more and more restaurants open, Cleary expects to see fewer survive the chill. "There's been that increase in lots and lots of restaurants, and now there's going to be a little bit of shake-up, and things will level off," he predicts. "In three or four years, we'll see what happens."
If a dearth of diners is a problem, so is a staffing shortage. Bogart worries that an increasingly tech-focused youth population just isn't interested in spending its workdays away from a screen. "I think the technological age has kind of softened our hardworking population," he says.
The difficulties of finding reliable line cooks and dishwashers have been well documented in this and other publications around the country. Slaving one's way up through a brigade system doesn't appeal to many recent culinary school graduates.
Cleary believes that staffing issues will only get worse until restaurateurs find a way to pay servers, bussers and cooks a livable wage. But, given already low profit margins, that task can be nigh on impossible. It's little wonder that Cleary is retreating to Vin, where he and Kathi will have just a few employees. They'll watch from the sidelines as the restaurant industry undergoes a transformation that could eliminate the redundancy of tipping, Cleary speculates. In five to 10 years, he expects the structure of the business to be unrecognizable.
Yet, inauspicious as all these industry trends are, they weren't what doomed L'Amante; the Clearys simply wanted their lives back. Cleary says that since 1999, when he and his wife opened the first L'Amante in Massachussetts, they've canceled more vacations than they've taken. And that time off was sorely needed. "I don't want to say it wore us down, but when you own a restaurant, you're always tired," Cleary says. Along with the fatigue came the ennui of routine — doing the same things, night in and night out, for 16 years.
Other chefs cite similar motives for throwing in the toque. When Bogart left A Single Pebble at age 62, he had a dislocated knee and a shoulder injury from years of tossing a wok. "Once you get past 45, 50 years old, the passion dies away. It's a process of aging that really sucks, but that's how it is," he says. For his part, Warnstedt has a hand injury that generally keeps him from cooking these days; he says he's happy to continue giving opportunities to his talented team.
Steve Atkins says his decision to leave the Kitchen Table doesn't reflect a lack of passion for the restaurant, but a greater one for seeing his and Lara's son grow up. Gabe Atkins started high school last week. "That sent it home for me that I have a very finite amount of time with him at home," Steve Atkins says.
We spoke to Atkins last week after what may have been the restaurant's final annual tomato dinner, one of the chef's favorite nights of the year. Schempp, who flew back from Texas for the event, says she is "personally distraught at the end of this delicious era."
Cleary is busy creating tapas and pressed sandwiches for Vin, having handed his L'Amante staff over to chef Herve Mahe, who will open Bistro de Margot in the spot. By contrast, Atkins says he hasn't given much thought to his next step. "I'm not a window shopper. I don't do well theorizing about what might be," he says.
Warnstedt says he toyed with the idea of buying the Kitchen Table, but he already has his hands full with three restaurants. That won't stop him from opening others in the more distant future, he says, noting that a group of restaurants is more financially viable than one.
Meanwhile, Atkins is still waiting for a buyer. He doesn't assume that the restaurant's venerable building — former home of Vermont's first governor, Thomas Chittenden — will carry on as the Kitchen Table. Instead, he imagines a "stubborn, vision-driven chef" like himself coming in and molding the restaurant according to his or her own vision. And, though he doesn't know what the future holds, Atkins does have one wish for the spot: "For my own selfish reasons, I want it to be super, so I can come and eat," he says.