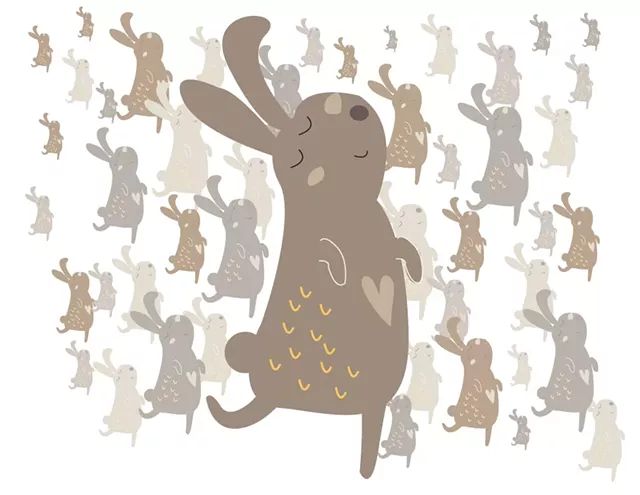 Vermont, it seems, is in the midst of a full-blown bunny boom. At least, that's the unofficial assessment of several Seven Days readers and staff, who've noticed a dramatic uptick in the number of wild rabbits this year, especially in the Champlain Valley. We've received reports from Burlington, Charlotte, Colchester, Corinth, Essex, Grand Isle, Jericho, Milton and Winooski that higher-than-normal numbers of the cute critters have been spotted snacking on garden veggies, flowers and herbs.
It's not breaking news that rabbits are prodigious procreators, capable of producing four or five litters annually. But is there something unique this year that explains the area's copious quantity of coneys? Global warming? A decline in predators? More radio airplay of Barry White songs? WTF?
Before we head down the proverbial rabbit hole, first some background on the Green Mountain State's most bountiful bunny breed: Sylvilagus floridanus, aka the eastern cottontail. These hoppers are among the most common mammals in North America, ranging from Canada to South America and Maine to the Rocky Mountains. If you've ever pulled into your driveway at night and your headlights surprised a brown bunny crouched in a clover patch, it was likely an eastern cottontail.
The name notwithstanding, eastern cottontails aren't true Yankee natives but were introduced to the region by settlers in the 1800s and soon outnumbered their indigenous cousins, the New England cottontail.
Though the two species are nearly indistinguishable — reportedly, even wildlife biologists have trouble telling them apart by sight alone — eastern cottontails are slightly larger, have longer ears and typically sport a distinctive white spot on their foreheads. Eastern cottontails are also a heartier breed and more adept at living in and around human landscapes, thriving near farmland with hedgerows, dense brush and plenty of forage. Despite their legendary copulatory capabilities, the two species don't interbreed, which may explain why the New England cottontail is allegedly gone from Vermont. More on that shortly.
So, what's fueling this year's thumper bumper crop? Mark Scott, director of wildlife for the Vermont Fish & Wildlife Department, said he hasn't fielded any recent calls about the abundance of bunnies. Unlike, say, whitetail deer, black bear, turkey and moose, rabbit isn't a species whose number FWD routinely tracks. Nevertheless, Scott offered his professional opinion as to what's behind it.
"It must be [that] all the stars lined up," he said. "They had successful survival in the winter and are breeding well."
As Scott correctly guessed, most of our rabbit reports came from the Champlain Valley, where eastern cottontail are most numerous because of the region's milder winters, lighter snowfall and more extensive habitat. Generally speaking, cottontails aren't found in the Green Mountains, especially at upper elevations, which are primarily snowshoe hare territory. Unlike cottontails, snowshoe hares turn white in the winter and have larger feet for navigating snow; both improve their odds against winter predators.
The likeliest explanation for the 2017 bunny boom, Scott suggested: two winters in a row with warmer-than-average temperatures combined with low snowfall. Each year, FWD calculates a Winter Severity Index based on data gathered from 38 weather stations around Vermont. Between December 1 and April 15, volunteers record one WSI point for each day when there are at least 18 inches of snow on the ground and one point for each day the temperature is 0 degrees Fahrenheit or lower.
Though wildlife biologists use the WSI average mostly for tracking and predicting populations of wild game such as deer and moose, it's also a useful indicator for rabbit numbers. The statewide WSI average for the winter of 2016 was 9.4, the lowest it's been since the state began recording that data in 1970. The winter of 2017 was also relatively easy on small critters, with a statewide WSI average of 27 points, much lower than the 30-year average of 45.
Said Scott, "It doesn't surprise me at all that you're seeing a lot of cottontail rabbits."
Now, back to the New England cottontail, which hasn't been positively identified in Vermont for at least 40 years. Why isn't Vermont participating in a federally led effort — involving every other New England state and New York — to bring back this native species? Until 2015, it was a candidate for being listed under the Endangered Species Act.
As Scott explained, the New England cottontail, or Sylvilagus transitionalis, requires what's called an early successional habitat, with vigorously growing grasses, forbs, shrubs and trees that provide excellent food and cover. Currently, that type of ecosystem is hard to come by in Vermont, and much of our native rabbits' historic range was actually in the Connecticut Valley — now filled with aging forests in which cottontails don't thrive.
Fortunately, Scott reported that this year's abundance of eastern cottontails isn't a sign that predators are in any trouble. Rabbits aren't just cute but also make tasty dinners for virtually every carnivore in Vermont, including bobcat, coyote, fox, hawk, owl, weasel and domestic dog. Even human hunters get in on the game, with rabbit season running from the last Sunday in September through the second Sunday in March.
In short, Vermont may be rich with rabbits this year, Scott said, but those numbers tend to be cyclical, peaking every three to five years before crashing again. To borrow a phrase: hare today, gone tomorrow.