Matthew Thorsen
Paul Dunkling
Ripe tomatoes, grass-fed beef, hearty kale — they're all commonplace on the Vermont locavore's plate. But what about yellow perch, lake trout and bullhead?
Historically, Lake Champlain was an important source of sustenance for the people who lived on or near its shores. In part, it still is: While the lake no longer has any commercial fisheries, hobby anglers are allowed to sell their catch to local fish buyers.
The irony, in a state obsessed with all things local, is that most of it heads out of state. Ray's Seafood Market in Burlington and Essex estimates that of all the lake fish it buys from Vermont anglers — who collectively sell about 400,000 pounds of fish from the lake annually to Vermont fish buyers — a whopping 70 percent of it goes to wholesale markets in New York, Boston and Canada.
Why aren't more Vermonters lining up for fried yellow perch, or a helping of whitefish? The answer eludes many lake advocates.
"We could farm the lake," said James Ehlers, the director of Lake Champlain International, the nonprofit that organizes the annual fishing derby. "We used to."
One of the biggest deterrents is the perception, fueled by news stories and current legislative debate, that Lake Champlain is dirty, and its fish are, too.
"I'm frankly shocked by the number of people who say, 'You eat fish from this lake?' with a sense of horror," said Ellen Marsden, the chair of the wildlife and fisheries biology program at the University of Vermont. "'They're way too polluted, right?'"
Wrong.
For too long, Ehlers said, the local foods movement in Vermont has been "terrestrially" focused. Now, LCI and the Vermont Fresh Network are in the early stages of organizing a series of events in area restaurants that will feature lake fish. The hope is twofold: that more chefs, and their customers, will take the bait on local fish, and that Vermont's enthusiasm for local food channels into action to clean up Lake Champlain.
"I think it's somewhat humorous the focus we have on beef and dairy here while turning a blind eye to the salmon," said Ehlers. "I see this as a wonderful opportunity to address water pollution, to address habitat reclamation, to address land-use planning — and oh, by the way, wouldn't it be nice if we didn't have to expend all these fossil fuels getting wild salmon from Alaska?"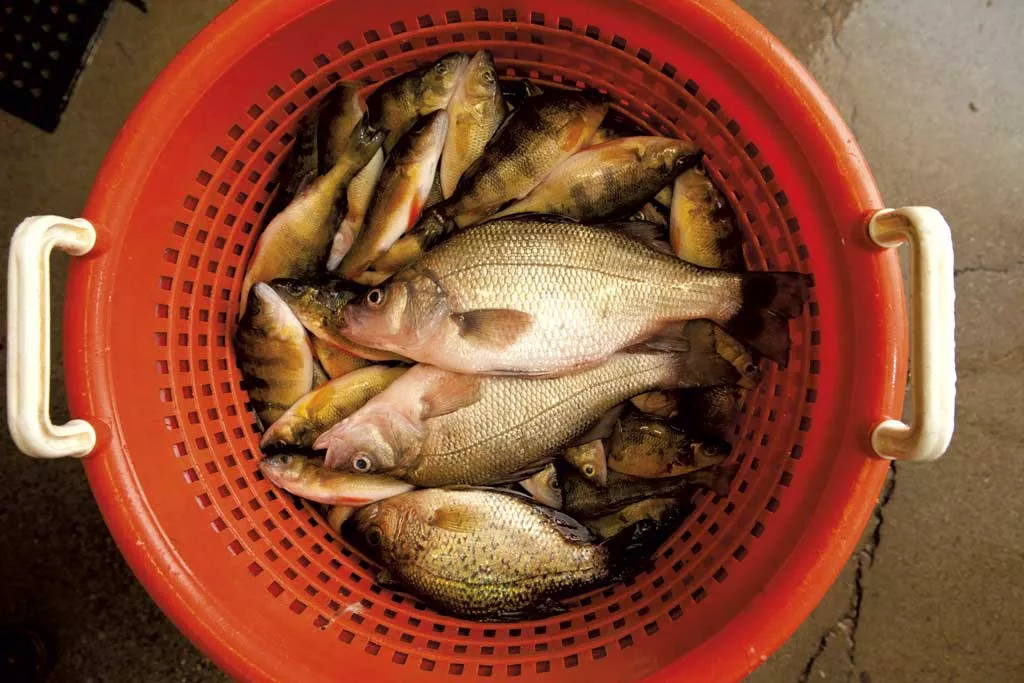 Matthew Thorsen
Perch and crappie
The Ones That Got Away
Historically, Lake Champlain was brimming — sometimes literally — with fish. At times, Atlantic salmon was used as currency among early settlers. Historical accounts describe spawning salmon so prolific in Lake Champlain's tributaries that the jumping fish occasionally spooked horses as they crossed waterways.
From the earliest period of European colonization in the region, fish were harvested using commercial fishing techniques, including shoreline seines, trap nets, spears and grappling hooks. But with development, especially the construction of dams and canals, came trouble for some of Lake Champlain's fish species. The last native Atlantic salmon was seen in the early 1800s, and by 1900 the lake trout were gone, too. Today state fisheries stock both species as part of a revitalization effort that began in the 1960s. In 2014, Vermont's Fish & Wildlife Department will stock Lake Champlain with more than 346,000 yearling landlocked salmon, steelhead trout, brown trout and lake trout; more than 128,000 landlocked salmon fry and fingerlings; and more than 150,000 walleye fry and fingerlings.
Eels were so abundant that fishermen in Québec harvested tons from the Richelieu River, which takes its source from Lake Champlain, as recently as the 1980s. But Lake Champlain's populations of American eels declined to almost nothing in the 1990s and early 2000s after new dams went up on the Richelieu. (Those populations are rebounding now, thanks in part to "eel ladders" that let eels bypass the dams as they continue their long trip from the Sargasso Sea to Lake Champlain.)
Before the State of Vermont decided to stop issuing commercial fishing licenses in 1912, anglers harvested whitefish in abundance from Larrabees Point and in Missisquoi Bay. But when Marsden and another UVM researcher returned in recent years to those spots, they found no sign of the species. The historic spawning grounds had become eutrophic — meaning excess nutrients, such as phosphorous, were depleting the amount of oxygen in the water and fueling algae blooms.
Meanwhile, invasive species have entered the lake. Some, such as the alewife, are a result of unapproved stocking by anglers; others arrive by swimming north from the Hudson River. Some invasive species outcompete native fish; others alter the aquatic ecosystem to which native species are accustomed. The sea lamprey, which fish and wildlife biologists have been trying to eliminate for years, is parasitic. It attaches to and eventually kills salmon, lake trout and other species.
It's not all bad news. When Vermont regulators decided to close the commercial fisheries at the beginning of the 1900s, it was in part because Lake Champlain was attracting more and more tourists; the plan was to manage the fisheries for recreational angling. The efforts paid off, and today Lake Champlain enjoys a good reputation among fishermen. The U.S. Fish and Wildlife Service's most recent survey of hunting and fishing found that resident and nonresident anglers spent $147.2 million in 2011 on fishing and related expenses in Vermont.
"Fisheries' managers are doing a very good job of monitoring what's going on," said captain Mick Maynard, who runs Lake Champlain Angler Fishing Charters out of Plattsburgh, N.Y. When he heads out with fishermen, he said, he relies on the advisories and limits set by the experts. "I leave it up to the fisheries' managers to decide. Give us the guidelines, tell us where the limits are, and I'm always on the conservative end of that."
Those limits, along with a strong "catch and release" ethic among a lot of fishermen, mean there isn't much concern about overfishing the lake today.
Ehlers agrees that Lake Champlain makes for good fishing — and he suspects the 20,000 anglers who participate in LCI's fishing derby would, too.
"The interesting aspect is that it could be phenomenal," said Ehlers, "but we're not doing the things necessary to make it what it really could be, what it once was" — when the lake supported so many fish that settlers allegedly speared the spawning fish as they battled their way upstream.
"Now we rely on farmed salmon," said Ehlers, or wild Alaskan salmon flown in from halfway around the world. "The ecosystem here could have afforded us all of those things, because it once did. But for lack of foresight and good land-use planning, we have extirpated it, decimated it, literally destroyed it."
Working the Anglers
Even in its heyday, fishing in Vermont was never more than a source of seasonal employment and part-time income; many of those who harvested whitefish in the late 1800s, for instance, were farmers who had time to spare between planting and harvesting their crops. Today's anglers make even less. Selling what they don't eat themselves is a way to make a little pocket money — perhaps to offset the cost of what's essentially recreation, not a profession. Those who choose to sell their catch can do so at various points around the lake. But much of it makes its way back to Ray's Seafood on North Street in Burlington, where Paul Dunkling oversees the buying and selling.
"I think they're looking to subsidize their hobby," said Dunkling of the anglers who routinely sell their catch to the family business. The market price for fish fluctuates, but Ray's usually pays between 75 cents and $1.60 per pound for whole fish. That means a typical day's haul might only bring in $20 or $30 — gas money. And even that income is unpredictable, given just how variable an angler's catch can be.
Last week was as slow as it gets at Ray's, where taxidermied fish, including an almost two-pound yellow perch, decorate the walls of the small odiferous shop. Ice fishing had wrapped up for the year. In a few weeks, Dunkling said, anglers would head back out on the open water.
It's tough these days, Dunkling said of the business his family has operated since 1951. More and more customers buy their fish at supermarkets instead of at fish markets, as they used to. At its retail market in Essex Junction, the fish company sells local fish alongside seafood trucked in from Maine and Massachusetts — which in turn is sometimes flown in from around the world.
Like others, Dunkling is a little baffled that local restaurants aren't more excited about fish from Lake Champlain. He recalled eating out recently for a friend's birthday. The waitress touted local, organic chicken raised at a nearby farm. Why is that so hard to do for local fish? he wondered.
Why indeed? First, there's a misconception among a lot of Vermonters that fish from Lake Champlain is contaminated, or in some way dangerous to eat. When Seven Days called City Market to ask if the Burlington co-op stocked local fish from the lake, the manager of the fish department mentioned a general "concern about pollutants."
But Lake Champlain's advisories aren't much different than those in other lakes and water bodies around the country. The Environmental Protection Agency recommends that, when no advice is available, women of childbearing age and children eat no more than one average meal of fish caught from local waters per week.
The Vermont Department of Health gets more specific. For example, women of childbearing age and children under the age of 6 should eat no more than five meals of yellow perch from the lake per month, while other groups can safely eat an unlimited amount. (Detailed advisories for various species and locations are available through the department.)
The state's Fish & Wildlife Department — on a web page titled "Eat More Vermont Fish!" that touts the health and environmental benefits of eating local fish — explicitly says that the types of pollution that affect water quality and the aquatic ecosystem don't typically make properly cooked fish unsafe or unpalatable. That includes phosphorus, the nutrient at the heart of an EPA-mandated plan to clean up the lake. Concerns about mercury or other pollutants are focused on fish at the top of the food chain, such as stocked salmon and lake trout, because contaminants are biomagnified in fish flesh as they consume animals lower on the chain.
Fish of the Day
Water-quality issues in Lake Champlain don't stop customers from ordering yellow perch at the Wayside Restaurant & Bakery in Berlin; most of them started eating it long before local was trendy. According to co-owner Brian Zecchinelli, they tend to be old-time Vermonters who ice fished themselves or had family members who'd come home with perch fresh from the lake's cold waters.
"We're featuring it on today's menu," Zecchinelli said last week, adding that the silver lining to a "very cold and tough winter" has been a "wonderful" perch season. Perch is also fished during the summer, but the Wayside only serves it in the winter; that's traditionally when Vermonters have consumed the fish, which has a reputation (unearned, contends Dunkling) for being "wormy" when harvested from warmer water. The restaurant buys directly from anglers and serves yellow perch battered and deep fried.
The fish features prominently in the one "special meal" Zecchinelli whips up for himself every year. "What I call the Vermont surf and turf," he said. "It's silly, but I absolutely love it. My 'surf' is the fried perch, and the 'turf' is fried tripe ... We're toying with offering that on the menu as a special sometime, but it's been a favorite of mine for years."
Tripe — made from the chambers of a cow's stomach — might be a tough sell on the Hinesburgh Public House menu. But customers there gobble up lakefish with gusto; head chef Shawn Beede first started serving a perch fingers appetizer nearly a year and a half ago. Beede recently redesigned his menu, but kept the perch — now lightly fried in corn tortilla tacos — because of its popularity.
Customer reactions? "They're just a little surprised sometimes that it comes from Lake Champlain," said front-of-the-house manager Natasha Sala, "given the reputation the lake has right now."
"Unfortunately, everyone perceives Lake Champlain to be a really dirty lake," agreed Beede.
Why did he put perch on the menu? "Originality," Beede said. "Nobody else is doing it."
Almost nobody. Doug Paine, the executive chef at the hip downtown spot Juniper and the newly opened Bleu Northeast Seafood, conceded that fish from Lake Champlain isn't a regular fixture on either restaurant's menu, but he hasn't ruled it out. In fact, Juniper ran a local smelt special during the ice-fishing season that just ended.
"I think there is a market there for it," said Paine, even if "people's initial reaction is, 'Ew. Lake fish?'" Paine thinks a little customer education — and some careful menu planning with smaller and "sweeter" fish like smelt, perch and pumpkinseed — could help sell diners on the prospect.
Paine has done his own research. One hundred years ago, he noted, practically every restaurant in Burlington was serving lake-caught, local fish. He noted, rightly, "There was a lot more excitement, especially hyper-locally, around fish."
Contact: kathryn @sevendaysvt.com