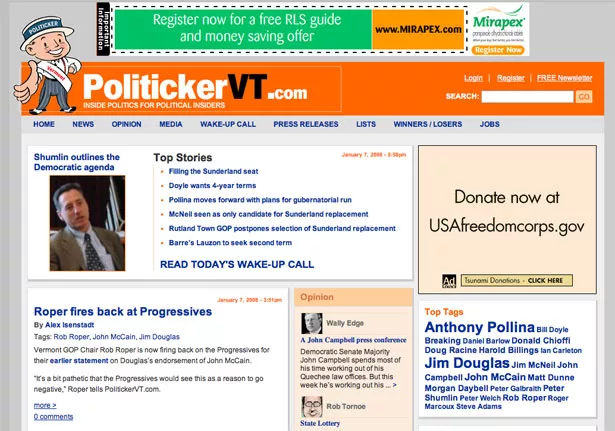 A new blog billing itself as "the primary destination for all Vertmont [sic] political news" is generating low-frequency buzz among local new-media mavens as well as head scratching among in-state bloggers. The slickly produced site, with a come-on offering "inside politics for political insiders," is being bankrolled by a New York City media mogul, and much of its content is being recycled from Vermont news outlets by a reporter based in Washington, D.C.
Politickervt.com aims to attract attention through a mystique of anonymity. Its editor in chief, who's also the site's commentator, goes under the pseudonym Wally Edge. He or she did not respond to repeated requests for an interview. Alex Isenstadt, the actual name of the site's sole reporter, also could not be reached for comment.
Bob Sommer, president of the Observer Media Group, did agree to speak for attribution about politickervt.com and similar sites his Manhattan-based company owns in eight other states.
Sommer says that Isenstadt is a 2007 graduate of Haverford College in Pennsylvania and that he also writes for the Observer's political blogs for Maine, New Jersey, Maryland, Colorado, Nevada, Oregon, Arizona and Washington. The "Wally Edge" associated with politickervt.com does live and work in Vermont, Sommer adds.
Confusingly, however, "Wally Edge" is also the moniker used collectively by the individual editors-in-chief and commentators for all nine of the Observer's politicker.com sites. Sommer defends the use of an invented name as a way to "create a level of intrigue." Such a marketing device has been used successfully by some other bloggers, Sommer says, suggesting that "Wally Edge" serves as "our secret sauce."
Sommer brushes aside concerns that anonymity of this sort may entail ethical dilemmas and stoke suspicions about the accuracy of the Vermont blog's content. "If we were to write inaccurate material," Sommer says, "the website won't exist very long."
Politickervt.com has no hidden agenda, Sommer adds, because it takes no partisan stands. But Edge's Vermont column - which actually lacks much of an edge - does tack well to the right.
In one recent posting concerning Gov. James Douglas' "affordability agenda," Edge wrote: "Our tax policy and government structure looks more like a 1960s socialist state. Our taxes are incredibly high, and we penalize success so severally [sic] that we encourage tax flight and we have built a large government structure that employees [sic] too high a percent of the workforce."
As these bloopers suggest, politickervt.com is riddled with typos and malapropisms. The anonymity of its editor in chief does raise credibility issues, insists Haik Bedrosian, a Burlington political activist who blogs on burlingtonpol.com. "Any website that's produced anonymously should be scrutinized very carefully in regard to its accuracy," he says. The content of all political blogs should in fact be regarded with skepticism because their producers are generally not professional journalists, Bedrosian adds, cautioning that politickervt.com thus demands "extra-skeptical" reading.
The site's sloppy writing contrasts with politicker.com's visual quality, which Vermont-based national political blogger Steve Benen describes as "professional." Benen, who writes the online Carpetbagger Report from his home in Essex, says the snappy look of politickervt.com distinguishes it from most newly minted blogs. The site could eventually succeed in attracting a sizable number of visitors, suggests Benen, who maintains a "more-the-merrier" perspective on the emergence of blogs oriented toward Vermont politics. But, he adds, the out-of-state sponsorship of politickervt.com and its reliance on a reporter writing from Washington will put it at a competitive disadvantage with regard to Vermont-rooted political blogs such as John Odum's Green Mountain Daily.
Odum, who says his own Montpelier-situated site records about 500 unique visits per day, sees politickervt.com as exemplifying a "corporate cookie-cutter" approach to blogging. Unlike "organic, grassroots new-media sites," Odum observes, politickervt.com "doesn't feel local or personal."
The Observer Media Group is "clearly trying to make the Vermont site a product that's a franchise," Odum adds.
The company began building a national blogging chain with its acquisition last year of politicsnj.com, a site that had won a following for its trenchant coverage of New Jersey politics.
The Observer's entire blog stable will soon be overseen by James Pindell, currently a blogger for The Boston Globe. Pindell said in an email message that he was unable to comment on his new job, which he begins next week, because "at the moment I am in the blur of the NH primary."
The Observer Media Group, which also publishes The New York Observer, is owned by Jared Kushner. He's the 26-year-old son of Charles Kushner, a New Jersey real estate baron and big-time donor to Democratic politicians. Charles Kushner was sentenced to a 2-year prison term in 2005 for assisting in tax violations and for witness tampering.
Jared Kushner purchased The New York Observer in 2006 for a sum close to $10 million, according to a report in The New York Times. The Manhattan-focused politics and arts weekly, founded in 1987 by former investment banker Arthur Carter, had been losing about $2 million a year, according to the Times.
Sommer says he expects the Observer's blog enterprise to generate enough advertising to become self-sustaining by the end of this year. But he declined to answer questions concerning the sites' budgets, advertising revenues or number of visitors. Sommer did acknowledge that politickervt.com currently lacks paid advertising. And Wally Edge's Vermont commentaries are not exactly attracting a crowd. In the blogosphere, comment quantity is one measure of success. So far Politickervt.com has elicited a whopping "zero."