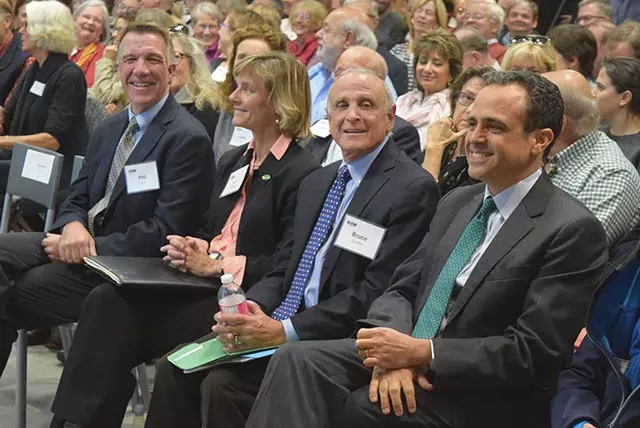 Terri Hallenbeck
Republican Phil Scott, Democrat Sue Minter, Republican Bruce Lisman and Democrat Matt Dunne await the start of a forum hosted by VTDigger.org on November 3. Democrat Shap Smith did not attend because his wife had just had surgery.
Late last month, five candidates for governor of Vermont stepped onto a stage, stood in front of a microphone and tried to persuade audiences that they should lead the state. Within four weeks, most of the candidates had repeated the electoral exercise four times.
What's unusual about that? These events are happening more than a year before Election Day 2016 — way earlier than the norm. And even before the Democratic and Republican parties have settled on their respective nominees, candidates from both parties are appearing on the same stage.
Last time around, the first gubernatorial debate didn't happen until September of the election year, a full 10 months later than this year. In 2010 — when Democrats also faced a highly competitive primary — the party's first debates started in the spring of the election year.
The early start "asks a lot of the candidates," says KSE Partners lobbyist Alex MacLean, who managed Democratic Gov. Peter Shumlin's first campaign in 2010 and is supporting Democratic candidate Sue Minter this year. "You're asking them to know their in-depth political views a year out — where do they stand on virtually every issue."
Before the ink is dry on their campaign signs, candidates are standing before crowds articulating their stances on everything from education funding to beer. Strong turnout at the forums so far suggests voters are keenly interested in who's got game.
So far, all five major-party candidates have declared they want to make Vermont a better place — surprise! But none of them has drilled down to explain how to do that.
Yes, it's early, but here's a look at each candidate's main message and challenge as he or she seeks to succeed retiring Shumlin.
Matt Dunne
His pitch: Democrat Dunne, 45, the youngest candidate in the race, is hanging his hat on innovation. The Hartland resident argues that as a young legislator, head of AmeriCorps VISTA and now community affairs director at Google, he knows how to attract and keep young people in Vermont: by making downtowns vibrant, extending high-speed internet to the last mile and celebrating the state's world-class beer.
His challenge: Putting his plans into plain English. Dunne's opening speech at a November 3 VTDigger.org forum was filled with jargon unlikely to attract voters of any age. An example: "To be able to realize our full potential, we need the capital, the people, the infrastructure and the synergy to create an ecosystem where small businesses can start, can grow, can have strong exits and then reinvest — a virtuous cycle."
Bruce Lisman
His pitch: No candidate more forcefully dismisses the Shumlin administration and the legislature than Lisman, 68, a retired Wall Street executive who lives in Shelburne. At a November 6 forum hosted by the Community of Vermont Elders, the Republican called the current budget management "incompetent." At the Digger forum, he said, "We should never, ever be surprised by an employer leaving," referring to companies such as Energizer that have closed their factories in Vermont.
His challenge: Lisman claims he'd do a better job of managing money and monitoring Vermont companies. But to persuade voters, he'll have to erase from their minds a 2008 Wall Street Journal article that described his performance in the middle of the financial meltdown. Lisman, who was cohead of global equities for Bear Stearns, stood on a desk and bellowed to his stock traders, "Bear Stearns has been here a long time, and we're staying here." By the end of the month, the financial firm had collapsed into JPMorgan Chase's arms.
Sue Minter
Her pitch: Democrat Minter emphasizes her experience as transportation secretary and as the state's recovery officer after 2011's Tropical Storm Irene. "I have a proven track record of bringing people together to solve problems," Minter, 54, a former state representative from Waterbury, said at a FreshTracks Capital event on October 26.
Her challenge: Minter needs to show voters what she actually did to solve those problems in any of her previous roles. With relatively weak statewide name recognition, voters are apt to assume Minter was a bureaucrat managing a mound of red tape in the Shumlin administration. She has yet to provide specifics on what she did to move boulders, figuratively or literally.
Phil Scott
His pitch: Republican Scott argues he can provide predictability and steady leadership to make Vermont a more affordable place to live. Scott, 57, of Berlin, insists he will not overpromise, a reference to Shumlin's undelivered plans to provide universal health coverage and border-to-border broadband.
His challenge: The rap on Scott is that he'd merely be a caretaker governor with few policy ideas of his own. To counter those critics, who sit both to his left and right politically, the three-term lieutenant governor will have to show voters that he's more than a well-liked race-car driver. How would he make the state more business-friendly? Which state permits would he dispense with?
Shap Smith
His pitch: Backed by many Statehouse insiders who vouch for his leadership over for the last seven years as House speaker, Democrat Smith comes into the race with perhaps the broadest knowledge of state issues.
His challenge: Smith's experience as a legislative leader is a double-edged sword. Perhaps even more than Minter, he'll be blamed for just about every policy decision that's come out of Montpelier in the last five years. That was apparent at the FreshTracks forum, where he delivered a forceful defense of the state's new school-consolidation law. Smith, a 49-year-old lawyer from Morristown, still must show voters how he would differ from Shumlin.
Faction Reaction
When the Vermont Republican Party's state committee meets November 14 to elect a new slate of officers, it will be a very different scene from two years ago, when there was a divisive two-way race for the party chairmanship, open dissent within the ranks and allegations of a projected budget deficit.
David Sunderland, a former state representative from Rutland, won the chairmanship that year, backed by the party's only statewide elected officer, Lt. Gov. Scott. By a vote of 48-30, Sunderland out-polled John MacGovern of Windsor, who had the support of the anybody-but-Phil-faction of the party.
This year, Sunderland appears to be unopposed for reelection to a two-year term. He says the party's finances are in the black. And, as Scott makes a run for governor, its factions seem less fractious, which can come in handy at election time.
"We've made a lot of progress toward giving Vermonters a reasonable, common-sense alternative to what they've seen over the last five years," Sunderland says, referring to Democratic Gov. Shumlin's tenure with a Democrat-controlled legislature.
Scott Milne, a Republican travel-agency owner from Pomfret who nearly defeated Shumlin last year, says the mood has shifted.
Two years ago, Milne says, Republicans felt so outnumbered that many chose not to get involved, the public and media assumed Shumlin would cruise to reelection, and the party mustered candidates for fewer than half of the legislative seats.
"This will be very different in 2016," says Milne, who describes himself as a possible candidate for U.S. Senate or lieutenant governor.
Of course, not everything is grand in the Grand Old Party. No Republican candidates have surfaced for an open attorney general's seat — or for treasurer, auditor, secretary of state or U.S. House.
While the party is stepping up its recruitment efforts, Republicans still trail Democrats. Republicans say they have organized committees in 134 Vermont towns, while Democrats have done the same in 185.
Sunderland puts the party's cash-on-hand at $25,000, which is better than nothing but less than expected after two Republican presidential candidates headlined recent party fundraisers.
As for the intraparty rancor that was apparent two years ago, it has dissipated, according to Republicans on both sides. There's still an anybody-but-Phil faction that will likely support Lisman for governor, but the all-out battle for control of the party is over.
MacGovern says he has no plans for a rematch against Sunderland. Now, as chair of the Windsor County Republican Committee, he's focused on getting candidates elected. On that front, he's seen improvement, he says.
Last election, the party failed to supply him with a voter list, MacGovern says.
"That won't happen again. We have obtained a voter list and will work on perfecting it so that our candidates will always have that asset," he says. "The vibrancy and health and future of the party lies in the likes of the newly elected representatives and new candidates running in 2016. All I ask of the state party apparatus is to stay out of the way."
'An Overlay of Politics'
Democratic House members gathered for their annual pre-legislative planning session at the Statehouse on Saturday, and Speaker Smith acknowledged it would be a tough, and different, year.
"It's going to have an overlay of politics," Smith said. "Our job, quite frankly, is to put that aside."
Smith is one of several Statehouse leaders who will be running for higher office during the next legislative session. But all 180 legislators will be up for reelection.
It will be impossible to set aside politics, because anyone running for office is ultra-sensitive to criticism. The Dems demonstrated as much when they discussed issues heading into the 2016 session.
Take Act 46, the new education law. Legislators said they're getting hammered with questions, particularly about budget spending caps but also requirements to consider school district consolidation. Rep. Cynthia Browning (D-Arlington) plans to call for a year's delay in implementing the law.
"You're certainly not alone in your concerns," responded House Committee on Education chair David Sharpe (D-Bristol).
There will be no repealing or delaying the law, Sharpe said, insisting it will help schools thrive. But there will certainly be changes to the spending caps, which he acknowledged have been applied unfairly. Sharpe's committee will meet next week to start work on that, in hopes of altering the cap before school boards finish building next year's budgets, he said.
And what about a proposed carbon tax? Democrats are reacting to criticism after Republicans raised a ruckus about a possible 88-cent-a-gallon increase in the price of gas.
"I've got half a dozen calls asking, 'What the hell are you people doing?'" said Rep. Dan Connor (D-Fairfield), arguing that opponents are spreading misinformation about the bill.
Off to the side of the room, Smith put his head to his hands as the carbon tax discussion began. As a candidate for governor, he's also getting heat about it.
"There's no carbon tax coming to the floor this year," told a reporter later.
Media Note
The independently run student newspaper at the State University of New York at Plattsburgh is getting the kind of national attention every media outlet dreads. A recent Daily Beast headline read: "College Paper Prints the Most Racist Front Page in America."
In its October 23 edition, Cardinal Points published an article about SUNY's growing diversity. The accompanying cover graphic depicted a grinning African American man in a graduation gown, with bulging eyes and an outsize mouth, walking through a ghetto.
In response, 300 students protested on campus, the student association withheld financial support and there were calls for the editors to resign, according to coverage in the Plattsburgh Press-Republican.
No one has stepped down, but a short apology appeared on the website soon after the graphic appeared. Last week, in the first issue of the weekly paper since, Cardinal Points staff came back with a full-fledged mea culpa: "We want to make this clear: We completely renounce and regret printing the highly offensive graphic that has hurt so many."