Ken Picard
One of Melanie Putz Brotz's signs
Burlington is awash in public art, so it's never surprising to see a mural or sculpture decorating an otherwise drab alley, brick wall or bare patch of ground. But in the last few years, keen-eyed pedestrians have noticed small, hand-painted signs sprouting like mushrooms along greenbelts, on the waterfront, in the crevices of buildings and even atop piles of construction rubble.
These brightly colored signs are unobtrusive, standing no taller than one's ankles. Their brief messages peddle nothing more than good vibes, expressed in words of optimism, inspiration and encouragement: "Choose love," "Art connects us," "You're doing great!" and "We're all in this together."
Seven Days staffers had noticed these signs around town. But after one, which reads, "Nature speaks the truth," appeared in a flower bed outside our offices, we wondered: Who is Burlington's goodwill guerrilla, and what's the story behind these beacons of benevolence?
After posing these questions on Seven Days' social media platforms, dozens of readers wrote back that they've seen them, too. Several posted photos of signs they've encountered, including some as far away as Montpelier. While many were delighted to come across the affirmations, and intrigued by their painter, others relished the mystery behind the local Banksy.
Sue Schein of Burlington described their creator as an "anarchist artist extraordinaire" and "witchy wonderperson of great civic stamina." Schein hinted that she knows who's behind the signs but wouldn't let the cat out of the bag. As she wrote, "Those of us who know who you [are] could be tickled all day and all night with goose-down feathers, and still we would never tell."
Sorry, Sue, but even the identity of Watergate's Deep Throat eventually got out. So, after we tracked down the artist herself — is anyone surprised that the Queen City sign superhero is female? — she finally agreed to be unmasked. It may come as no surprise that she's the same woman who, in 1992, conceived of Burlington's largest annual art festival, the South End Art Hop: Melanie Putz Brotz.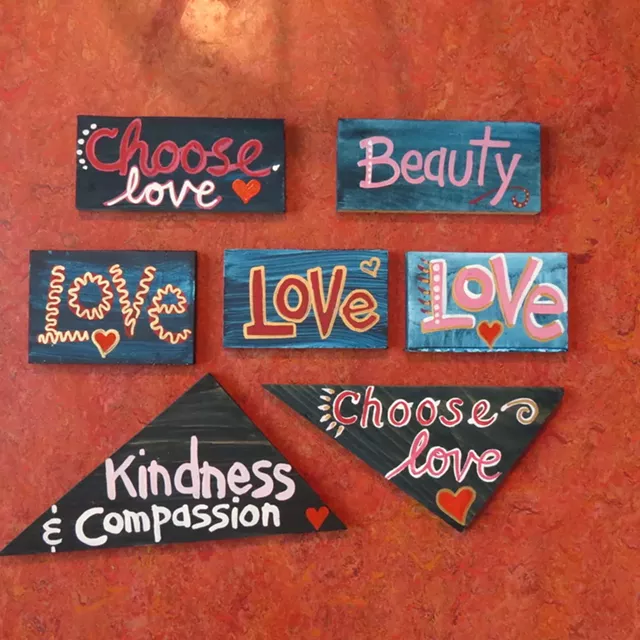 Courtesy of Melanie Brotz
A Chicago-area native, Brotz moved to Burlington from Boston in 1991 to volunteer at the Last Elm Café. The nonprofit collective and art space, which featured food, live music and community talks, operated in the '90s at the corner of North Street and North Winooski Avenue in what's now the Mawuhi African Market. Over the years, Brotz has launched other neighborhood projects, including the Burlington Area Community Garden in Calahan Park.
Today, she works as a registered dietician, herbalist, and wild and medicinal food guide. Brotz also has a talk show on Vermont Community Access Media called "Being the Change." But creating inspirational messages, which she's collectively dubbed "Signs of Love," is her passion project.
"Art is one of my big loves. I've been doing it all my life," Brotz said during a recent interview at Speeder & Earl's Coffee on Pine Street. Indeed, walk 20 yards from the coffeehouse and you can find several of her diminutive creations.
What initially inspired her to make them?
"About three years ago, I was feeling discouraged. There was so much incivility and divisiveness and hateful things happening," Brotz explained. "I just wanted a way to put some positivity out into the public sphere — love, compassion, truth, wisdom."
So Brotz began by crafting the signs in her garage out of scrap lumber, almost as a form of meditation. She'd then deposit them in quasi-public places around her South End neighborhood. Soon, Brotz's signs were popping up all over Burlington and Winooski. She's brought them to Montpelier and Middlebury, and even mailed some to her sister in Sitka, Alaska.
Brotz abides by a few unwritten rules. Invariably, she keeps her messages upbeat and nonpartisan. She places them in gardens and along sidewalks, bike paths and other "edge places," but not in forests or other natural areas. Brotz said she doesn't want to intrude on those who are seeking respite from humanity.
"It's really fun for me," she added. "It's like leaving Easter eggs."
And like those candy-filled containers, Brotz's signs can disappear quickly. She made one recently that read "Inspiration Point" and then found a perfect spot for it: atop a mound of construction dirt beside the Moran Plant. Two days later, the sign was gone. Still, Brotz looked on the bright side: "Maybe they decided to give it to someone they care about."
Brotz estimated that she's made more than 300 signs, sometimes whipping up a dozen in a single morning. "It's a little bit of an obsession," she confessed.
Until now, anonymity has kept her from getting much feedback on her creations, though occasionally she'll spot someone photographing one. But at the Brotz family's yard sale recently, a woman noticed some artwork on the porch and its resemblance to the tiny signs. She asked Brotz if she's the one making them.
"She was so beside herself, she was almost shaking. 'Can I hug you? I can't tell you how much these mean to me! I send [photos of] them to people around the world,'" Brotz recalled the woman saying. "I don't get to hear that a lot."
Will Brotz continue making the signs now that she's been outed? "Who knows?" she said with a smile. After all, there's no reason to stop now.
"A lot of my initial feelings when I started making these [signs] were about the infinite potential and possibilities we have as humans to do the right thing," she added. "I just like to encourage people to create the beautiful world that they want to see around them."