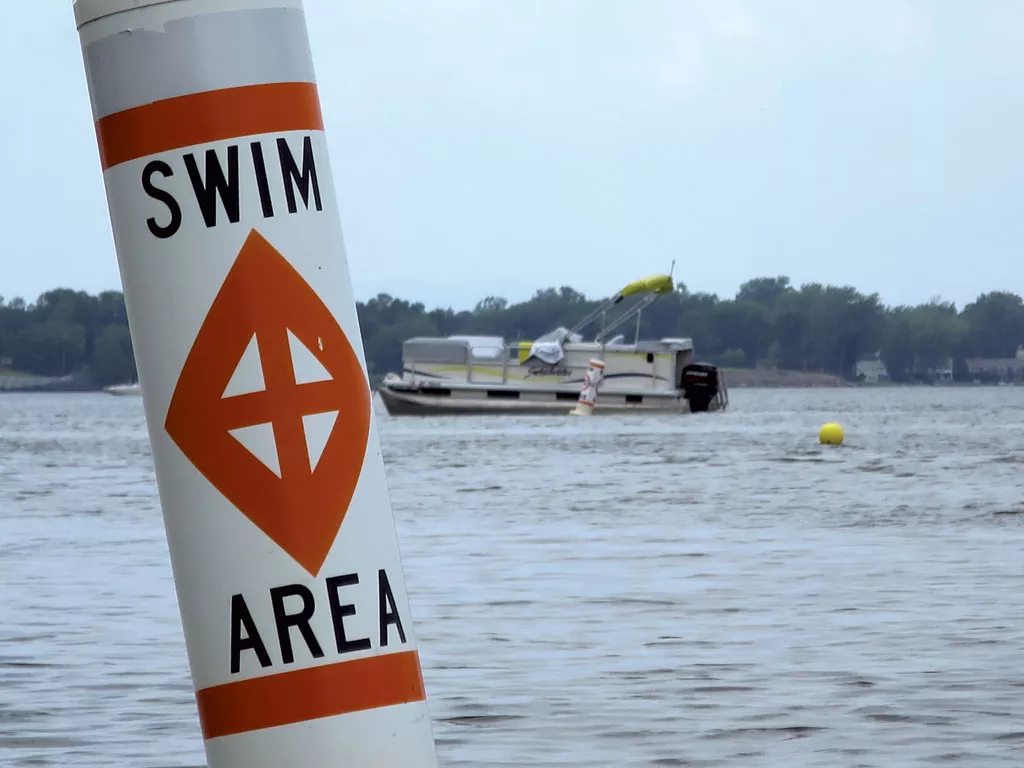 Matthew Thorsen
A buoy off the property
The Colchester Selectboard was in complete agreement on July 14. The four members gathered at the gleaming town office building all thought that a local developer's plan to cordon off a private swimming area in Lake Champlain using buoys was unreasonable.
The only problem? The selectboard doesn't have any say over the matter. Nor does the Colchester Development Review Board, or any other town official.
As it turns out, power to approve buoys rests with the United States Army — specifically the Army Corps of Engineers — which had already OK'd the project.
Colchester is a community defined by its lakeside location. Officials are fond of pointing out that the town boasts 27 miles of shoreline. That includes Malletts Bay, a boating mecca. A glossy visitors' brochure, featuring a yellow kayak in the cobalt lake on the cover, directs tourists to the town's five marinas, as well as several beaches and boat launches.
Lately though, members of the selectboard have found themselves sidelined while another entity decides what takes place offshore. The dispute over buoys highlights how little control local officials have over what they call their "crown jewel."
The selectboard has a history with the property in question. In 2011, the Roman Catholic Diocese of Burlington put 27 acres of stunning lakefront land up for sale. The diocese, which ran summer camps there for decades, needed money to help pay for multiple settlements with alleged victims of sexual abuse by priests. The selectboard tried to convince residents to purchase the property and create a public park. Wary of a tax hike, voters rejected the idea by a 2-to-1 margin.
In 2012, Bruce Barry, a Colchester resident who owns Barry's Automotive shop in South Burlington, bought what is commonly called the Camp Holy Cross property. He lives five houses down from the property, and he has since divided it into seven lots suitable for lakefront houses. His plans for the land haven't encountered opposition; it's what's happening on the water that's causing a stir.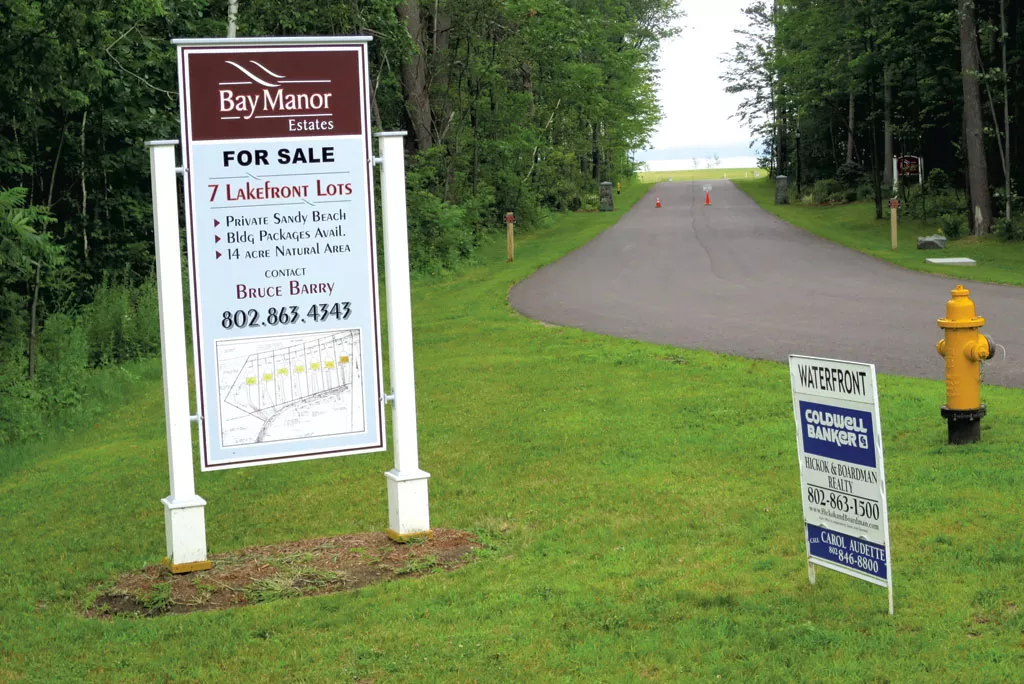 Matthew Thorsen
The former Camp Holy Cross lakefront property is for sale in Colchester
In May, Colchester town manager Dawn Francis received a letter bearing the Department of Defense seal. It informed her that the Army Corps planned to grant Barry permission to install 24 buoys across 885 feet of water to "provide a safe swimming area for the residents of a proposed housing development." It asked the town to respond within two weeks if Colchester officials objected.
Barry had submitted his application to the Army Corps because the federal Rivers and Harbors Act of 1899 charges it with overseeing the nation's navigable waterways. In Vermont, those include Lake Champlain, Lake Memphremagog and various rivers. The Army Corps oversees any activity that takes place beyond the "ordinary high-water mark."
Projects that "encroach" on the lake, such as marinas, docks or dredging also require permits from the Vermont Department of Environmental Conservation. Buoys, however, are exempt as long as they don't "unreasonably impede navigation," according to Kevin Burke, an environmental analyst with the department.
The Army Corps letter in May was the first that the selectboard had heard of the proposal — and members quickly concluded that they did have concerns.
What's so worrisome about a couple dozen buoys?
Located just east of Porters Point, the buoys were to be installed in a boating thoroughfare. "Literally hundreds of boats park in that area on hot summer days," said longtime selectboard member Marc Landry. At times, the aquatic traffic is so heavy that it leads to complaints from nearby lakefront residents.
Landry owns lakefront property himself, but he doesn't have much sympathy for their concerns. "That's life," he said, pointing out that the water in front of their homes is a public resource. "And I happen to think it's probably a good thing," Landry continued, noting, "Not everyone can afford lakefront property."
Landry considers the buoy issue to be a part of this larger conflict between boaters and property owners, and he views it as an attempt to unduly limit public access to the lake. "It creates a sense of exclusivity in that neighborhood that they're not entitled to," he argued.
He and other selectboard members also worry that Barry's project will prompt other lakefront property owners to follow suit, leading to an overabundance of buoys that would clog the waterway.
"I think this sets a very dangerous precedent," said Herb Downing, a member of the selectboard. He suggested that buoys create the false impression that people own swatches of the lake. Some sections of the lake, such as public beaches, have protected areas, but private homes do not, according to town officials.
The selectboard responded forcefully to the Army Corps letter. It asked that Barry's application be denied, writing, "Colchester's beautiful shoreline should be shared and enjoyed by all residents and visitors to our town, not partitioned for the benefit of a privileged few. Such a partition will set a precedent for limiting public access to the lake — something that we certainly do not wish to encourage."
Despite the town's objections, in early June the Army Corps gave Barry permission to put in 22 buoys — reduced from 24 — spaced 50 feet apart and placed no farther than 220 feet from shore. Some are now bobbing in the lake.
Landry said he was "slightly incensed" when he got word of the decision. The Army Corps appeared to have ignored the selectboard's comments. Why, Landry wondered, had it even bothered to seek the town's opinion?
During an interview, Angela Repella, an Essex Junction-based staffer with the Army Corps, explained the decision. When examining applications, the Army Corps considers whether potential projects could interfere with navigation — and concluded this proposal would not, she said.
With 50 feet between buoys, boats should, theoretically, be able to weave through them, meaning that the buoys won't limit public access to the lake. According to Repella, Barry had originally wanted to string rope from buoy to buoy, but the Army Corps rejected the idea because that would obstruct boats.
"It's a good technical position," Landry responded. He contended, though, that even if boats can make it around the buoys, their installation is clearly an attempt to keep people out.
Reached by phone, Barry denied that the buoys were meant to block off part of the lake from the public. Their purpose, he said, was simply to "slow the boat traffic down, not prevent it."
He said vessels pass quickly through that part of the lake: "It's crazy over there."
Surprisingly, he also said he wasn't aware that the selectboard was upset about his buoys.
At their meeting July 14, the selectboard members, noting that they'd never encountered such a plan, agreed that installing 22 buoys seemed excessive. If the goal is simply to get boats to slow down, shouldn't a few buoys suffice?
They decided to reach out to Barry for an explanation.
Throughout the meeting, selectboard members expressed frustration at their lack of authority. Downing described it as a "sore subject." Landry's first thought had been to appeal the decision, but he'd been told the Army Corps has no appeals process — meaning the town would have to take them to court. "I really don't want to spend taxpayer money fighting the U.S. government," Landry said.
Rather than file a suit, the selectboard decided to draft another letter to the Army Corps, asking it to send someone to meet with them. They plan to ask a host of questions, including how the corps would handle a proliferation of permit applications for buoys, and why the town was asked for a position — when their concerns, in the end, didn't seem to matter.
This isn't the first time Colchester officials have been frustrated by their lack of legal standing when it comes to what happens on the water. Selectboard members were similarly displeased in 2013 when the Army Corps gave the Bay Harbor Marina permission to extend its dock 475 feet out into the lake. Landry recalled fielding phone calls from disgruntled constituents and having to explain the selectboard's lack of authority.
Pointing out that features such as docks and moorings have effects on the land — when people come ashore they contribute to road traffic, for instance — Downing said, "We're getting all of the disadvantages of this [development], and we get very little of the advantages."
In response to Downing's point, Landry proposed posing another question to the corps: "Are there any communities on federal waterways that are able to manage their own destinies, and, if so, who are they and what are they doing differently?"