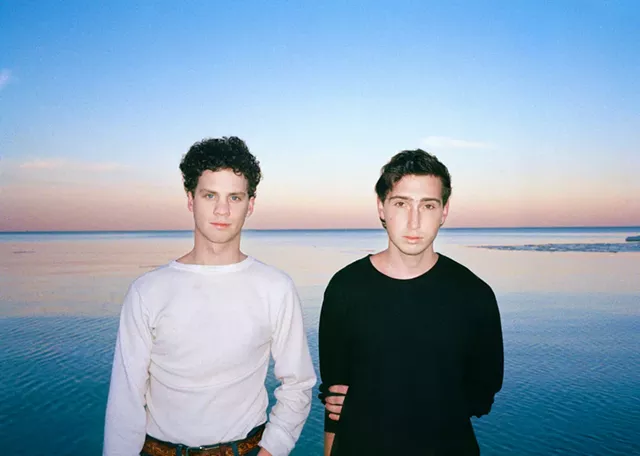 Sandy Kim
Max Kakacek, left, and Julien Ehrlich of Whitney
Chicago's Whitney have spent the past year putting themselves out there — way out there. To wit, the septet's inaugural Instagram posts were essentially a bunch of nude pinups, with strategically placed items covering their junk. The band is flipping the bird, among other things, to the worn-out model of building buzz through secrecy and mystique. For Whitney's songwriters Max Kakacek and Julien Ehrlich, buzz had been sufficiently built much earlier in their careers.
Whitney will bare it all on Thursday, October 13, at ArtsRiot in Burlington, with support from Sam Evian.
Kakacek and Ehrlich were members of the now-defunct Smith Westerns. Ehrlich had once drummed with the acclaimed Unknown Mortal Orchestra. Smith Westerns officially called it quits in December 2014, leading Kakacek and Ehrlich to dream up Whitney while braving the brutally cold winter that followed.
With nothing left to do but write, the guys imagined a gentle mountain man named Whitney as a sort of songwriting device. Their intention was to get out of their own heads, both having recently ended serious relationships hot on the heels of Smith Westerns' split. They soon discovered that while trying to filter themselves through their imaginary friend, the songs they were writing were really pieces of themselves.
Whitney create a retro sound dubbed country-soul. The simplicity of their production leaves ample room for Ehrlich's earnest vocals and wise observations. He says that what we hear on their debut album, Light Upon the Lake, is not a passing fancy and will continue on future albums. As the band moves forward into new songwriting sessions, Ehrlich hopes to incorporate more elements of jazz. He names Mulatu Astatke, godfather of Ethio-jazz, as a recent influence. Seven Days contacted Ehrlich by phone during a brief respite from Whitney's massive tour schedule.
SEVEN DAYS: Whitney performed quite a bit before the record was released [last June]. Was that like putting the cart before the horse?
JULIEN EHRLICH: We really didn't think about that at all. Playing for people who have no idea who you are is actually pretty fun. It's sort of like when you play at a festival. We just go out, and we are who we are.
SD: Your style has been described as "dad rock." Who was your musical "father figure"?
JE: Jacob Portrait from UMO gave me a batch of old records that kind of made me fall in love with music. It definitely influenced my writing style. It kind of showed me what good music really was.
SD: What kind of stuff were you listening to before you got that music dump?
JE: Well, I wasn't listening to bad music; I just hadn't gotten into old stuff. I think it was right when In Rainbows by Radiohead came out, and I was super obsessed with that. Then he gave me a bunch of old records, and I was like, "Screw this." I mean, that album's amazing, but I was like, "Oh, shit. Old music is kind of the truth."
SD: A lot of people are calling LUTL the best album of 2016. What do you think is the best album of 2016?
JE: Frank Ocean's Blonde is insane. I'm still kind of picking through that one. [Also] Jeffrey by Young Thug. I keep going back to that one when I'm bored and not trying to feel really intense emotions. That record is just so fun to listen to.
SD: In the tour van, you have a "three strikes rule" when listening to music, meaning that if an album has more than three tracks that someone wants to skip, you turn it off. Other than Taylor Swift's 1989, have you made it all the way through anything else?
JE: We kind of stopped doing that because we all felt like we were getting slightly too opinionated. There's no way that seven people are going to have the exact same opinion, anyway. I know that we made it through [My Bloody Valentine's] Loveless, but that's a classic. Also [Nas'] Illmatic.
SD: Another term I've seen assigned to Whitney is "supergroup," though I don't know if you agree with that.
JE: I don't, really.
SD: If you could form a supergroup with a musician from the '70s, the '80s and the '90s, who would they be? Bonus points if you come up with a name.
JE: From the '70s it would be Levon Helm, because I have to go by eras of these artists. Like, I wouldn't pick '90s Levon Helm.
SD: Yes, the artists in their best era.
JE: So, '70s Levon Helm; '80s, I would probably do Bruce Springsteen. And '90s ... goddammit — '90s was Britpop, right?
SD: Yeah, for sure.
JE: I don't really like Britpop, though.
SD: There also was amazing hip-hop.
JE: I'd do '90s Phife Dawg, from [A Tribe Called Quest]. RIP, by the way. And I need a name?
SD: If you think of one.
JE: I have this joke band name, called Band Names Smack You. It sounds way too aggressive. I remember me and a buddy were trying to come up with band names for a long time. We were overthinking so hard that our brains basically stopped working. And I was like, "Band Names Smack You." Like, the band name is so good, it just smacks you across the face. And you're already in love with the band because of the name. It's probably a very stupid band name.
SD: There have been a lot of stupid band names.
JE: That's true.
SD: I read that you wished someone would ask you what your favorite rom-com is. So, what is it?
JE: Four Weddings and a Funeral is incredible. Basically, anything with Hugh Grant in it. He's just the most charming, strange-looking dude. Actually, I don't know if I should talk about him. The last time I brought him up in an interview, the interviewer told me he'd been involved with some pervy shit.
SD: That was so long ago. I don't think anyone cares about that anymore.
JE: I'm really into scandal in movies and TV shows. I love it when people cheat on other people. I don't necessarily cheat on women myself, or men. I'm really into "Gossip Girl." High-octane drama.
SD: So, there seems to be a lot of getting naked with Whitney. Where would be the absolute best place to get naked?
JE: Well, considering that you can never really be completely naked in the snow and in freezing temperatures — I mean, you can if you want to get hypothermia or whatever. I would want to be in an insulated glass case in Antarctica. It just seems like a forbidden zone to get naked in, you know? I have this really crystal-clear image of what I just said. It sounds super fun.
SD: Anything else you want to say?
JE: We'd love to play at Stagecoach Festival. I really just want to see fat, redneck dudes chugging Bud Lights during our set.