Dylan Kelley
Chelsea's twin storefronts: the former Chelsea Country Store and Will's Store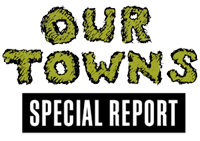 Will's Store on the town common in Chelsea is appropriately named — its proprietor, Will Gilman, wanted nothing more in life than to live and work in the town where he was born and raised. Even as a little kid in the Chelsea Public School, he imagined a job that would allow him to stay in town, his dreams extending no farther than the hills that hem in this tiny dairy community in the middle of Orange County.
He went as far as Burlington — to attend the University of Vermont — and worked briefly as an accountant before he bought the Federal-style brick store in 1985. But for the past decade or so, he has questioned whether his eponymous enterprise could survive. Gilman said that he and the owners of the adjacent Chelsea Country Store had a running joke about who would "blink first." Then it happened. When his competitors finally decided to sell last year, they couldn't find a buyer.
Dylan Kelley
Will Gilman
Gilman acknowledged in a recent interview that his own store survives because it's now the only one in town. But his relief is paired with a deep concern that his hometown may be dying, resident by resident, business by business.
"It's helped me out tremendously, but I hate to say that about someone else's misfortune," Gilman said of the other store's demise. Although he uses a wheelchair, the 62-year-old lives in an apartment above Will's Store and has found a way to navigate the narrow aisles in his shop, which sells everything from beer and greeting cards to blaze orange hats and DVDs.
All across Vermont, rural towns such as Chelsea are imperiled by trends beyond their control. The state's aging population is more pronounced in these locales, where deaths outpace births, volunteer fire departments are shrinking and fewer people are heading to church on Sunday. Their local stores are closing; their schools are being consolidated and shuttered.
These changes are forcing small-town residents to grapple with fundamental questions: What exactly makes a town a town? Can losing a school or a diner threaten its identity — or, ultimately, its existence? Is there a way to stop what longtime Chelsea defense attorney Don Sedon terms "the rural fadeaway"?
'There's Something Here'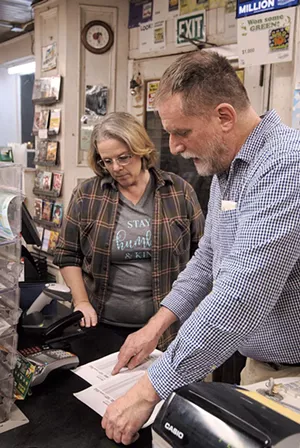 Dylan Kelley
Employees At Will's Store
Like so many rural Vermont communities, Chelsea has been hamstrung by geography and the slow, decades-long attrition of small dairy farms. The town is nestled in hills, 20 miles from Barre and more than 30 from the commercial hubs of Lebanon and Hanover, N.H. Chelsea's population peaked in 1840 at nearly 2,000; the 2010 census counted just 1,238 residents. Last year, the town recorded six births and 18 deaths, according to the town report.
An estimated 60 dairy farms once dotted Chelsea, creating an economy robust enough to support a car dealership in town. Chelsea even enjoyed outsize influence in the legislature. It was home to House speaker Walter "Peanut" Kennedy, who presided over the chamber from 1971 to 1975.
Now just four dairy farms remain, and no other industry has stepped in to generate the equivalent number of local jobs. When he's not milking cows alongside his dad, 40-year-old Shannon Doyle makes a few extra bucks working the 11 a.m. to 3 p.m. shift at Will's Store.
Since 1795, Chelsea has been Orange County's seat of government, giving it two stable employers: the courthouse and the Orange County Sheriff's Department. But in a county of only 29,000 people, in a state where municipal and state officials call the shots, being the capital doesn't come with a lot of economic benefit. Rhoda Ackerman, co-owner of the Devil's Den Farm Homestay Bed and Breakfast, the village's sole B&B, says most of her customers aren't tourists or business travelers; they're people visiting nearby family members. Two churches in town, United Church of Chelsea and Living Water Pentacostal Church, share a pastor for their dwindling congregations.
In the last two years, the decline has become undeniable. Within a few months, Chelsea's lone diner, Dixie's II, and all of Gilman's competitors — the country store, Flanders Market and the Quik Stop — closed. Before a gas station-deli opened in July 2018 in the Quik Stop's former location, there was no place for Chelsea residents to get gas within 25 miles. Will's Store has never had pumps.
At around the same time, plunging enrollment drove the Chelsea school district to merge with that of neighboring Tunbridge. As part of the merger, the K-12 Chelsea school closed its ninth through 12th grade programs. Those 63 high school students scattered to schools as far as 40 miles away.
The events sparked something of an existential crisis in town. Residents volunteer words such as "stagnant" and "quiet" to describe the vibe.
"Chelsea is like a fading place because the population is aging," said Sedon, who has worked in town for 30 years and represented dozens of Chelsea residents as a public defender. "Twenty-five years ago, you would hear kids. There were still larger families, and we would see a lot of kids and hear them playing on the green. You don't even see that anymore."
Its troubles haven't diminished Chelsea's pride. Residents brag, justifiably, about the town's unpretentious charm. They eagerly point out that Chelsea has not one, but two town commons — one features the stately courthouse; the other, a congregational church — and the village is on the National Register of Historic Places.
"Many small towns, you go through them and they don't have anything," town clerk Karen Lathrop said. "We've got a lot more going on than some places. You can come in and say, 'OK, there's something here.' A lot of towns, you don't even know you're there."
Bye-Bye, High School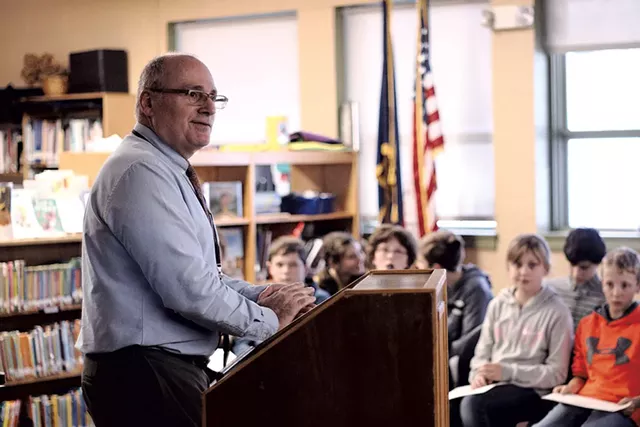 Dylan Kelley
Chelsea Public School principal Mark Blount
The Chelsea school is a monument to the town's boom-to-bust history. The main building is a classic, two-story barnlike structure topped with a small cupola. In 1978, residents voted to construct a modern addition in order to accommodate the town's burgeoning student population. At peak enrollment in the late 1970s, it housed 300 students, from kindergarteners to 12th graders.
Today, 118 kids roam the school's halls, which are lined with international flags, group photos of the student body and portraits of Chelsea residents who served in the armed forces. The place feels empty until a gaggle of floppy-haired kids runs by en route to lunch in the basement cafeteria.
Under pressure from state regulators tasked with lowering Vermont's per-pupil spending, Chelsea residents voted 183-132 in January 2018 to merge school districts with Tunbridge, creating the First Branch Unified School District. That act eliminated Chelsea's high school.
The 63 students affected were granted school choice, meaning they could enroll in any district high school for which they are eligible, with Chelsea taxpayers footing the bill.
School administrators in charge of the remaining students — about half of whom qualify for free or reduced-cost lunches — said the atmosphere in the building has changed, and not for the better.
The elementary school kids used to worship the older kids, guidance counselor Mindy Farnham said. They'd high five each other in the hallways.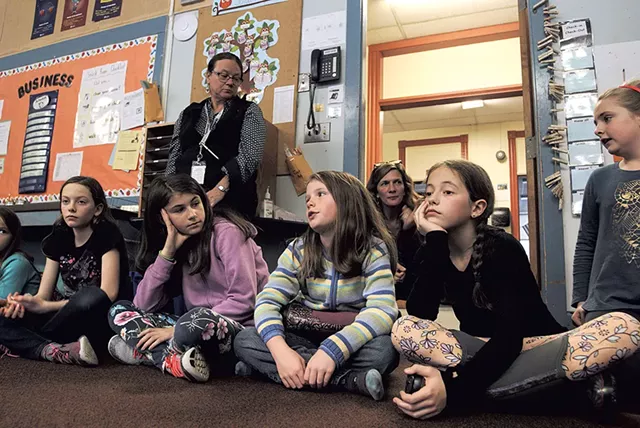 Dylan Kelley
End-of-the-day conversation circle at Chelsea Public School
Now, "the halls look and feel different. It's something we planned for, but I don't think a lot of people understand the impacts on the kids who are still here," said Farnham, a Chelsea native and 1996 graduate of the high school. She said the remaining students miss the multiage dynamic.
Meanwhile, the high schoolers are losing their connections to Chelsea and each other. After the district merger, Chelsea kids who had spent most of their lives together scattered to 13 different high schools, from Montpelier 30 minutes west to Hanover, N.H., nearly an hour's drive east. Most chose a school near where one of their parents worked, Farnham said.
"It's been hard to maintain contact with the students they grew up with, people they went to school with for 10 years," Farnham said. 'That's the piece that is missing."
Ask Chelsea residents about the loss of the school, and many start talking about sports. The games — home and away — were the primary social events in town. During basketball season, for example, the gym was routinely packed, not just with parents and grandparents, but also with locals who wanted to see their neighbors and feel a part of the town.
"You can miss people at the store or the dump by an hour. But you get out to a game, even if it's just one minute of, 'How are your kids?' [and] it matters," Gilman said. "I don't think [outsiders] know what a school means to a small town."
More changes could be coming.
In recent weeks, Chelsea school principal Mark Blount sent surveys to parents and students, asking for their thoughts about the loss of the high school and whether they would support still more consolidation. The school district is considering combining the middle schools in Tunbridge and Chelsea. It is unclear which community would house the new school should the proposal go through — though Blount noted the Chelsea school has lots of extra room.
A Case Study
Dylan Kelley
Orange County Courthouse and the Chelsea Public School
Next door to the school is the other primary source of pride in Chelsea — the Orange County Courthouse. The two-story white clapboard building, built in 1847, presides over the southern common in town and appears straight out of an old-time movie set. At the top of a winding staircase, the main courtroom is appointed with uncomfortable wooden benches, floor-to-ceiling windows and six chandeliers. The court has a bell tower; staffers still ring the bell when a jury returns a verdict in a trial.
Once a month or so, when the court holds jury draws in cases headed for trial, downtown shops experience a slight uptick in business. But on most days, the court's docket features a handful of unremarkable instances of rural crime.
On a recent Wednesday morning, a longtime opiate addict struck a plea deal for a three-year sentence for violating his probation by stealing from homes in nearby Washington, and a twentysomething got probation after pleading guilty to lying to cops about crashing his car into a telephone pole.
Standing guard in the courthouse lobby was Orange County sheriff's deputy George Contois, a retired Vermont State Police trooper who has spent the past 18 years working in the building. He chatted amiably with attorneys, clerks, defendants and anyone else who passed through. On a quiet afternoon, a nervous, ponytailed girl of about 6 years came in with her mother, who was meeting with a probation officer.
"We like to have little rug rats!" Contois exclaimed. The girl pointed nervously at the gun sitting on Contois' hip. "It's my squirt gun!" he said playfully.
Between chatting up visitors, Contois explained that he has seen generations of families come through the court. Crime hasn't really changed much in Chelsea or elsewhere in Orange County, Contois said. But he worries about the future of the community.
"There's not a lot of problems in Chelsea, but there's also no employment," Contois said. "Kids have a rough time. If you're graduating from high school and you're not going to college, what are you going to do? Where are you going to go? There are only so many people who can work for the sheriff's department."
The jobs question proves the most vexing to local officials: How is an isolated community ever going to turn around its population decline if everyone who chooses to stay has to drive 30 minutes or an hour to get to work?
It's already made life more difficult for the all-volunteer Chelsea Fire Department, according to longtime chief John Upham. "You would hear similar things from most small-town departments," he said.
All but a few of his 18 members — of a desired 30 — work outside of town. That means response times are slower than he'd like, especially during the day, said Upham, who works 50 minutes away at Dartmouth-Hitchcock medical center in Lebanon, N.H. He wonders if the volunteer shortages will one day prompt the state to consolidate small-town fire departments as it's currently doing with schools.
Some locals, including Sedon, have suggested that Chelsea open its arms to refugees and New Americans who want to work the land.
"Unless you repopulate the countryside with people who want to be there, it's not going to happen," Sedon said. "There are people who would be very happy to come here and have a couple acres of land and make it work. All these migrant farmworkers, if they could bring their families here and have their kids go to school, they would do it in a minute. They would grow their food, open cafés, open little shops..."
A good idea, perhaps, but "it's hard to be an outsider and move into Chelsea," said John O'Brien, a former substitute teacher at the Chelsea school who was just elected to the legislature to represent neighboring Tunbridge. "The clans are so embedded there. And that goes way back."
A few niche farmers have successfully put down roots in recent years.
Taylor Katz and her husband, Misha Johnson, scoured the Upper Valley region for two years looking for a place to locate their herb-growing operation, Free Verse Farm.
They were drawn to Chelsea's relative isolation, beauty and affordability. Driving its back roads sealed the deal. It "seemed like there was a lot of land for sale," Katz said.
In 2014, they bought a spread at the dead-end of Baraw Hill Road, where they have a nice view of the village but spotty cellphone service.
"We didn't know anyone, and there's a lot of old Vermonters and old relationships and families," Katz said. But the couple gradually made friends and has no plans to leave. "We felt like this was a place with a lot of potential for us to grow," she said.
'A New Look'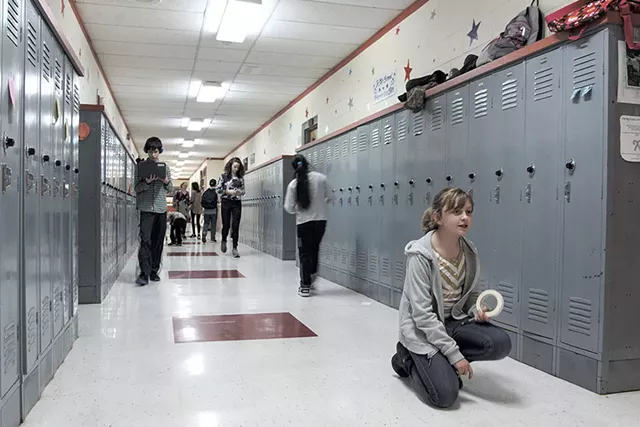 Dylan Kelley
Bailey Boardman in the Chelsea Public School hallway
Can the town of Chelsea say the same — that it has potential to grow? That question drew more than 90 people to a potluck in January.
"There was a lot of head-scratching and, 'I just don't know what to do,'" said local artist Carrie Caouette-DeLallo, who organized the event. "We had quite a slump here for a couple years. The stores closing did something really weird to the psyche of the community. It looked like a ghost town."
Currently, Caouette-DeLallo and others operating under the moniker of Chelsea Arts Collective are pushing a barn quilt project. More than 85 Chelsea property owners are currently displaying the large painted squares on the sides of their barns and homes. The town is offering maps of a "barn quilt trail" to try to encourage outsiders and residents to explore the community.
"It's the perfect project for this area," said Katz, who is designing her own barn quilt to add to the project. "Quilting is such a Vermont tradition, and barns are an architectural tradition. It struck the right chord as a way for people to express themselves and be a part of a community project. Everyone is seeing that we're all part of the solution. We can't wait for someone else."
The arts collective also opened a coffee shop on the northern common, and in 2019 it plans to hold an arts festival there.
Other groups have tried to breathe new life into Chelsea's long-running farmers markets during the summer and to study the feasibility of opening a co-op food store.
It is, Caouette-DeLallo admitted, a small start, but the energy can be infectious.
Dylan Kelley
Outside the main courtroom at the Orange County Courthouse
Inspired by the arts collective's work, a group of Chelsea Public Library trustees hosted a Harry Potter-themed night in February, and a couple dozen people attended in wizard costumes.
"Every time I put something out now, 20 people volunteer, saying, 'What can we do?'" Caouette-DeLallo said. "I'm a lot more optimistic now about what's happening."
Some longtime residents are willing to give just about anything a shot.
"This art group, maybe they will move toward what our town becomes," said B&B co-owner Ackerman, a Chelsea native. "Maybe it will turn out to be that we're not a dairy community anymore. Maybe our town is going to have a new look. Ten years ago I wouldn't have said that, but these arts people, they're busy people. They don't stop."
But back at Chelsea's lone store, Gilman struggles to be optimistic. He would love to sell his store, he said, or hand it down to a successor, but there are no obvious candidates.
And while he is supportive of the new volunteer efforts, he worries that good intentions alone cannot sustain a community.
"Long-term, it's people not knowing each other anymore that's my biggest concern," Gilman said. "People will work to see each other for a while, but over time, if you have to work at it, it will go away."