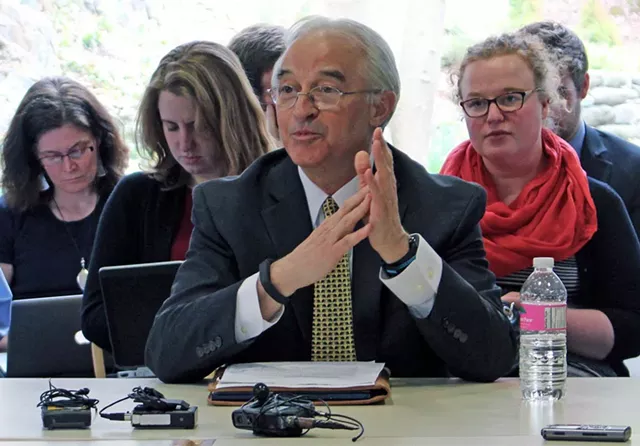 Paul Heintz
Attorney General Bill Sorrell testifies before the Senate Committee on Government Operations last year.
Updated January 27, 2016, at 7:48 p.m.

Bill Sorrell, it seems, is an innocent man.
At least, that's the impression gleaned from media coverage of a report issued Friday by a panel of prosecutors charged with investigating the state's top law enforcement official.
"Special investigator clears Vermont attorney general," WCAX-TV proclaimed, echoing language used in multiple news reports.
Actually, the "special investigator" did no such thing.
It's true that the report's authors — Shelburne lawyer Tom Little and the 11 state's attorneys who supervised him — gave Sorrell a pass on three of the six allegations they considered. But they also made clear that "separate investigatory work is under way to deal with" the most serious of the remaining charges: that a Texas law firm allegedly bribed Sorrell with campaign donations.
Though the report did not elaborate, Vermont State Police spokesman Scott Waterman confirmed Tuesday that his agency was, indeed, investigating Sorrell. [Update: On Wednesday, Waterman told Seven Days that he had been mistaken and that "there was no active investigation." He said the VSP would be meeting with the Federal Bureau of Investigation on Friday to determine whether to initiate such an investigation.]
The troopers might not be alone. As Seven Days reported in December, state officials met with Federal Bureau of Investigation agents in Vermont last year to gauge their interest in taking over the case. Citing standard practice, the FBI declined to say whether it had agreed to do so.
Should the feds pursue the case, they would have plenty of evidence at their disposal. In a sworn affidavit Sorrell submitted to Little last July and gave Seven Days this week, he practically admitted to the crime.
At a December 2013 Democratic Attorneys General Association dinner in Washington, D.C., Sorrell wrote, he was "joined at a table by Michael Messina and some Texas lawyers with whom he indicated he was affiliated." Messina and his wife, former New Mexico attorney general Patricia Madrid, were old friends and campaign contributors of Sorrell's. They were working at the time as brokers for the Texas lawyers, according to a December 2014 New York Times story.
"Just before sitting down to dinner, Mike gave me an envelope saying that he and the attorneys from the Texas firm [Baron & Budd] wished to contribute to my campaign for reelection," Sorrell wrote in the affidavit, which has not been previously disclosed. "I thanked them and accepted the envelope."
Tucked inside were five checks totaling $10,000 for Sorrell's reelection campaign.
During the dinner, Sorrell wrote, Messina and his friends "suggested they would come to Vermont at a future date to discuss the possibility of Vermont suing the oil and gas industry, if I was interested." Baron & Budd has made millions for itself — and the states and municipalities it has represented — by suing the industry over its use of the gasoline additive MTBE.
After Messina handed Sorrell the checks, his clients handed the AG "a folder or manila envelope" containing information about Baron & Budd and a memo touching on "the specifics of relevant Vermont law." Sorrell trucked it back to his office, gave it to an assistant attorney general and asked him to check with the Agency of Natural Resources to "discuss the possibility" of suing.
Within months, Sorrell's office had filed suit and hired four firms — including Baron & Budd and Messina — to serve as outside counsel, guaranteeing them a percentage of any money recouped.
According to Sorrell's attorney, David Kirby, the AG did nothing wrong. The Baron & Budd contributions, he argued in response to Little's inquiry, "do not equate to a quid pro quo arrangement."
"If giving a campaign contribution precludes the donor from any later business with the State, no business would ever contribute to any campaign," Kirby wrote, calling the charges "meritless" and "ridiculous."
Wait a second. If handing a politician $10,000 while asking him to take official action on your behalf isn't a quid pro quo, what on Earth is?
It's a question one might expect Little and his panel of state's attorneys to answer — particularly after nearly nine months on the job. Instead, they punted on the toughest question they faced, writing that the bribery allegation was "beyond the scope of this investigation ... and would need to be done by an investigative body with appropriate jurisdiction, authority and resources."
They weren't the first to pass the buck. For weeks after Seven Days broke the story last April, first Sorrell and then Gov. Peter Shumlin, his fellow Democrat, refused to appoint independent counsel to investigate. When the Senate Government Operations Committee applied pressure, the governor finally relented.
In May, Shumlin appointed Little to investigate a six-count complaint filed in the interim by Vermont Republican Party vice chair Brady Toensing and based largely upon reporting by Seven Days and the Times.
Little's mission seemed clear: According to his contract, he was supposed to investigate Sorrell's "potential civil violations of Vermont campaign finance law and possible related criminal violations of Vermont law." As recently as September, then-Department of State's Attorneys and Sheriffs executive director David Cahill said, "We certainly have not abandoned an investigation into the MTBE lawsuit collusion claim."
But then they did.
According to Addison County State's Attorney David Fenster, who chaired the committee supervising Little, it was never their responsibility in the first place to probe the most serious of Toensing's allegations.
"We were asked to investigate campaign finance allegations, and we saw that one of [Toensing's charges] was not a campaign finance allegation," Fenster says. "We viewed it as an allegation of criminal conduct."
Adds Cahill, who has since been appointed Windsor Country state's attorney: "It's more appropriate for a law enforcement officer, as defined by Vermont law, to investigate violations of our criminal statute."
So Fenster, Cahill and Little passed the buck to the Vermont State Police, who now appear to be passing the buck to the FBI. Which is all well and good for truth, justice and the American way, so long as the FBI actually takes the case. But there's no guarantee that it will.
Investigating an alleged $10,000 bribe may be too tall a task for Vermont's overworked and under-trained county prosecutors, but it may be too small for the feds. It's kind of a Goldilocks problem.
And now that Sorrell has announced he won't seek reelection this fall, the state's political and judicial establishment seems content to see him — and the very serious charges against him — just go away. Because, you know, that's the Vermont way.
Consider the manner in which Little and co. dispensed with Toensing's other allegations.
In one count, the Charlotte attorney accused Sorrell of failing to disclose how he spent his campaign cash. Citing Seven Days' reporting, Toensing noted that at least 16 times during the previous two election cycles, the AG reimbursed himself without explanation for nearly $19,000 worth of expenditures. The law clearly states that candidates must identify each "by amount, date, to whom paid, for what purpose."
Sorrell's excuse? Everybody else is doin' it! Or rather, isn't doin' it. To bolster his case, the AG had a paralegal comb through other politicians' reports and found 117 other examples of such behavior.
Hmmm ... Sounds like an enforcement job for, say, the attorney general.
Little agreed with Sorrell's schoolyard-caliber excuse, noting that on the paper form used at the time to report such expenditures, the space for elaboration is "quite small and doesn't permit more than a half dozen words of explanation."
Makes you wonder how so many others have managed to comply with the law.
In another count, Toensing accused Sorrell of failing to report campaign expenses incurred on his behalf by 2014 lieutenant gubernatorial candidate Dean Corren. Fewer than two months before both faced election that year, Corren invited Sorrell to a press conference he staged at McCaffrey's Sunoco in Burlington to rail against rising gas prices. Toensing said Sorrell should have disclosed as in-kind contributions the money Corren spent on campaign props and staff time.
It's a pedantic point, to be sure, but the context is key: The reason Sorrell's campaign-finance compliance came under the microscope last spring was that he had just thrown the book at Corren for a similarly minor offense. At a March press conference in his Montpelier office, Sorrell had gleefully announced that he would seek $72,000 worth of fines and restitution from Corren for inappropriately asking the Vermont Democratic Party to send an email worth $255.
Fortunately for Sorrell, those judging him were far more charitable than he was to Corren.
In the end, Little and co. agreed with the AG's almost Orwellian argument that the gas station presser "was not a campaign event."
"While Dean Corren may have treated it as a campaign event, attendance was simply part of General Sorrell's job promoting public awareness of an issue and legislation addressed to that issue," Kirby, Sorrell's lawyer, wrote.
Right. The AG's official responsibilities include showing up to a campaign press conference two months before an election to vilify the oil industry.
Turns out there was another reason Sorrell dropped by McCaffrey's: spite. Soon after the event, according to an email Little obtained, Lake Champlain Regional Chamber of Commerce president Tom Torti wrote the AG to let him know that Sen. Dick Mazza (D-Grand Isle) was displeased "about you standing with Corren."
"I didn't endorse Corren," Sorrell responded to Torti. "I care about the issue, not to mention the $4k a whole seller [sic] gave a prior opponent..."
Talk about justice served.
Toensing, for one, didn't think much of Little's nine-month exercise excusing Sorrell's minor transgressions and blowing off Toensing's most significant allegation.
"This is what is known as a country-club investigation or a gentlemen's inquiry," he said, decrying Little's failure to subpoena potential witnesses. "Since the committee was not conducting a real investigation, it may be a good thing they did not attempt to 'look' into the bribery allegations. They would have failed to gather relevant evidence and then come to improper findings based on an incomplete, half-assed inquiry."
Perhaps Toensing has a point. But some of us would still like to get to the bottom of that December 2013 dinner, when a couple of lawyers slipped Sorrell a $10,000 envelope and asked him to do their bidding.
Sorrell doesn't appear to have learned much from his fleeting brush with accountability.
"As for Brady Tensing's [sic] predictable reaction to the results of the investigation, I am sure the outcome is not to his liking," Sorrell wrote to Seven Days. "Perhaps unfortunately for him, the facts and applicable law are not in accordance with his own distorted views."
Toensing's "whining criticisms," the esteemed attorney general continued, "insult many dedicated public servants and demonstrate his apparent lack of informed experience with criminal law and standard investigative procedures."
Right, Bill. Tell it to the feds.
Disclosure: Tom Little, as of counsel to Little & Cicchetti, P.C., provides legal services to Seven Days from time to time.
Bill Sorrell Affidavit
Bill Sorrell's Response to Little Investigation
Bill Sorrell Investigation — Final Committee Report