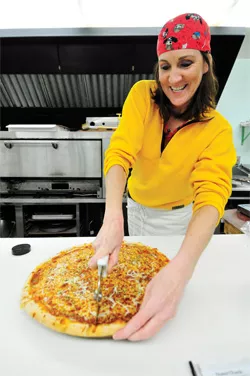 White Rock Pizza owner Maggie Zuccardy uses her usual candor to describe customers' reaction to her closing her Woodbury restaurant last December. "It's crazy; people were calling and threatening me, 'Why aren't you open?'" she recalls. "I have a fucking brain tumor, OK, asshole?"
Zuccardy recently finished radiation and had her final MRI last week. She won't know for months if she's in the clear, but that won't stop her from reopening on November 1. All the White Rock favorites will be available again, including Garlic Love and Meat Me for Dinner pies on crusts made from Zuccardy's starter, which originated in Napoleonic-era Italy.
For the reopening celebration, Pariah Beat will provide tunes, and guests will get their first taste of White Rock's new wines on draught from Oregon's King Estate Winery.
A few weeks later, Zuccardy will introduce a bigger innovation: Sunday-night hearth dinners. She'll use the expertise she developed at colonial-throwback restaurant Randall's Ordinary in North Stonington, Conn., to produce three-course meals, all cooked in the historic building's fireplace.
During cocktail hour, diners will be treated to popcorn roasted over the fire. Zuccardy says she'll regale them with the story of the house, including its reputed ghosts, such as builder E.J. Tebbetts. After a choice of salad or hearth-stewed soup, they'll dine on Revolutionary War-era entrées (choice of meat, fish or fowl) cooked on contemporary iron cookware in reproduction reflector ovens. Of researching retro recipes, Zuccardy says, "It's so insanely interesting."
It's certainly a step up from "falling over when [I tried] to swing a pizza around [my] head," as Zuccardy did a year ago. Here's to her full recovery — and to making history.