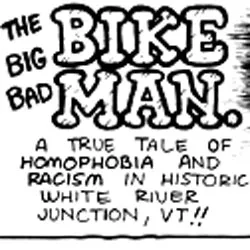 Last Friday, the owner of a used bike shop at 52 Bridge Street in White River Junction came to work and found swastikas spray-painted on the side of the building along with the words "We kill cats." The overnight vandalism is the latest event in a seven-year feud between neighbors that could also be characterized as a classic Vermont culture clash.
To some, Bob Pickering, the shop's illiterate owner, is a gruff but harmless character who is trying to eke out a modest living by salvaging, repairing and reselling secondhand bicycles.
To others, especially David Fairbanks Ford, owner of the Main Street Museum next door, Pickering is a racist and homophobic bully who's repeatedly threatened him and his tenants, harassed his patrons, interrupted museum events, and, Ford alleges, killed his cat. Furthermore, Ford now claims his business is suffering. He's had to reduce the number of hours the museum is open to protect his patrons from Pickering.
Ford, 48, claims the problems began in 2003, shortly after he bought the three-story brick building at 58 Bridge Street, where he lives and runs his business.
The Main Street Museum features traveling exhibits as well as eclectic permanent collections of unusual items from around the world, such as animal skulls, snake skins, evil-eye charms, good-luck amulets, wreaths of human hair, even a vodka glass purportedly once used by the 18th-century Russian poet Aleksandr Pushkin. The museum also hosts special events, such as movie nights and literary readings.
Shortly after he moved in, Ford claims, Pickering began shouting at his friends and patrons, calling them "faggots" and "niggers." According to Ford, Pickering, who also serves as caretaker and night watchman for several nearby buildings, has threatened to tow his patrons' cars, even when they're parked legally. As a result, Ford posted a sign outside his business warning customers not to park near the bike shop.
In an October 2008 incident, Ford alleges, Pickering followed a female patron into his museum and "touched her inappropriately." In another, he claims, Pickering shouted at members of a band playing a museum event and threatened to slash their tires.
More troublingly, in 2005, Ford claims, Pickering complained repeatedly about Ford's cat "ruining" the neighborhood and threatened to "break its neck" with his bare hands. Weeks later, Ford's cat was found dead in his parking lot with its neck broken.
Ford has since filed a no-trespass order against Pickering and has documented these and other incidents on the museum's Wiki page.
"It's just on and on and on," he says, and notes that the museum is now open by appointment only. "I can't run a normal organization this way."
It's a different story at Bob's Bike Shop, identified only by a hand-lettered cardboard sign in the window that reads: "I take all used bikes."
Last Thursday, the day before the graffiti incident, Pickering's wife, Elizabeth, and older sister, Betty Tatham, sat on folding chairs while Pickering, 63, cleaned some bike gears with grease-stained fingers. About two dozen used bikes lined the unadorned walls.
None of the three was aware of Ford's Wiki page. Elizabeth Pickering asked me to read Ford's allegations aloud, explaining, "We can't read or write, and that's why it's so hard for us."
Her husband's reaction was immediate and explosive. "That's all a pack of lies! I ain't never killed a cat in my life," Pickering shouted, asserting that it's Ford who's causing trouble in the neighborhood. Then he stormed out the door.
"He gets a little wound up," Elizabeth Pickering explained. "He takes it the wrong way and gets angry."
When Bob Pickering returned, he said neither he nor his wife had any further comment.
Pickering's landlord is Daniel Johnson, an architect who keeps a studio in the same building. Johnson says he "inherited" the conflict between Pickering and Ford when he bought the building three years ago. Since then, he's had to hire an attorney to represent him against Ford, who's threatened to sue for loss of business.
Johnson says Pickering has served as the building's caretaker for years and does odd jobs for various local businesses. A few years ago, he offered Pickering the use of the vacant storefront as a bike shop.
"From my point of view, he is someone who just wants to be useful," Johnson says of Pickering. "What happens to someone when you take that … away from them? What do they do?"
Other downtown business owners have had run-ins with Pickering. Rob Shatney, general manager of the Polka Dot Restaurant on North Main Street, says Pickering has been permanently banned from the diner for being "abusive to one of our waitresses.
"A lot of people around here have issues with him ... He seems kind of unstable," Shatney says.
Johnson claims he's spoken to Pickering several times about respecting Ford's space, staying away from Ford's patrons and not bothering them about where they park.
"I've told Bob, 'You can't call someone "nigger" anymore, because we don't use that word,'" Johnson says. "It's not 'faggot.' It's just David."
According to Johnson, Pickering comes from a "very rough background." He admits his tenant can come across as "very scary to some people," but he doesn't believe Pickering is capable of hurting anyone, nor does he believe Pickering killed Ford's cat.
Johnson recounts a story from several years ago in which a woman's dog wandered into the street and got hit by a car. Johnson claims that Pickering ran into traffic to give the dog mouth-to-mouth resuscitation. "Does that sound like someone who abuses animals?" he asks.
Johnson, who gets choked up talking about his tenant, explains that he has a soft spot for "what Bob represents … He's being productive in the only way he knows how to be … and given a hard time and ostracized for who he is.
"To me, Bob is eccentric. David is eccentric," he adds. "There may be bigotry on both sides."
But Ford has no sympathy for his neighbor. He says he's filed complaints repeatedly with the Hartford Police and gotten nowhere.
"The police come down here, have a chat with Bob, they laugh it off and then drive away," Ford says. "And that's what happens again and again."
Ford says he has no idea who did the graffiti next door. "Hateful defacement is antihetical to everything we are trying to do in town." Ford says about the swastikas." Capt. Tim Rich of the Hartford Police Department describes the ongoing tensions as "just a couple of neighbors feuding back and forth, as simple as that.
"We've been dealing with this for a year," Rich adds. "They just can't get along, and call us every time one of them does something the other doesn't like."
Ford has also contacted the Vermont Human Rights Commission but was told there's little it can do.
"If there are criminal acts, it rests with the Hartford Police Department," explains Robert Appel of the VHRC, "and if there are potential hate crimes, with the Office of the Attorney General."
Ultimately, Ford recognizes that, short of a costly and time-consuming lawsuit, there's little he can do, since many of Pickering's actions are protected speech.
"He has a right to call me a faggot, and I have the right to call him a toothless, ignorant hillbilly," Ford says. "But when he goes after my patrons and interferes with my business, that's when it becomes a problem." Not just for Ford, but for White River Junction.