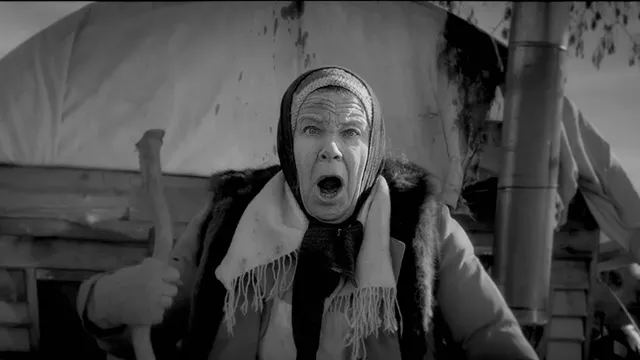 Courtesy Of John Griesemer
Still from "Little Beeri's March"
On June 1, Little Beeri marches into White River Junction. Little who? If you're asking, you clearly haven't seen "Little Beeri's March," a weird and wonderful 25-minute film epic from Upper Valley director John Griesemer and codirector/cinematographer Whittaker Ingbretson. Following an appearance last month at the Denver Underground Film Festival, the short will have its first North Country screening this Saturday at the White River Indie Festival, accompanied by a filmmaker Q&A. It's one of 25 screenings and workshops at WRIF, now in its 15th year.
Loosely based on Bertolt Brecht's Mother Courage and Her Children, "Little Beeri's March" is set during an unnamed war and features subtitled dialogue in a nonexistent, Slavic-sounding language. The story is terse and archetypal: Jaded survivor Mother Beerishma (Faith Catlin) prowls the battlefields in her peddler's cart, selling goods and false hope to the soldiers. "There's a war outside, but we live inside our precious dream," she sings in the film's one musical number, which occasions a brief Spielpalast-style fantasy sequence set in a cabaret.
Then Mother Beerishma's grandson, Beeri (Deric Farris), is conscripted. Can the matriarch save him from becoming cannon fodder? Will she bother to try?
With its stark black-and-white imagery, its leisurely, sweeping shots and its expressionist performances, "Little Beeri" feels at once like an epic and a folk tale with a cutting edge. Clearly influenced by Russian cinema, it has moments that are beautiful, cruel, funny and technically impressive — especially considering that Griesemer shot the film in Vermont and New Hampshire on a shoestring budget.
Luke Baynes chronicled that shoot in a 2016 Seven Days story on the Upper Valley film scene. He noted the seminal role of the Cohase 48 Hour Film Slam, where "Little Beeri" began its life as an entry. WRIF runs its own 48-hour film slam in collaboration with WRJ's Community Access Television. On June 1, audiences will see the unveiling of the shorts that teams of sleepless filmmakers scripted, wrote, shot and edited over just two days.
While high schoolers can enter the slam, the next generation of filmmakers gets a special showcase with the Freedom & Unity Youth Film Contest, open to Vermonters ages 10 to 30. On June 2, WRIF will screen this year's winners of the contest, an offshoot of the Vermont Movie Project aimed at encouraging youth to document their lives in the Green Mountain State.
WRIF's official kickoff, on Friday, May 31, features a fundraising gala and a screening of Amazing Grace. The acclaimed Aretha Franklin performance documentary will be introduced by Jarvis Antonio Green, producing artistic director of JAG Productions. Green also organized a related May 28 event in which two African American opera singers explored the soul singer's love of opera.
With its proximity to Dartmouth College, WRIF has a meaty film education component. Among its workshops are "How to View Film," "Podcasting & the Art of Storytelling" and "Tales From the Hollywood Trenches," featuring war stories from married screenwriters Tom Ropelewski (a Dartmouth alum) and Leslie Dixon.
Other kinds of education will be delivered by documentaries such as Transmilitary (about transgender servicepeople) and Cooked: Survival by Zip Code (about the deadly 1995 Chicago heat wave). International fest-favorite narratives (The Guilty, Styx) round out the program.
Finally, WRIF takes a glimpse at one possible future of film. If you find separate media so yesterday, check out a "cross-platform interactive experience" called The Lost City of Mer. Cocreated by Upper Valley documentarian Liz Canner, it integrates virtual reality and a smartphone app. Can VR be as trippy as the old-school "Little Beeri's March"? WRIF is the place to find out.