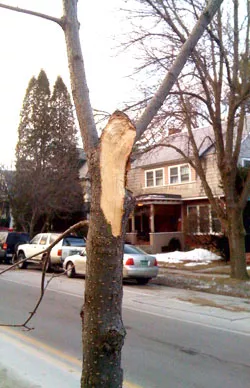 What kind of person intentionally vandalizes trees?
On a recent morning when I left my house to walk to work, I saw something that made me furious. And then really sad. I saw, within half a block, four young greenbelt trees with their branches broken off. On purpose.
Not exactly the Haiti earthquake, to be sure, but an act of vandalism disturbing in its cruel intentionality. A force of nature does not choose what or whom to strike. The person(s) who ruined those trees made a choice.
And what kind of person(s) would make that choice? With apologies to Green Day, let's call them American idiots. Young, thoughtless, drunken American idiots. I am not going to say "college students," because I don't know and it's irrelevant. But I stand by the other descriptors because I actually witnessed this behavior last winter, and it's possible the same characters are responsible this time.
About a year ago, I was woken from a dead sleep at 2:30 a.m. by the sounds of whooping and loud laughter making their way down the street. Not for the first time — this was and is a familiar occurrence in my South End 'hood, particularly in the wee hours of a weekend after the bars close downtown.
The offenders on this particular night, as I saw when I leapt from bed and peered out my window, were two Caucasian men of medium build, most likely in their early twenties. That was all I could swear to, as they were both bundled in thick jackets and hats pulled down against the cold.
I watched to see if they would vanish into the nearby "party" house on our block. They did — but not before one of them reached up with both arms to grab a tree branch on the greenbelt, pulled down with his full weight and snapped it off. Both young men erupted in more loud laughter and headed into said building.
I was stunned, and pissed. I called the police. When I told the dispatcher what I had seen, she said she'd send an officer to my house to get a report. I said I didn't want the officer coming to my house, because I didn't want these guys to know who ratted them out. I didn't want the vandalism to get more … personal.
I asked why a couple cops couldn't go knock on the doors of the apartments in the "party" building, ask the likely perpetrators a few questions, maybe scare 'em a bit. The dispatcher said it wasn't an option unless I could provide better identification. I wanted to scream, Why not? That's what cops do on TV!
Instead, I asked more or less politely what could be done. "You could come down here to the station and fill out a report," she said, sounding bored.
"Ma'am, it's almost three in the morning," I pointed out. "It's snowing. I'm in my pajamas, and I want to go back to sleep." Furthermore, I thought, How is that going to help? Clearly, you are not going to do anything about this.
"Well," she offered, "you could come down tomorrow morning and file a complaint."
So that's what I did — to the surprise of the young cop on duty. "There's nothing we can do now," he said incredulously. "She should have sent out a squad car last night."
The wave of destruction got my neighborhood's Front Porch Forum abuzz. A second street had a trail of broken trees, it turned out.
A year later, it has happened again. The vandalism tends to wane when the trees blossom — that is, those that still have branches to blossom. Maybe even the "wasted" appreciate a tree in its full glory?
Trees provide shade, suck up carbon dioxide and make neighborhoods feel a lot nicer. Their roots help anchor the soil to prevent runoff. They are aesthetically pleasing and, at some level we don't fully understand, spiritually soothing. Any of these accomplishments outweighs what drunken idiots contribute to the planet.
Oh, and those trees cost taxpayers money. Twice, for the ones that have to be replaced.
Neighbors on my street have met and discussed action steps. The police, the city councilor in our ward, city arborist Warren Spinner and the good people at Branch Out Burlington are all aware of the situation and keeping an eye out. The landlord of the "party house" has sent a stern letter to his tenants. The community liaison person at a nearby college has been apprised — just in case. Still, sad to say, the culprits may never be apprehended.
So this "WTF" doesn't yet have an answer, unless the vandals would like to turn themselves in and explain why despoiling young trees is such a hoot — and why they have no regard for the community they live in, or for their own dignity.
Acts like this aren't just "alcohol talking." How many drinkers do you know who choose to follow a night on the town with a branch-breaking chaser? I just don't get it. And I'm still pissed.