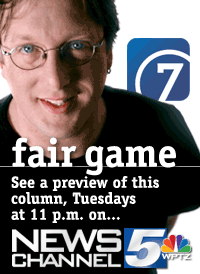 We may escape a major political revelation this week, after nearly a month of surprise announcements.
A quick recap: On August 27, Republican Gov. Jim Douglas suddenly declared that he would not seek reelection. A little more than a week later, Democratic Auditor Tom Salmon made news by saying he was becoming a Republican. (The latter did not come as a surprise to some Dems who viewed his support of Douglas during the legislative session as political heresy.)
As we noted last week, all eyes are now on Lt. Gov. Brian Dubie, the GOP's heir apparent for guv. He's in Alaska this week inspecting Vermont-made wind turbines. No secret meetings with former Gov. Sarah Palin, Dubie avows, but he is convening with the state's current leaders to see if he can get Alaska to buy more wind turbines from Barre-based Northern Power Systems.
I wonder if the Russians can see the whirling blades from there?
So now we're in the hurry-up-and-wait phase of Campaign 2010 — potential pols hurry up and make phone calls to supporters and then wait to hear what Dubie does.
That's certainly the case for gubernatorial hopeful President Pro Tem Peter Shumlin (D-Windham), who tells "Fair Game" he is "more than likely running for governor." He'll make a formal announcement after Dubie.
Already in the race: Secretary of State Deb Markowitz, State Sens. Doug Racine (D-Chittenden) and Susan Bartlett (D-Lamoille). Another likely candidate is former State Sen. Matt Dunne.
Both Dunne and Shumlin have run against Dubie in lite-guv races — and lost: Shumlin tried in 2002, Dunne, in 2006. Shumlin had originally wanted to run for guv in 2002, but stepped aside to make way for Racine, and, in so doing, managed to avoid a primary. Not this year.
Also in the wings is Salmon, who is being talked up as a GOP candidate for governor if Dubie opts to stand down.
Then there's State Sen. Randy Brock (R-Franklin), the guy who Salmon bested in a 2006 recount to win the auditor's job. Salmon may have the edge on Brock in the guv race, too. Ouch.
Absent Salmon and Dubie, Brock is the GOP's putative statewide star — minus the punny surname. He's also articulate and conservative. Stay tuned.
Serving up Salmon — Like any good auditor, Salmon did due diligence before jumping the Democratic ship (onto what arguably could be described as a sinking GOP one). Or did he?
In the weeks leading up to his party switch, Salmon chatted up the three Democratic gubernatorial hopefuls.
He had only a passing confab with Markowitz, who Salmon claims got defensive when he mentioned people thought he should run for governor. "Her arrogance took over," said Salmon. "She talked about how she had been elected to office six times and I was still new to the job."
Markowitz was taken aback when told of Salmon's version of the exchange. She said Salmon called her on his cellphone (with poor reception) to set up a meeting. "I don't remember saying anything remotely like that at all."
Can you hear me now?
Sounds like the "listen" parts of conversation were lacking with Bartlett and Racine, too.
"There were two things that were very evident to me," said Bartlett, who chairs the Senate Appropriations Committee. "He was not interested in listening. Every time we got to a part where he disagreed with what I said, he changed the subject."
She added, "I got the sense that he had long since made up his mind, and he was really looking for confirmation."
Racine, too, said Salmon appeared to have the answers to his own questions.
In announcing his switch, Salmon said, "Vermonters do not want to see tax increases as a consequence of poor planning." He then went on to say that human services needed to be reorganized, and "the GOP has the mindset to make it happen."
That claim belies recent history, according to Racine. Since taking office in 2002, Douglas has reorganized the Agency of Natural Resources and the Agency of Human Services.
"The Republicans — Jim Douglas and Brian Dubie — have been in charge of these reorganizations," said Racine. "So, if Tom has a problem with how it's been done, how can he now say the Republicans are better equipped to do it? I'm confused."
He's not the only one.
Hopping Prog — State Rep. Dave Zuckerman (P-Burlington) is officially mulling a run for higher office ... as a Democrat. Another pol making a Salmon-style leap? Not exactly.
Zuckerman tells "Fair Game" he's considering a run for either state senator or lieutenant governor with the hope of winning the primary as a Democrat and then earning the support of the Progressives. That way he'd be on the ballot as a Progressive-Democrat.
Zuckerman can earn the dual label if he wins in the Democratic primary and also as a write-in in the Progressive primary. Or the Progressives could simply name him as their candidate after the primary — all major parties can fill empty slots on the ballot if no one emerges victorious in the primary.
"I do have to figure out if my farm and family can handle it," Zuckerman said of his community-supported ag venture, Full Moon Farm. He and his wife are in the process of moving the farm from the Burlington Intervale to Hinesburg. Eventually, he'll live in Hinesburg, too, but not for three to five years.
This fusion approach is modeled on the successful candidacy of State Sen. Tim Ashe (D/P-Chittenden). Ashe was a Progressive city councilor who ran in the Democratic primary for state senate in Chittenden County — and made the cut. He went on to win a seat in the 30-member chamber.
"This is one way that a Progressive can run in the statewide race while removing the three-way conundrum that challenges some voters," said Zuckerman.
If not, he added, he'll consider it a lesson learned.
Other possible Democratic candidates for lieutenant governor include Chittenden County State's Attorney T.J. Donovan, former House member Tom Costello, State Sen. Ed Flanagan and former Vermont CARES Executive Director Tim Palmer. House Majority Leader Floyd Nease is no longer interested in the job.
On the Republican side, a few possible candidates are in the wings, and will likely make their presence known once Dubie makes his move. They are: state senators Brock, Kevin Mullin (Rutland) and Phil Scott (Washington).
Party Pooper? —Vermont's GOP chairman Rob Roper has decided not to run for reelection in November.
Can't say I blame him; the guy's barely been paid a dime since January.
Roper tells "Fair Game" that he has a lot of irons in the fire; whichever one gets hottest fastest will determine his next move — political or otherwise.
Maybe he can take on U.S. Sen. Patrick Leahy (D-VT) or U.S. Rep. Peter Welch (D-VT) since the GOP can't find anyone to run against these popular pols? Or, given his Stowe homestead, he could run for state senate in Lamoille County. Its lone senator, Susan Bartlett, is running for governor.
To date, only one candidate has come forward to replace Roper: Dan Riley. He's the former GOP chair in Bennington County, who helped organize Sen. John McCain's campaign in New York in 2000.
Riley's been traveling the state over the past month, talking with Republicans about his bid.
"I like to think of campaigning like football: You have an air game and a ground game," said Riley. "The air game is media and advertising, while the ground game is the grassroots effort: It's direct voter contact. We need to focus on that. The Democrats have done a good job on that, and we need to match them."
Whatever it takes to stay in the game.
Labor Pains — Talk about a chill in the air: The Douglas administration and the Vermont State Employees Association remain at loggerheads about how to trim $7.4 million in payroll costs.
Last week, the union offered to sacrifice a mix of furlough days, lost holidays and its wellness program to save money. This week, the Douglas team countered with a mix of furloughs and holiday takebacks, minus the pay cuts it had previously sought. The catch? The union must agree to cut $38 million from the payroll by FY 2012.
If the union balks, Deputy Administration Secretary Tom Pelham says they may have no choice but to lay off 200 to 300 workers to realize the savings.
"We need to find structural, sustainable savings, and furloughs aren't enough," said Pelham.
The union believes Douglas' counter offer is evidence they just want to cut more jobs. In the past two years, the state has trimmed nearly 650 workers from its payroll.
"They have a choice to accept the real money we have put on the table or lay people off," said Jes Kraus, VSEA's executive director. "It's like we put $7.4 million on the table and they said: You gave us hundreds; we wanted it in twenties."
Last week, the legislative Joint Fiscal Committee told the Douglas administration to seek short-term savings for FY 2010, and leave long-term savings for bargaining talks. The two sides are now embroiled in contract talks for FY 2011 and 2012.
For sure, the only people making money are the lawyers. For example, private option attorney Michael Marks, the administration's chief labor negotiator, is earning $200 an hour, up from his 2007 rate of $170 an hour. Despite the hourly boost, Marks' contract is capped at $120,000.
He'll just have to screw over state workers in less time. Now that's productivity.
The Socialist-in-Chief — Some Winooski students were among the handful of Vermont schoolkids who were barred from watching Pres. Barack Obama's educational pep talk last week.
Some parents want to know why.
Here's what we know: Over Labor Day weekend, three members of the five-member board — a "majority" — decided via email discussions that the live speech shouldn't be viewed until board members could ensure that its content was appropriate, said Jim Ticehurst, the board's chairman.
"I'll stand on what we thought was the best that we could do for the district," said Ticehurst. "We wanted to make sure parents could be given the choice."
OK, but what about those parents who wanted their kids to hear the prez? No choice for them.
John Nelson of the Vermont School Board Association said he was unaware of any other board voting to delay or ban the speech.
How the decision was made in Winooski is almost as controversial as the decision itself.
"You can't make decisions like this without telling the public and allowing them to weigh in," claims George Cross, a Winooski resident and former superintendent.
Cross has a point. A school board can meet on short notice outside of their regularly scheduled meetings, but the public must be warned at least 24 hours in advance, according to state law.
"If this is a regular practice, it's got to cease," said Cross. "Besides, what was said in those emails?"
Cross has put in a request to school officials for copies of the emails exchanged.
Ticehurst said he initiated the discussion with fellow board members on September 4, after hearing repeated claims in the media about the speech's purported content. After reading the speech online the day before Obama's address, Ticehurst said he then asked the board to let kids hear the speech. They balked.
What did people honesty think the president of the United States would say to a bunch of schoolkids during a nationally televised speech? "Hey kids: Don't study, do drugs and be sure to read Che Guevara and Karl Marx."
Got a news tip? Email Shay at shay@sevendaysvt.com
Click here to follow Shay on Twitter.