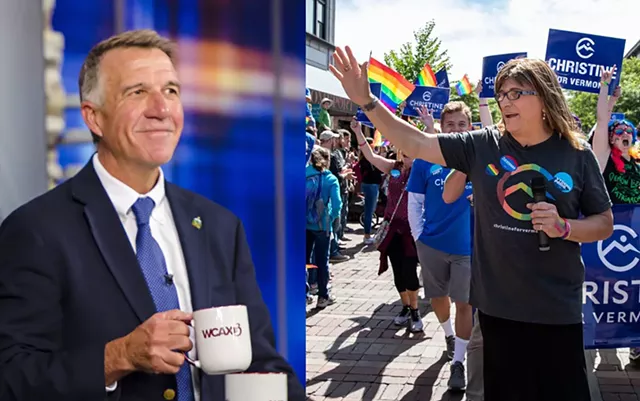 Glenn Russell | James Buck
Gov. Phil Scott (left) and Christine Hallquist
Vermont's gubernatorial campaign is in its final weeks. Candidates are traveling the state for meet and greets, forums, and debates. But in terms of fundraising, the two major party contenders seem to be stuck in low gear. Republican Gov. Phil Scott and Democratic challenger Christine Hallquist are performing dismally in the money game.
As of October 1, Scott had raised slightly less than $500,000 to Hallquist's $358,000. At the same time two years ago, then-lieutenant governor Scott stood at $1.14 million and Democrat Sue Minter at $1.31 million.
Each campaign is different, of course. In 2016 the governor's seat was open, and there were robustly contested primaries for the major-party nominations. But still, the cost of campaigns has been rising steadily for years, and nearly every new season is record-breaking. At the beginning of her candidacy, Hallquist talked of raising $2 million or more. She's not even one-fourth of the way there.
For a gubernatorial campaign, $358,000 is bare-bones. Think of it as a small business with a statewide reach. You need office space, staff, a web and social media presence, graphic design, mileage, meals, the usual stuff. Hallquist has spent little on advertising.
Scott has had more money to work with, and he's sent a lot of it out of state — more than $200,000 to Washington, D.C.-based political consultants and pollsters. He hasn't spent much on advertising since the August primary.
So why are the two candidates failing to raise money?
"National politics have sucked the oxygen out of the room," said Scott's campaign manager, Brittney Wilson. Also, "we purposely started this campaign much later. The governor is still focused on governing."
She then added a bit of an eyebrow-raiser. "He doesn't call people for money at all," Wilson said. "He's never liked to do it."
Hmm. If nothing else, you'd think he might lift a finger on behalf of Republican legislative candidates, because his party is in danger of losing the power to uphold gubernatorial vetoes — a tool he used with historic frequency in his first legislative biennium. He could also be building a war chest for his own future campaigns, but he's not.
Hallquist's campaign manager, Cameron Russell, cited his candidate's April entry into the race. "By the time Christine entered, Minter had raised half a million dollars [in the 2016 cycle]," he said.
And since then, Hallquist has had to balance two demands on her time: meeting the voters and dialing for dollars. "We're trying to be everywhere," he said. "We made decisions to make Christine available to the public that took her away from fundraising."
Jake Perkinson, former chair of the Vermont Democratic Party, sees a national trend at work: Top donors are giving less to individual campaigns and more to super PACs, organizations that can raise unlimited money. Also, he said, "sometimes donors don't like how their money is spent [by a candidate]. With super PACs, they have more control."
Which raises another question: Where the heck are the super PACs? In 2016, a super PAC operated by the Republican Governors Association called A Stronger Vermont spent nearly $1 million between August 15 and October 1 on a blitz of negative ads that hamstrung Minter's candidacy immediately after the primary. This year, the organization spent a quarter-million dollars before the August primary, bolstering Scott against upstart GOP challenger Keith Stern. But since then, it has spent less than $100,000.
The Democratic Governors Association, meanwhile, has been completely absent from Vermont. Its super PAC, Our Vermont, has yet to spend a penny. The super PAC for liberal monolith MoveOn.org has spent a mere $879 on web advertising in Vermont.
"[Super PACs] look for the biggest bang for their buck, and they don't see it here," said Matt Dickinson, a professor of political science at Middlebury College. "They don't see Scott as vulnerable." Dickinson says the independent organizations are constantly polling key races and making investment decisions based on the results.
Russell acknowledged that Team Hallquist would like to go big on television ads but may not be able to. "To be effective on TV, you're talking hundreds of thousands of dollars," he said. "If the money's not there, the money's not there. It depends on fundraising in the next couple of weeks."
That would leave the field wide open to outside groups, which could drop a couple million dollars into Vermont at the drop of a hat. Minter, who knows from firsthand experience, noted that "national messaging has a very negative focus." She warned Hallquist to "be prepared for a big media campaign in the last 10 days."
Unless Hallquist gets a rush of contributions in a hurry, it's hard to see how she could be prepared. She wouldn't have the resources to fight back on the airwaves. Same for Scott; he has more money on hand than Hallquist but far from enough to counter an ad blitz from liberal super PACs.
Due to their lackluster fundraising, both candidates enter the home stretch at the mercy of outside forces. If the super PACs stay out, Scott and Hallquist will have a relatively pleasant run to the finish (and TV stations will bemoan the meager ad buys). But if the dark money floods in, the campaign could turn into a no-holds-barred alley fight. And if, as Perkinson suggests, super PACs are on the rise, Vermont's tradition of political civility will be at risk.
The Union Label
Vermont Democrats have hopes of capturing state House seats in two neighboring Northeast Kingdom districts. In both cases, its candidates are prominent members of the Vermont labor union scene: Martha Allen, former president of the Vermont-National Education Association and Dennis LaBounty, political director for the Vermont AFL-CIO.
Allen is challenging two-term incumbent Rep. Paul Lefebvre (R-Newark) in the Essex-Caledonia-Orleans district, which comprises the northeastern corner of the Kingdom. LaBounty is looking to pick off one of two seats in Caledonia-4, which includes the towns of Lyndon, Burke and Sutton. The district is currently served by Reps. Martha Feltus (R-Lyndon) and Dick Lawrence (R-Lyndon). Lawrence is retiring; Patrick Seymour is the Republican candidate hoping to succeed him.
Allen and LaBounty are fixtures around the Statehouse, but both also have deep roots in the Kingdom. Allen has lived in Canaan since 1985 and taught in the local schools for 24 years. LaBounty has lived in Lyndonville for 25 years and spent virtually his entire life in the Kingdom.
Both emphasize their local ties. "It's where my home is. I love the Northeast Kingdom," Allen says. They also say their experience around the legislature would be a bonus for constituents. "I've been in the Statehouse for 16 years," said LaBounty. "I know how it works. I know the committees and the leadership."
That might be a double-edged sword. "We have a pretty strong independent streak," said Feltus. "We want Montpelier to leave us alone."
Lefebvre points to one particular Montpelier intrusion. "The State Board of Education wants Brighton and Charleston to merge," he said. He argues that the two school districts have been cooperating to expand available classes and keep costs down. "My constituents believe the [state] board never took a look at what's happening on the ground." He also points to high property taxes as a big issue.
Allen and LaBounty believe they can appeal to Kingdom voters with core Democratic issues. They would cut property taxes by shifting education funding to an income-based tax. They emphasize universal broadband as key to economic development. LaBounty is a strong advocate for a $15 minimum wage and paid family leave. Allen sees the Kingdom as "desperately in need of [state] support," in terms of transportation, mental health and opioid addiction.
Lefebvre is seeking a third term in the legislature. Feltus is running for a fourth. Seymour, at age 21, is seeking a House seat for the second time. In 2016, he ran as a Democrat and finished behind Feltus and Lawrence. At the time, he adopted the Dem label partly because he thought it was "an easier path to election." This time, he says, he was enticed to cross the aisle by Lawrence himself. And with a Republican seat open in a normally Republican district, Seymour stands a better chance by switching sides.
Democrats are hoping that a blue wave will sweep them to a legislative supermajority. But "up here, that's not as much of a factor," said Steve Amos, former chair of the Caledonia County Democratic Committee. "People here are pretty independent." He believes that Allen and LaBounty's prospects depend on their ties to the community and their advocacy for the Kingdom.
Competition Is Magic
The state Senate race in Addison County took a surprise turn in late July when independent candidates Marie Audet and Paul Ralston made a joint entry into the campaign. Until that point, the two Democrats — Sen. Christopher Bray and Emerge Vermont executive director Ruth Hardy — were the front-runners in a district that hasn't elected a Republican since the year 2000. Now, the race has become much more unpredictable.
And much more expensive.
In the most recent campaign finance reports, filed on October 1, the six candidates on the ballot reported a combined fundraising total of $84,202. On the same date in 2016 that number was only $17,943. That contest featured Democratic incumbents Bray and Claire Ayer and Republicans Peter Briggs and Lynn Dike. The Democrats coasted to reelection.
Here's an even more telling number. This year, Bray has raised more than $20,000. On the same day two years ago, he'd reported a mere $3,300.
The two independents began their joint effort by donating $5,000 apiece to their own campaigns. In all, Audet has raised $19,653; Ralston, $14,211. Hardy is the most prolific fundraiser in the race, having received more than $24,000 in donations. Briggs, the lone Republican on the ballot, has raised $5,568. Libertarian Archie Flower has yet to file any campaign finance reports.
The most visible evidence of all this money is in the pages of the Addison County Independent. Audet and Ralston have bought more than $15,000 worth of advertising in the paper. Most of the rest has gone to radio stations and other print outlets (including $1,386 to Seven Days). About half of Hardy's spending has gone to postcards and mailings, with less than $2,000 for print advertising. Bray seems to be keeping his powder dry; he's spent only $2,400.
Bray and Hardy find themselves in a tough and unpredictable campaign against well-heeled independents. They have responded accordingly. Competition, it would seem, is a powerful motivator.