file: Jeb Wallace-Brodeur
Server Alyssa Spada at the Bee's Knees
Most people who make a dinner-and-a-show date have their minds fixed on the glow of the footlights. But sometimes the meal ends up making the night. Take, for instance, the day my mom took me to see Jerome Robbins' Broadway. Even as a musical-obsessed 9-year-old, I knew there wasn't much memorable about slavishly restaged excerpts from High Button Shoes and Miss Liberty. But beforehand we stopped at the Russian Tea Room. The handsome waiters in traditional belted tunics and wide pants, along with the butter-bursting chicken Kiev, remain powerful elements of my personal history.
Most of the theater-related meals I've had as an adult have been a little less focused on ceremony. Usually they involve either grabbing something beforehand or scrounging for what's still open after the show. Case in point, the last time I went to the opera, far from dining in gloves and opera glasses, I stopped by Five Guys Burgers and Fries on the way — because, well, I'd spent all my money on opera tickets.
My friends are the types to travel around the state and beyond for a good show. Despite my less-than-stellar track record of pre-show dining, they still ask me for recommendations when venturing out of the area. I usually just tell them which restaurants I like in that region.
But this time I did the research to bring you a list of restaurants that pair with shows happening in the coming weeks, from Derby Line to White River Junction. Though the summer theater season is over, fall offers a wide range of professional and community productions worth seeing. For each region, I chose a few favorite dining spots for before the theater, then did some digging for places that are open after a show. These are my personal recommendations, not a comprehensive list, but chances are you'll need look no further for the right meal on your night out.
Let's start with professional theater groups.
Run for Your Wife, September 17 through October 3
file: Jeb Wallace-Brodeur
Michael Kloeti of Michael's on the Hill
Before the show: The painted tent known as the Waterbury Festival Playhouse isn't in downtown Waterbury, so forget about walkable choices. But a seven-minute drive to Main Street opens up the whole world of "the town that beer saved."
Granted, for a special night you may want to steer clear of the downtown pubs and go more formal. How about an early dinner at Michael's on the Hill or Hen of the Wood? Let the person taking your reservation know that you're trying to make it to a 7:30 p.m. show to ensure you'll have all the time you need to relax and enjoy. Of the two exquisite options, Michael's is slightly closer to the theater. Splurge on a tasting menu for as little as $45 — which gets you three courses plus coffee and tea.
For a casual bite on the way to the show, sit down or take out at Ocha Thai Restaurant. A picnic of spicy som tam could be the best way to prepare for a comedic feast.
After the curtain: The late-night menu at the Reservoir Restaurant & Tap Room has saved me many times. If the popcorn machine is still stocked after the show, a bowl of the salty kernels makes a perfect app before your burger. It would just be wrong not to pair that late dinner with one of the 38 beers on tap, all listed on the menu with a didactic specificity that will satisfy any brewing geek.
Prohibition Pig serves food until 11 p.m. The menu is especially well suited to dining with a group, and later in the evening, scoring a table doesn't pose the same challenges that it invariably does at dinnertime. Share a bunch of Southern-fried apps with friends, such as panko-crusted pimento cheese, duck-fat fries or pork cracklings. If anyone still has room for an entrée, the House Burger, topped with pimento cheese, bacon and a fried green tomato, is the way to go.
The Hound of the Baskervilles, September 17 through October 25, alternating with As You Like It, September 24 through October 24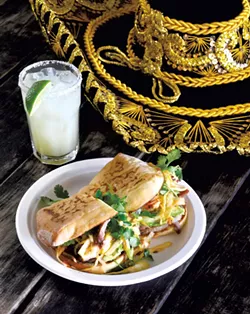 file: Jeb Wallace-Brodeur
Mad Taco
Before the show: Lucky you — two of the city's most convenient dining spots are right across from the theater's location in Montpelier's City Hall Auditorium. The Mad Taco is tiny and ultra-casual; if you don't score one of the few standup tables, you'll be eating at the counter or in the nearby pop-up park. But the lack of atmosphere just leaves room for oversize flavor in the form of tacos stuffed with local meat, enchiladas and sandwiches.
Pho Thai Express is so focused on speed that it serves most of its dishes in take-out containers by default. Though owner Sam Thongjanthoug offers Vietnamese dishes, he's especially assertive about sharing the Thai-style duck noodle soup and duck salad that are his wife's specialties.
For a more formal, but still relaxed, experience, try Sarducci's Restaurant and Bar. The restaurant has survived more than two decades for good reasons, and the pre-Lost Nation crowd is one of them. You can't go wrong with a pizza or pasta dish fired in the wood-burning oven.
After the curtain: Even the capital's dinner offerings are slim after 9 p.m. Three Penny Taproom's kitchen stays open until 10, so hurry in from the theater for fried pig tails or smoked-corn ravioli before settling in for a brew or three at this beer mecca.
McGillicuddy's Irish Pub may be a less highbrow drinking spot, but it serves more than 20 specialty burgers until 11 p.m. The Utah Burger cribs from the West Coast tradition of topping a patty with pastrami and Thousand Island dressing, while the garlic-and-rosemary-seasoned lamb burger comes dressed in mint aioli.
Tribes, October 7 through 25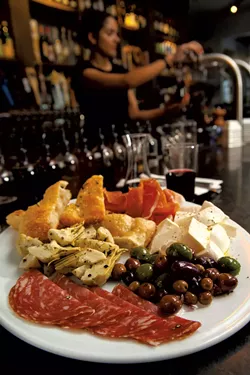 Matthew Thorsen
Pizzeria Verità
Before the show: Downtown Burlington is your oyster when you're seeing a show at FlynnSpace (where Vermont Stage performs) or on the Flynn MainStage. Still, it can be a fun exercise to find dinner on the same block as your show. If it's a fancy night, house-made pasta at Trattoria Delia may be just the ticket, followed by profiteroles filled with homemade gelato. Still into Italian, but not the dark romance of the Tratt? The Delia's wine bar, Sotto Enoteca, is right next door, and Pizzeria Verità serves up Neapolitan pies a few doors down.
Feel more like eating Asia than Europe? Tangle with a bowl of coconutty khao soi at Thai Dishes, or climb the stairs to the roof for mezes with puffy, freshly baked lavash at Istanbul Kebab House.
If you're saving room for dinner after the show, head to the Gryphon beforehand for a Watermelon Julep or a Summer Gimlet flavored with cucumber and basil. You'll have only a few feet to stagger toward the stairs of FlynnSpace when you're done.
After the curtain: The Queen City isn't the late-night wasteland that many other Vermont theater hubs are, but there are ways to play it especially smart after a show. Leunig's Bistro & Café offers the best deal around with a $17.50 prix-fixe that includes choice of soup or salad along with a bistro classic such as steak frites or beef Bourguignon. It's served after 9 p.m. on weekdays and after 10 on weekend nights.
When I'm in the market for a lighter meal, I always seem to find myself at El Cortijo Taqueria Y Cantina for a dinner of locally sourced tacos. And there's no hurry. The restaurant located in a former diner is open until 1 a.m. on weekends.
Just around the corner at the Daily Planet, the late-evening menu is abbreviated. But the full range of Daysie-winning cocktails is available, along with the classic Maura's Salad and new standards such as duck-confit poutine and roasted brussels sprouts with maple-braised pork belly.
Our Town, October 7 through 31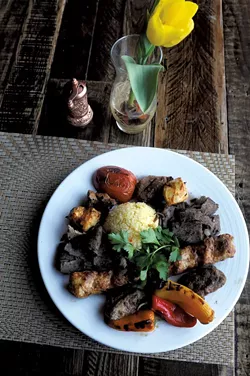 file: Sarah Priestap
Tuckerbox
Before the show: To passersby, White River's culinary scene may seem to begin and end at the bus station. But they need not venture far from the downtown center to find a chef who used to work at New York's legendary Eleven Madison Park. Vermont native Chad Michael Lumbra runs the kitchen at Elixir Restaurant, where diners are likely to find creative but earthy dishes such as chile-dusted chicken with black-bean-and-corn bread pudding, lemon-glazed summer squash and avocado cream.
Tip Top Café serves a similarly eclectic dinner menu, including the restaurant's classic sesame pork-and-ginger meatloaf. Whatever you order, don't miss the battered and herb-tossed fries served in a cone with tangy aioli.
The same Turkish classics popular at Burlington's Istanbul Kebab House fill the menu at the Tuckerbox; the two restaurants share owners Vural and Jackie Oktay. Start with a savory borek pastry, but save room for the signature apple-maple baklava.
After the curtain: Life used to be so much easier before CJ's at Than Wheelers Tavern left White River in 2014. The good news is that it's now just down the road in Quechee and still serves its "wicked good burgers" until 9 or 10 p.m. The bad news? Your only other option is the "miracle mile" of West Lebanon, N.H., featuring the likes of Denny's, Chili's and Applebee's.
Dido and Aeneas, October 16 through 18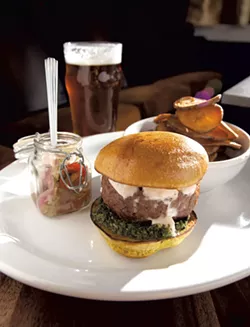 file: Matthew Thorsen
The Lobby
Before the show: Want to know a secret? From 4:30 to 6 p.m., you'll find $2 sliders at the bar at the late Michel Mahe's the Lobby. And we're not talking White Castle hockey pucks. While the kitchen does turn out a classic bacon cheeseburger, you can also try a fennel-dusted duck burger topped with house ricotta and roasted-root salsa, or a white-bean veggie slider. A more substantial dinner, complete with river views, might start with stuffed fried quail, followed by braised rabbit over house-made cavatelli.
Don't look for Trojan cuisine to prepare you for an evening of Purcell's opera. But those seeking an alternative to Middlebury's hearty locavore standards — which include American Flatbread and 51 Main at the Bridge — may want to check out Sabai Sabai Thai Cuisine. Thanks to its location steps away from the stage door, it's a favorite of both performers and audience members heading to Town Hall Theater. This is the place to try Thai foods uncommon in the U.S., including banana-blossom salad and chicken wings stuffed with vermicelli and ground chicken.
After the curtain: Operas are long. Time may fly, but chances are you won't be out of the theater until about 11 p.m. And that means Two Brothers Tavern has taken care of your après-show decision for you by being the only place in town still open. In fact, the pub serves food until 2 a.m. on weekend nights.
Luckily, Two Brothers' late-night menu is fairly diverse, containing both healthier options — such as roasted-beet salad with Boucher Family Farm blue cheese — and diet-be-damned treats such as smoked-pork nachos, poutine and mac and cheese.
And now for the community theater groups:
A Midsummer Night's Dream: The '40s Musical, September 24 through October 10
file: Jeb Wallace-Brodeur
Phoenix Table & Bar
Before the show: These days, I'm sending my hip friends who are looking for something new to Doc Ponds, the casual beer bar recently opened by Hen of the Wood's owners. The LaPlatte River Angus Farm burger is $7. Need I say more?
If my pals don't want to brave the overcrowded parking lot at Doc's, I direct them just up the Mountain Road to Phoenix Table & Bar for oysters and the same blazingly fresh tacos that the owners used to serve at Frida's Taqueria. I'm especially fond of the pork-belly variety with guajillo-pineapple sauce.
For those who prefer to park near the theater and leave the car there all evening, Harrison's Restaurant & Bar and Plate stand feet away on either side of the theater's location inside Stowe Town Hall. Both serve solid food with a Pacific edge. The seared-tuna dishes at subterranean Harrison's are especially worth a try, while Plate excels at big California-style salads and savory soufflés.
After the curtain: Full disclosure: My other half and I have been active with Stowe Theatre Guild for years. After directing a production of Sweeney Todd in 2011, I retired from the stage, but I know all too well that there's but one food option in the mountains after the final curtain falls.
Head to Sunset Grille & Tap Room, and they'll take care of you just fine. The kitchen is open until midnight, and though you won't find the dinnertime "steak on a stone" or the full barbecue menu, you can still get the signature Pig Skins, potato skins filled with pulled pork, cheddar and coleslaw. On a budget? Basic flatbreads and a pair of tacos both cost $3 a plate, and popcorn is free from the machine.
Curtains, September 24 through October 4
file: Jeb Wallace-Brodeur
Server Alyssa Spada at the Bee's Knees
Before the show: The closest option isn't so much a meal as an experience: The Governor's House in Hyde Park is right across the street from the Hyde Park Opera House. Owner Suzanne Boden only serves dinner at her elegantly appointed inn for special occasions such as Jane Austen weekends, but she pours a mean high tea from 3 to 6 p.m., Thursday and Sunday.
A pot of steaming liquid with a side of tea etiquette (I've been personally chided for my insufficiently stylish pour) comes with homemade baked goods, including warm scones with jam. The dinner-size full tea includes a platter of tea sandwiches and delicate Brit-style pastries.
Evening shows at LCP start at 7 p.m., which doesn't leave much time to venture beyond Hyde Park for dinner. The 2 p.m. Sunday matinées offer a bit more leisure time to try brunch in nearby Morrisville. At the Bee's Knees, justly famed Elmore Mountain Bread is drenched in egg custard and walnut-honey butter to make French toast. The same bakery's focaccia provides the base for traditional eggs Benedict.
In the mood for something a bit harder? You'll enjoy the show more after a gose or a pilsner at Lost Nation Brewing's tasting room in Morrisville. Smoked chicken or a plate of ribs will keep boozehounds sated well beyond the curtain for Curtains.
After the curtain: In Morrisville, Moogs Place serves dinner until 10 p.m. on weekends, about as late as it gets around these parts. On the bright side, your evening of entertainment continues with live music served along with your fried zucchini or frickles. The concise late-night menu also includes mac and cheese, fish and chips and wings.
You can continue the chicken party in Johnson at Wicked Wings. Besides more than 20 wing flavors, this bar has burgers, falafel and hot dogs until midnight.
Nunsense A-Men, through September 20, followed by Steel Magnolias, October 9 through 18
Matthew Thorsen
Derby Line Village Inn
Before the show: How big of a night are you planning? Is it dining-in-another-country big? Haskell Opera House straddles Vermont and Québec, so it's not that big a deal to dine in Stanstead. In fact, locavore restaurant Le Tomifobia is only six minutes from the theater on the Canadian side.
Rabbit is a specialty, gracing homemade pâtés, salads and entrées, such as a curried brochette or mustard-braised leg. Buckwheat crêpes come filled with an international array of sweet and savory flavors.
Back in the States, Austrian chef Fritz Halbedl offers a similarly international experience at his Derby Line Village Inn. He serves house sausages as entrées with sauerkraut and potato salad, or atop stone-oven-baked flatbreads. Pastas are made in-house, too.
South-of-the-border almost crosses the northern border at America's Taco Shop. It's takeout only, so grab one of the tacos or burritos made by Mexico native America Guzman-Cortez for a picnic.
After the curtain: Unless you want fast food in Newport, there's just one option. Vermont Pie & Pasta Company in Derby serves dinner until at least 10 p.m. on the weekends, often until 11, says a server.
The large menu is diverse, with appetizers running the gamut from Provençale mussels to dry-rubbed chicken wings in Louisiana-style hot sauce. Entrées include stir-fries and barbecue chicken and ribs, but the focus is on wood-fired pizzas made with local ingredients.