File: Sally Pollak ©️ Seven Days
Coney Island hot dogs and beer at Zero Gravity
Though officially known as the South End Arts District, the corridors along Pine Street and Flynn Avenue could just as easily be rebranded as the South End Food and Drink District.
2020 Art Hop Guide
The neighborhood is known for its collection of breweries and beverage businesses (leading some to call it "Pint Street"), but it's also home to coffeehouses, bagel joints, the Burlington Farmers Market, a grocery co-op, vegan food and ice cream.
Things are operating a bit differently this pandemic year, but many businesses are open and happy to help you fuel up for art viewing. Here are places to stop while you Hop.
Zero Gravity Craft Brewery
The brewhouse and tasting room is serving pints of Green State Lager and Conehead IPA, among others, on the expanded patio. Pair your pour with a housemade bratwurst or dirty fries from the Great Northern kitchen. Curbside pickup is still in full swing, too.
Brio Coffeeworks
This small-batch beanery is open for walk-ins, offering expertly roasted whole-bean coffee and coffee beverages to-go. Customers can also shop online for curbside pickup. Stop by on Saturday for the affogato special: Shy Guy Gelato topped with espresso and unicorn sprinkles.
CO Cellars
Wild-fermented, Vermont-grown vintages from ZAFA Wines, old-world-style Shacksbury ciders and collaborative ferments are available for curbside pickup on Friday and Saturday. Order online to snag frosé in a fun reusable cup — plus nacho kits from Café Mamajuana and frozen treats from Christie's Gone Bananas.
Burlington Farmers Market
File: David Holub
Four-piece meat-free potsticker variety plate with a side of marinated cucumber from Green Mountain Potstickers at the Burlington Farmers Market
The weekly outdoor market brings Vermont's agricultural bounty to the South End. Stop by Saturday from 9 a.m. to 1 p.m. (The first 45 minutes are reserved for high-risk shoppers.) Preordering is available from most vendors, but on-site shopping is also permitted as long as you follow the one-way path through the market and maintain social distance.
Tomgirl
On a mission to nourish customers with "healing rainbow foods," the kitchen here is open for outdoor dining; curbside pickup is also available. Don't miss the organic, seasonal maple-fruit slushies, with flavors such as blueberry-ginger, apple cider, lemon, cherry and mango.
Four Corners of the Earth
There's a cult following for Ladislav Pancisin's globally inspired grilled sandwiches, which include Jamaican avocado, Thai chicken and Peruvian polenta. The cash-only spot takes phone orders starting at 11 a.m. for pickup beginning at noon.
Citizen Cider
Burlington's hometown cidery is serving up its modern pub fare, apple-based beverages and cider cocktails counter-service style, with limited indoor and outdoor seating. On the go? Order the Good Citizen Picnic and a four-pack, then follow the advice on the menu to "take it to the lake."
Dedalus Wine Shop, Market & Wine Bar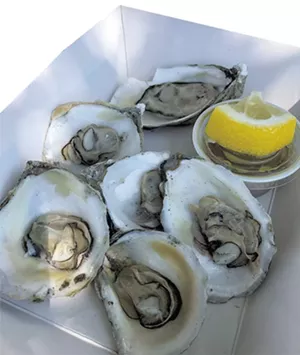 Jordan Barry ©️ Seven Days
Grilled oysters at Dedalus
The green in front of Dedalus is a hot spot for grilled oysters and glasses of wine. Order from the tent and grab a first-come, first-served picnic table — or take your purchase home. Looking for a guaranteed seat? Make a reservation for the wine bar or patio. The expertly curated bottle shop and cheese counter are also open for in-person shopping.
Myer's Bagels
The wood-fired oven here has been turning out hand-rolled rounds since 1996. Stock up on a half dozen Montréal spice bagels to-go, or fuel your Hopping with a breakfast sandwich on a sesame-sunflower bagel.
Great Harvest Bread
Follow the aroma of baking bread up the stairs for sandwiches, panini, salads, pastries, coffee drinks and handcrafted loaves. Order in store or online if you'd prefer curbside pickup. Closed Sunday.
ArtsRiot
"Destroy apathy" is the motto and mission of the recently reopened restaurant and bar, where Pingala Café is popping up with vegan food into the fall. Sip a frozen mojito on the patio, or order online for takeout.
Speeder & Earl's Coffee
Need a caffeine fix? Get hopped up on coffee by the cup or an espresso drink made from beans roasted in-house at the family-owned coffee shop. Online ordering is available.
Feldman's Bagels
The sign out front offers punny bagel missives such as "Poppy don't preach" and "Just dough it." Inside, sit down with a sandwich and homemade matzo ball soup or grab a bialy to-go.
New World Tortilla
Salads, soups and big wraps on fresh flour tortillas are available for takeout and outdoor dining; fillings include Thai-style chicken, classic Mexican beef and veggie sauté. After, head next door to sister biz Sweet Hazel Fresh & Frozen for dessert. Closed Saturday and Sunday.
Sweet Hazel Fresh & Frozen
Vermont dairy, berries and chocolate shine in small batches of frozen yogurt made daily. Order fro-yo or a maple creemee from the walk-up window, and don't forget the toppings. Closed Sunday.
Pizza 44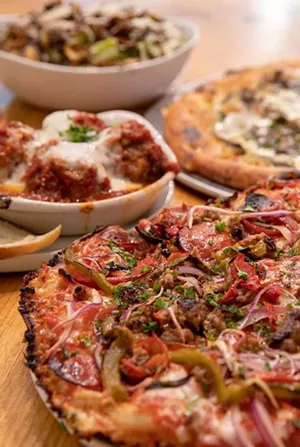 File: James Buck
Pepperoni-and-sausage thick-crust pie and more at Pizza 44
In the same building as Queen City Brewery, Pizza 44 serves New York-style pies baked in cast-iron skillets for dine-in and takeout. The large pepperoni boasts an astounding 65 slices of the cured meat. Place to-go orders online or by phone for pickup at the window.
Queen City Brewery
European brews dominate the draft lines here. With 14 taps and a rotating beer list, the bar has a beverage to tickle everyone's taste buds. Pick up a bumper or growler to-go, or sit and enjoy a pint indoors or out. Call ahead to check seating availability.
The Great Northern
Chef Frank Pace's casual kitchen serves up global cuisines of the north — via takeout through next door's Zero Gravity Craft Brewery. Outdoor seating on the expanded patio is also available.
City Market, Onion River Co-op
Grab a quick lunch or picnic provisions at the South End location of Burlington's grocery cooperative. The deli is open for call-in custom sandwich orders daily between 10 a.m. and 4 p.m.
Nomad Coffee — South End Station
Born from a mobile java shop, this South End outpost complements house-roasted coffees with sweet and savory pastries — as well as a light brunch menu. Order online for pickup, or stop in.
Lake Champlain Chocolates Factory Store & Café
Jordan Barry ©️ Seven Days
Rookie's Root Beer float and a milkshake from Lake Champlain Chocolates
Treat yourself to something sweet from the LCC ice cream truck, which will be on the lawn until 9 p.m. on Friday and Saturday with special Art Hop deals. If chocolate is what you're after, the company is offering free tastes of its new Restorative Moments collection on Saturday from noon 'til 4 p.m.; the factory store is also open for in-person shopping.
The Tap Room at Switchback Brewing
Head to this employee-owned brewery for beer on the patio, accompanied by live music on Friday. But plan ahead, because reservations are required. Curbside pickup is also available for bottles or cans of the brewery's classic ale, IPAs or one of its Flynn on Fire smoked beers; order online.