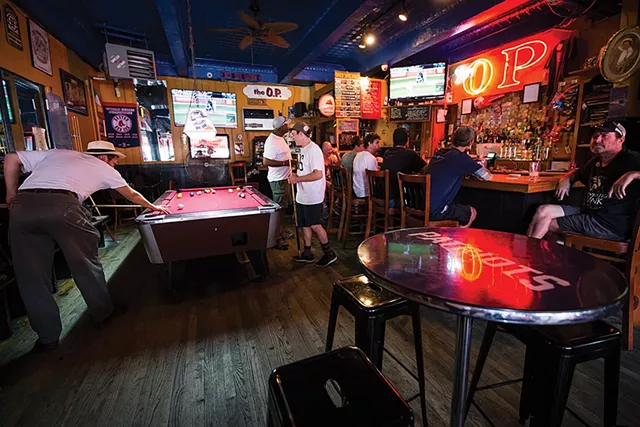 Luke Awtry
The OP
The Other Place
4 N. Winooski Ave., Burlington, 863-5803
The Other Place — or the OP, if you're a regular — opened in 1980, but people have been boozing in its building for generations. It was once a bar known as Sullivan's and, before that, one named for America's 13th president, Millard Fillmore. Whatever you call it, it's the kind of place where the popcorn is plentiful, the crowds are friendly and the pitchers are cheap. On warm summer nights, the garage-door front wall opens, blurring the line between saloon and sidewalk and encouraging merrymaking on both sides.
Drifters
156 N. Winooski Ave., Burlington, driftersvt.com
Sip a $5 can of Citizen Cider or a cheap mass-market brew. No judgment here — the kitchen's too busy turning out kimchi ramen bowls and barbecue pulled-pork sliders.
Manhattan Pizza & Pub
This usually low-key corner hangout is noted for its killer beer selection, popular pool table, good pub grub and local bands on the weekend.
McKee's Pub & Grill
An Onion City staple since 1987, McKee's is best for grabbing a beer and sitting outside to watch drivers royally misunderstand Winooski's traffic circle.
Olde Northender Pub
23 North St., Burlington, 864-9888
Matthew Thorsen
Olde Northender Pub
Owner Bob Beauvais describes this true neighborhood watering hole as "the best damn make-you-feel-at-home bar." What it lacks in draft beer selection, it makes up for in homey charm.
SideBar
Catch a live band — or a two-martini buzz — at the hip bar adjacent to Mr. Mikes Pizza. Beer drinkers can choose from roughly 20 craft beers and ciders on tap.
St. Paul Street Gastrogrub
Belly up to a round of Connect Four at this pint-size South End pub — or snack on $2 corn dogs until the doors close at 2 a.m.