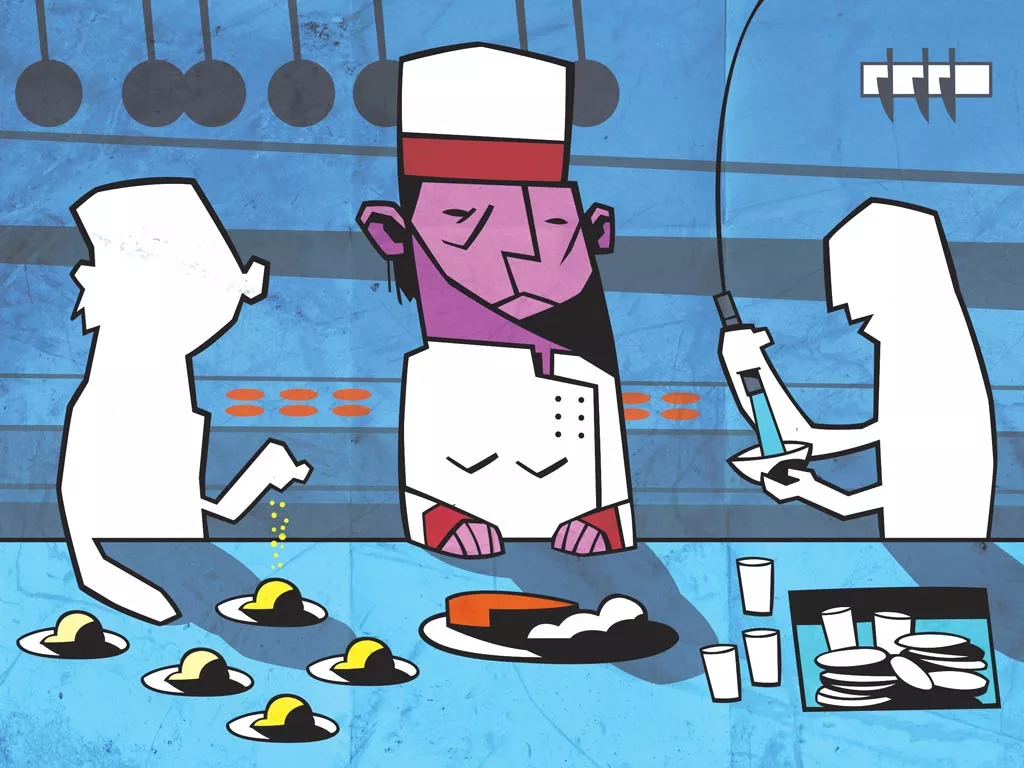 "We used to get bombarded with résumés, and it would be overwhelming," recalls Crystal Maderia, chef-owner of Kismet in Montpelier. "Now, I don't get any. Now, it's not even that I get bad ones."
For the past two months, Maderia has had three full-time jobs sitting open at her farm-to-table restaurant: two line-cook positions and one for bar manager. Ads online and in print have been fruitless. So have emails to technical centers and the New England Culinary Institute. She's asked other restaurateurs to send her extra résumés from their own searches, but their answers aren't encouraging. "They were, like, 'Yeah, right. There aren't any extra résumés,'" Maderia says.
She is far from alone. We talked to several Vermont chefs and restaurant owners who agree that, while finding the right cook, dishwasher or server has never been easy, it's never been harder than in the last several months.
What's changed? A number of factors seem to have piled up at once. We started our detective work by reaching out to Mathew Barewicz, economic and labor market information chief at the Vermont Department of Labor. Though Barewicz doesn't have specific numbers to explain changes in the restaurant business, he has seen a significant drop in labor-force participation among younger people who traditionally take entry-level restaurant positions.
The numbers reflect a national trend, Barewicz says, but Vermont's stats are particularly dramatic. Employment among the state's 16- to 19-year-olds has decreased 4 percent in the past three years and currently stands at 42 percent. The same interval has seen a reduction of 6 percent in the proportion of 20- to 24-year-olds who work, down to 72 percent of that population.
Barewicz explains that some of the drop is reflective of a positive trend: More young people are attending college and fewer are supporting themselves while they do it.
But that's not the only factor at work. Several chefs suggest that the ease of collecting public assistance may be part of the problem — though the only one willing to go on record is Andrea Cousineau, executive chef for Vergennes Restaurant Group, which owns the Black Sheep Bistro in Vergennes, the Bearded Frog Bar & Grill in Shelburne and Middlebury's Lobby, among others.
"The cost of living in this state is so high, and especially places like [the Bearded Frog], where you have to drive, you can't just walk, it's just not financially smart to take a job where you're making a little bit less money and go off your assistance," Cousineau explains. "If you're on assistance, it's hard to let go if your options aren't much better."
The five restaurants Cousineau helps run for chef-owner Michel Mahe are currently fully staffed. But she saw hiring begin to get more difficult around 2011. Luckily, Cousineau adds, Vergennes Restaurant Group has an exceptional retention rate. Many employees have started at the bottom and worked their way through the ranks, including Cousineau herself: She began her career as a high schooler washing dishes for Mahe at Starry Night Café; in Ferrisburgh.
Cousineau's friend Matt Birong, chef-owner of 3 Squares Café; in Vergennes, has long benefited from similar employee loyalty, he says. But in recent months, a prep cook of six years left the industry, while two sous-chefs departed — one to give birth, another to return to college.
Birong is pleased with his newly hired sous-chef, but when experienced cooks didn't apply to fill the vacant positions, he hired several "competent, hardworking" college students instead, he says. And having to train employees who aren't culinary professionals puts pressure on a chef. "I'm basically running a culinary school right now," Birong says. "It adds such an extra workload to my day. Every time I teach them something, I have to make sure they're doing it right the first four or five times."
Even rustling up that green crew wasn't easy, Birong says. He thinks part of the problem is that many young people are no longer willing to start in lower-paying, lower-skilled jobs. Though he cautions that his words shouldn't be taken as a blanket statement, Birong says, "There's totally a sense of entitlement with the younger generation."
For those more experienced potential employees with a passion for cooking, perhaps Vermont's flourishing food culture simply offers too many choices. Maderia says she's seeing more talented young people opt for food jobs that don't involve working for the man (or woman) behind a line. "If you've got a good, strong work ethic and a palate, you open your own food truck or restaurant," she reasons.
Cousineau agrees that toiling in a kitchen isn't for everyone. "Working in kitchens is not easy. You don't make great money; it's hot and it's hard work. The payoff is not always there. Especially, immediate gratification is not always there," she says. "It takes a specific personality type."
Eric Warnstedt is another heavy hitter among restaurateurs who admits to experiencing recent troubles with staffing. The Hen of the Wood chef and co-owner agrees that many younger cooks may be eschewing restaurants for other food businesses. While the rising popularity of food trucks offers one obvious option, other young cooks are learning to cut meat as traditional butchers or make specialty food products. Thanks to Vermont's new meat-processing endeavors and facilities such as Hardwick's Vermont Food Venture Center and Waitsfield's Mad River Food Hub, the local food labor market encompasses much more than the traditional options of working in a restaurant or farming.
What about all those New England Culinary Institute graduates? Warnstedt speculates that more of them may be capitalizing on their well-respected education by seeking employment in big-city restaurants, rather than staying in Vermont. On the flip side, Birong ponders whether NECI is "really pumping out as many qualified cooks" as we might assume. Either way, the expense of living in Vermont is likely to push many culinary grads to try their luck elsewhere.
Speculations aside, Warnstedt and the other chefs with whom we spoke all agree on one obvious culprit for the staffing shortage: the recent Vermont restaurant boom. "We just don't have a rush of really qualified people in [northern and central] Vermont to keep up with the amount of new food positions that have come around the past couple of years," he says.
This foodie renaissance has brought not only more opportunities but greater demands for skilled labor. "Our overall palate has changed," Cousineau posits. "Over the last 15 years, we've all become a little more aware of food." The many locavore restaurants that have popped up in the past half decade require far more of their staff than emptying a freezer bag into a fryolator.
Theoretically, a line cook who comes into the job with a more refined skill set will also earn a higher wage. But in a business that is often seasonal, especially outside Burlington, that's not a given. According to Birong, whose restaurant is highly dependent on Vergennes tourism, "When I'm making money, they're making money."
His recently departed sous-chef was making about $35,000 a year, Birong says, but he's reluctant to try to attract experienced applicants with big pay-offs, especially with tax hikes hanging over his head.
"Business owners are scared to commit to payroll [increases] because of uncertainty with taxes," Birong explains. "If you're staring down the barrel of a 10 percent payroll increase, that's anywhere between $25,000 to $30,000 extra I gotta find."
For a business his size, the results of a shortfall could be disastrous, says the restaurateur.
Meanwhile, restaurants are already suffering from the dearth of line cooks. Birong has had to make his specials less ambitious to ensure his inexperienced staff can prepare them reliably, he says. Maderia is left with the brunt of the extra work at Kismet, handling many of her kitchen's menial tasks herself.
This spring, she planted the crops for Kismet's farm three weeks later than she had hoped to. The veggies are currently flourishing, but Maderia says the 18-hour days she used to have sound luxurious to her now. "I'm stretched too thin to be creative, but my business relies on it," she laments.
Is there a solution in sight? Barewicz recommends that restaurateurs reach out to the Department of Labor, which uses taxpayer dollars to match employees to employers at no cost to the business. "Vermont employers are going to have to change the way they target recruitment," he says. "When it comes to young people and low labor-force participation, some would [only] take jobs if they fell into their laps."
Perhaps Maderia will eventually reach out to the state for help, she says. But for now, she'll wait for the perfect matches.
"I would totally take this job. I'd be psyched to take this job. There were definitely times in my career when I was searching for a job like this," Maderia says. If luck is on her side, a few good cooks with a love for farm-to-table fare will soon come calling.
The original print version of this article was headlined "Labor Pains"