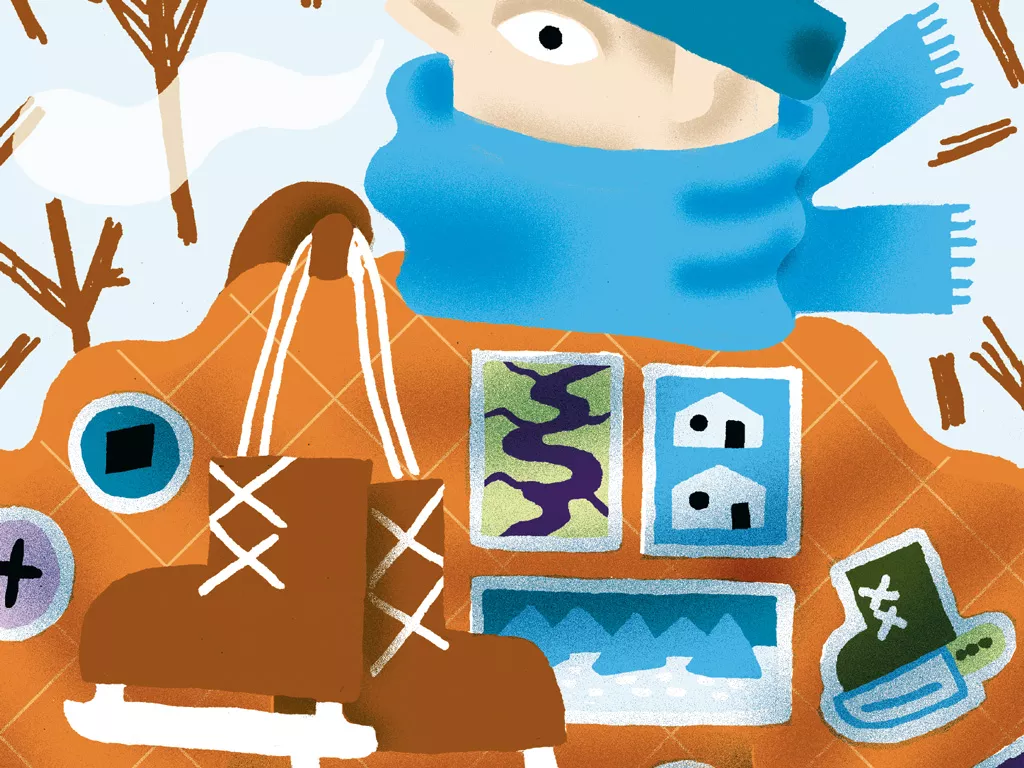 Skiers know that hitting outdoor slopes easily beats ducking indoors to an artificial hill with fluorescent lights and fake snow. Still, so many recreational skaters rely on indoor rinks without realizing the plethora of open-air venues. From rinks at city parks to the numerous spots on Lake Champlain, the Queen City alone wears a crown of crystalline spaces for ice-skating. And then there's the rest of the state.
Lisa Segear, of the Champlain Valley Skating Club, puts it simply: "It's winter. There's snow and ice, so people should skate!"
But, as with other sports at the mercy of Mother Nature, conditions vary. "Sometimes you have packed powder, other times frozen granular," says Jamie Hess, owner of Nordic Skater in Norwich and a longtime advocate of al fresco skating. Nordic skaters wear special skates — essentially cross-country ski boots with affixed blades so sharp that, in a 2005 feature on the sport, the New York Times compared them to kitchen knives.
Thankfully, you don't need Nordic skating equipment to glide outside. With a basic pair of skates and some know-how on where to go and how to read the ice and snow, anyone can participate. The payoff, says Hess, is pure freedom. "Some people say it feels like flying," he reports.
Below is a sampling of some sweet outdoor skating spots throughout Vermont.
Lake Champlain
"With 100 miles of lakeshore to choose from, there's pretty likely to be good conditions somewhere," says Hess, who points to Burlington's Waterfront Park, Malletts Bay in Colchester and Sand Bar State Park in Milton as popular launching spots for past Nordic skating tours and introductory sessions. South of Burlington, there's Shelburne Town Beach, Converse Bay in Charlotte and Basin Harbor Club in Vergennes, plus the lesser-known area near the water-treatment plant in Panton.
Hess oversees an email list with more than 300 members who report on ice conditions around the state, but he warns skaters that the further south they head, the less reliable Lake Champlain becomes. That's because, as it narrows, the lake behaves more like a river, running wild with unpredictable currents.
"The broad lake, offshore from Burlington, has the least amount of currents," says Hess, "but another factor is the wind — the Champlain Valley is naturally windy, and wind can break up an ice layer that's a foot thick."
The relatively shallow Sand Bar is one of the first spots on the broad lake to freeze, notes Hess. He adds that anxious outdoor skaters are better off heading to smaller lakes and ponds for an early-season skate session.
The largest skating oval on Lake Champlain appears across from the Hero's Welcome store in North Hero for the Great Ice festival every February. "We're probably one of the few places on the lake that keep the ice maintained," reports Paul Letourneau of Hero's Welcome, which also rents skates.
Want more info on exploring frozen Lake Champlain? Visit lakeice.squarespace.com. There, local expert Bob Dill posts updates on frozen fun from shore to shore, along with ice hazards and the science behind the glossy surface.
Lake Memphremagog
Pouring hot water on the ice might seem like a counterintuitive act, but it's actually the trick to creating a perfectly smooth, 750-meter speed-skating oval. And it's just what outdoor skating enthusiast Phil White was doing when he prepped for the Kingdom Games last February. White smoothed out the 2.5-feet-thick ice on Lake Memphremagog using water boiled at Newport's East Side Restaurant & Pub.
"We try to keep it open from the middle of January to the middle of March," says White, who also clears three pond-hockey rinks on the 32-mile-long, border-straddling lake. "When time allows and conditions are right, we clear Nordic skating trails that go for many miles. Sometimes conditions are such that the lake doesn't need to be plowed."
Lake Morey
When it comes to skating in the wild, nowhere else in the U.S. — not even Alaska — matches Lake Morey, says Hess. Its four-mile, machine-groomed Nordic skating trail was developed 15 years ago as a way to re-create the centuries-old culture of outdoor skating in northern Europe.
"It's like taking a trip to Scandinavia without having to leave Vermont," he says, adding that the machine-groomed ice-skating trail is unique also because it's open 24-7 and free to the public. The only charge is to rent Nordic skates. (If you live closer to the Adirondacks, Lake Placid's Mirror Lake has a two-mile, machine-groomed trail.)
Parks and Ponds
Hess points to Shelburne and Colchester ponds and Cedar Lake in Monkton as some of the top spots for outdoor twirling close to Burlington. "Any place that has shallow water and is protected is good," he says. That makes the city's Calahan Park rink, nestled between Pine Street and Shelburne Road, an especially auspicious place. Farther afield, Waitsfield's Skatium rink rents skates. Half of the ice is reserved for hockey, the other for ice-skating.
Rivers
"Rivers have moving water under the ice," says Hess, explaining that in winter, these seemingly wonderful waterways can actually be quite wicked. "You have to be especially careful under bridges where the river narrows, because that makes the current stronger, and the road salt pushed off the bridge by snowplows is going to melt the ice and make it weaker," he cautions. "Plus, the bridge structure blocks the natural cooling effect."
Still, skaters have been known to hit LaPlatte River in Shelburne, the Winooski River in Montpelier ("Nobody in their right mind would want to do that," says Hess), the Lamoille River in Milton and, further south, Dead Creek.
Safety: The Frozen Four
Before you head outdoors, go online to find stable skating spots, says longtime skater Jamie Hess. He recommends that everyone carry the same set of safety equipment that's mandatory on skating tours in Sweden.
Ice-testing poles.They should have sharp enough tips and strong enough shafts to withstand the impact of ramming straight down into the ice without shattering. "For Nordic skaters, these double as propulsion so you don't have to do all the work with your legs," says Hess.
Self-rescue equipment. These are typically ice "claws," as you won't be able to grip the slippery ice with your hands should you fall through the surface.
A pro bag, or Nordic lifeline. It's essentially a small bag containing a 75- to 80-foot rope that skaters can use to rescue someone else without breaking through the ice themselves.
A backpack with a change of clothes. This can also help maintain flotation if you fall into the water.