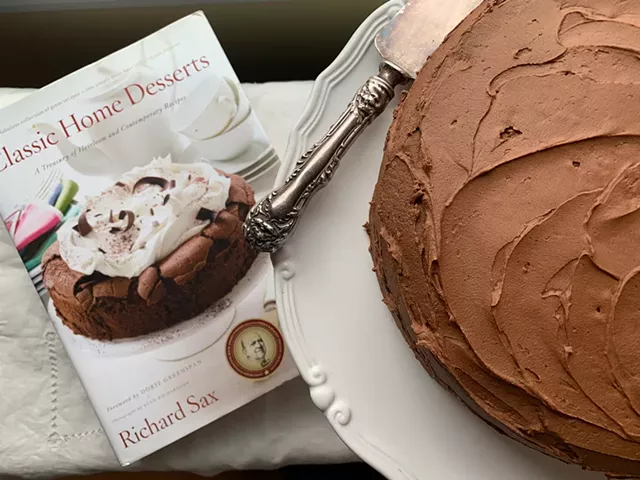 Melissa Pasanen
Classic Home Desserts by Richard Sax and his fudgy chocolate layer cake
Cookbooks, at their simplest, are collections of pages filled with ingredients and instructions. But if we return to them often enough, they transform from prescriptive steps and grocery lists into something special.
Sure, it's easy to google a recipe and pick the one touting its "quick, easy steps" — especially this year, when cooking can feel like drudgery. But there's something deeply grounding about cracking a cookbook's spine and working from print: deciphering a recipe without the chorus of online comments, or returning to a process that's tried and true.
Here are two essays about the power that cookbooks hold — beyond offering accurate results and delicious desserts — and their ability to comfort, provoke memories and connect people with those they've loved and lost.
— J.B.
The Balm of Baking
Courtesy Of Brett Simison
Rux Martin
More than any other author I've worked with, Richard Sax appreciated the power of desserts to soothe and fortify. He understood that when things are going well, we brag about our high-protein diets and the latest bean dish, but during the apocalypse, the urge to bake is primal.
He also knew a thing or two about fighting an invisible international killer.
When I began working with him on Classic Home Desserts in 1993, Richard was one of the best-known food writers in America. He had been the former director of the test kitchen at Food & Wine, where he excelled at turning chef creations into dishes easily made at home. He was a teacher par excellence.
It was the golden age of magazines, and he was one of its princes. Richard wrote for Bon Appétit, Yankee, the New York Times and Out, to name a few.
For more than a decade, Richard had searched out the best desserts he could get his hands on. To make it into the book, each one had to be tops in its category, whether it was a yeasted German coffee cake or an apple crumble from a 1744 cookbook.
Each dessert must have, as he put it, "a spirit of unadorned frankness." He wasn't impressed by the complicated creations of pastry chefs. Instead, he was drawn to the homey recipes of mothers, grandmothers and other humble cooks — or those of chefs who cooked like them — recipes that had proved themselves around family tables for generations.
Richard had unerring radar for the best. Testing and perfecting them, he created a gargantuan work of more than 350 recipes. For months, we frantically wrestled the thousands of manuscript pages into a book.
Then, suddenly, Richard began to fall behind. He was mysterious about what was wrong and warned me not to tell anyone he was sick. His friends knew, though. Often he worked from a hospital bed.
Shortly after the book was miraculously finished, it won a James Beard Award for best dessert cookbook. A few months later, Richard died of AIDS. He was 46.
Richard's masterpiece remains as timeless as ever. It's the book I go to most often during the holidays and for every other occasion when I want something effortlessly perfect. A bread pudding with a whiskey sauce so potent you need a liquor license to serve it. A silky crème brûlée with a crackling top that tells why the dessert became a sensation. Lemon icebox cookies that are "ferociously addictive."
Recently, a friend told me that she has baked a different chocolate cake for her boyfriend's birthday every year. This year, she made the Fudgy Chocolate Layer Cake from Classic Home Desserts. It was the best of all, she reported.
Richard's chocolate cake isn't tricked out with frou-frou ingredients. It doesn't call for fancy chocolate — just ordinary cocoa powder, with unsweetened chocolate for the frosting. All his recipes are that way: They taste like something your mom would have made if she were the best cook in the world. They are simple goodness.
Nearly 25 years after Richard's death, as we find ourselves sequestered from an invisible plague, his recipes beckon.
— R.M.
Rux Martin is a Ferrisburgh-based independent editor specializing in cookbooks. From 1997 to 2019, she edited food-world luminaries such as Jacques Pépin, Dorie Greenspan, Pati Jinich, Mollie Katzen and Marcus Samuelsson at Houghton Mifflin Harcourt. Martin's essay is excerpted and adapted from a longer piece that was published on April 16, 2020, on ckbk.com.
Fudgy Chocolate Layer Cake
From Classic Home Desserts by Richard Sax
Makes one 9-inch, two-layer cake; serves about eight.
Ingredients
Cake:
1¾ cups all-purpose flour
¾ cup plus 3 tablespoons unsweetened cocoa powder
1¼ teaspoons baking soda
⅛ teaspoon salt
¾ cup (1½ sticks) unsalted butter, softened
⅔ cup sugar
⅔ cup packed dark or light brown sugar
2 large eggs
2 teaspoons pure vanilla extract
1½ cups buttermilk
Frosting:
½ cup (1 stick) unsalted butter, softened
1 cup confectioners' sugar, sifted
2 teaspoons pure vanilla extract
3 ounces unsweetened chocolate, melted and cooled slightly
Directions
For Cake:
Preheat the oven to 350 degrees F. Butter the bottoms and sides of two 9-inch cake pans. Line the bottoms with rounds of parchment; butter the paper and set aside. Sift the flour, cocoa, baking soda and salt together; set aside.
In a bowl with an electric mixer on medium-high speed, cream the butter with the white and brown sugars until light. Add the eggs, one at a time, beating thoroughly after each addition. Add the vanilla.
Lower the speed to slow and add the dry ingredients alternately with the buttermilk, beginning and ending with the dry ingredients. Mix just until blended, no longer. Divide the batter between the prepared pans; smooth the tops.
Bake until the cakes shrink slightly away from the sides of the pans and a toothpick inserted in the centers emerges clean, 20 to 25 minutes.
Cool the cakes in the pans on wire racks for 10 minutes. Carefully loosen the cakes from the pans with the tip of a knife and invert onto the racks; carefully peel off the paper. Turn right side up and cool to room temperature.
For Frosting:
In a bowl with an electric mixer, cream the butter with the confectioners' sugar until very light. Add the vanilla and melted chocolate and beat until smooth.
Place one cake layer on a serving plate; spread with a small amount of the frosting. Top with the other layer; frost the sides and then the top, swirling the icing. Let the cake stand for at least 30 minutes before cutting. Serve at room temperature.
Testing note:
If you like to frost your cakes generously, you might want to increase the frosting quantity by about 50 percent. Rux Martin also strongly recommends the recipe for Bon Ton's New Orleans Bread Pudding with Whiskey Sauce.
A Proper Mince
Jordan Barry ©️ Seven Days
Mincemeat ingredients
Mincemeat is one of those English holiday traditions that adults observe out of obligation and children overlook in favor of vibrantly frosted sugar cookies. Its only hope of future popularity rests on an appearance as a technical challenge on "The Great British Baking Show."
I happen actually to like the festive flavors of mincemeat, especially in the form of mini tarts. But when I set out to make a batch this year, I couldn't figure out which recipe would produce the version I'd eaten growing up.
I could picture myself pouring raisins and dried currants into a bowl — the biggest bowl we had — and cutting wonky little stars out of dough to top the tarts. I heard my mother's voice as she poured a little more brandy than the recipe called for into the bowl and reached in to mix it all together, telling me stories about her English grandmother.
As the memories flooded in, I remembered Mum on her tiptoes, reaching above the stove to open the creaky barn-board cupboard that held her cookbooks. She pulled down her once-gold copy of The Fannie Farmer Cookbook, 1965 edition. It was Christmastime, and we were making mincemeat.
That Fannie Farmer now sits on my shelf — khaki-greenish and precariously held together with strips of duct tape that have lost their stick. My mom passed away in February 2019; the cookbook was one of the first things I packed when I cleared out my childhood home in fall 2020.
Last Christmas, I didn't tackle the lengthy process of chopping and mixing that mincemeat requires. It was too hard to do it without her, and I still had a jar we'd made together the Christmas before. After this year of communal grief and despair, though, I sought the comfort of the slow, repetitive combining of ingredients.
I found the mince pie recipe on page 417, with several variants of mincemeat on the following pages. Figuring out which we'd made was easy: The first recipe, Mincemeat I, called for four pounds of lean chopped beef. Nope, not that one. Turning the page to Mincemeat II (without meat), I noticed the page was bookmarked with an old receipt (and plenty of spatters).
The ingredients were familiar, and one pound of suet seemed like a reasonable — and traditionally British — inclusion. When I looked more closely at the receipt, I noticed it was from Cullinan Store, the tiny grocery store in Arlington, Vt., with a top-notch butcher — probably where Mum got her suet.
Cullinan Store has long since closed, but I lucked into several pounds of suet from Stony Pond Farm in Enosburg Falls. I dusted off Mum's old-fashioned, hand-crank metal meat grinder, which I'd recently clamped onto the counter just for looks. Running chunks of the suet through it, I thought about how she used it only twice a year: once for mincemeat and once to grind up leftover Easter ham (which she didn't really like).
Each step of the recipe brought little flashes of the past. I made a few guesses when it came to the size of the coarse chop for the apples and the citrus — which I'd gone through the unnecessary effort of candying myself. I wasn't sure where we'd ever found citron, which I ended up leaving out. We made the recipe together so many times, but I was always the assistant; I'd never earned the muscle memory of accomplishing the steps myself.
As I dug my hands into the biggest bowl I had and slowly mixed the sticky fruit, the greasy suet and the aromatic spices, the mixture started looking like what Mum would have called "a proper mince," channeling her Nanny Waine. They both would have told me it needed a touch more brandy.
— J.B.
Mincemeat II (Without Meat)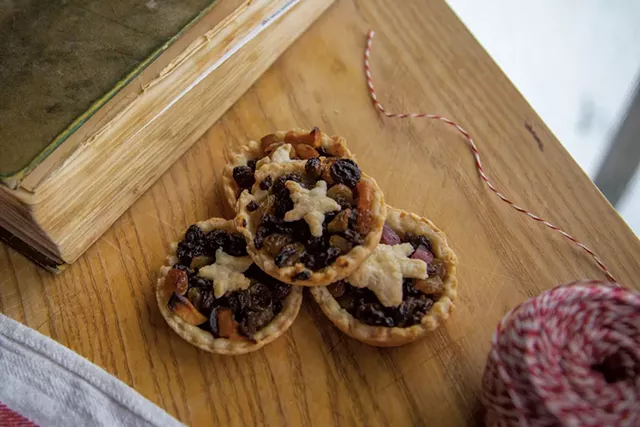 Jordan Barry ©️ Seven Days
Mincemeat tarts
From The Fannie Farmer Cookbook, Eleventh Edition, by Fannie Merritt Farmer, revised by Wilma Lord Perkins
Makes about 4 pints.
Ingredients
1 pound suet
1½ pounds apples, pared, cored and chopped coarsely
1 pound dried currants
1 pound sultana raisins
1 pound seedless raisins
4 ounces candied lemon peel, diced
4 ounces candied orange peel, diced
4 ounces citron, diced
Rind of 2 lemons, grated
Juice of 3 lemons
1 teaspoon cinnamon
½ teaspoon nutmeg
½ teaspoon mace
1 teaspoon allspice
Brandy to taste
Directions
Put suet through a meat grinder. Add all remaining ingredients. Mix thoroughly with your hands. Add enough brandy to moisten well. Pack into jars or a crock and store in a cool place. As you use the mincemeat in pies or tarts, add more brandy to taste.