Michael Hinchman, Milton, driver, U.S. Postal Service
Children: daughters Michaela and Jillian, 16; sons Josh and Griffin, 12
We just went out Tuesday night. That was probably the first time in a couple of weeks. It was a case of the boys had their eighth grade graduation ceremony, and then they had a dance after. So we walked out of the school at five after 7, looked at each other and said, "Hmmm ... the boys are set until 10 o'clock; let's go out to dinner."
We went to the Belted Cow. We love that place. I had a lamb burger that they're testing and thinking of putting on the menu. Sal had a hot chicken sandwich that was out of this world.
The first thing we do is look at the kids' schedule: Is there a softball game? Is there a lacrosse game? Does somebody have dance practice? With the kids getting older, if we have an opportunity to go out, but all of us are there, we don't go so that we can hang out with the kids. If there's nothing going on, then we can all be together.
Larry Edelson, Fairfield, Membership Director, Greater Burlington YMCA
Child: son, Eli, 2
Our one and only non-kids evening was in January. We left our son, Eli, with some friends and went for dinner and a movie. We live in Fairfield and planned to catch a movie in St. Albans. There weren't a lot of good movie choices, but we were so desperate, we ended up seeing the Sherlock Holmes movie, which was terrible. It was one of the few snowstorm nights, and driving through blizzard conditions, we asked ourselves, "Why are we doing this?"
But it was all good. We saw a terrible movie, checked out a newish restaurant in St. Albans. I had fajitas, and I would be willing to bet my wife had chile rellenos, and I remember they had Switchback on special. It definitely felt a little strange at first, but we were able to relax and enjoy it.
Joe Hennessy, Burlington, Inside Sales, Draker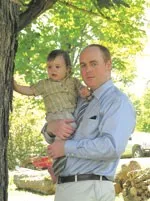 Children: son, Lucas, 3; baby girl due in July
We went to Evolution Yoga for a monthly class that they offer for couples. It's about positions the pregnant woman can be in to help them ease labor. Try this for fun; it's called the goddess pose: You stand with your legs slightly wider than shoulder width apart and then squat down and hold your arms up like you're being mugged, and you hold that. It doesn't sound like a lot of pain, but it is a lot of pain. I think it was something to show participants that if you breathe correctly, then you can push through uncomfortable moments. I didn't breathe correctly, because I hurt the whole way through.
We don't get to do much together often; I expect to have my life back when my kids go off to college.
Brendan Kinney, Essex, Vice President for Development and Marketing, Vermont Public Radio
Children: sons Liam, 12, and Henry, 6; daughter, Nora, 8
We celebrated our 14th anniversary, and we knew we didn't have time to get away. So we had my sister-in-law come over and stay overnight with the kids. We went to the Inn at Essex, had an amazing meal at Amuse and then stayed the night. It was special, because we had a really romantic evening without "getting away."
We see our relationship as the foundation of our family, and so it's important to care for it and feed it. One of the ways we do that is by going on dates. Sometimes that's going to a show and dinner; sometimes that's just going out for a creemee, but we try to make time for it.
One of the easy things that we do is to open up our home to our family and friends. So we're often hosting — it can be as formal as a full-on plated dinner; but sometimes it's just take-out night. It's a really easy way to create a social environment in your own home. Even though we don't get away, we create a social experience that also helps us reconnect.