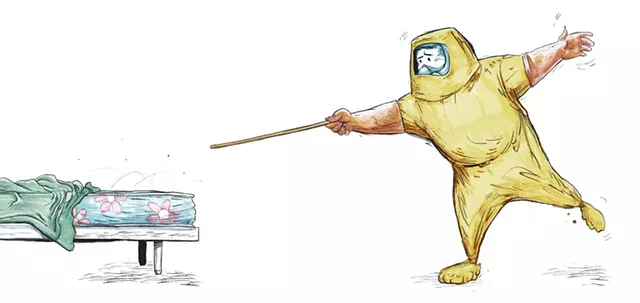 As Chester's health officer, Leslie Thorsen is responsible for enforcing Vermont's rental housing code, meant to protect tenants from inadequate plumbing and heating, contaminated water, rodent infestations, and other health-threatening conditions.
Thorsen, an operating room nurse, does all this in her spare time, for just $1,000 a year. And when she responds to a tenant's complaint, there is little she can do if a landlord refuses to correct a problem.
"The [most] you can do is write a health order," Thorsen said, referring to a legal document that negligent landlords have been known to ignore.
Enforcement of Vermont's rental housing codes depends almost entirely on people such as Thorsen — low-paid or volunteer town health officers with minimal training and a limited ability to remedy substandard housing.
In a report set to be released this week, Vermont Legal Aid concludes that this system fails to protect tenants, essentially trapping them in unsafe homes. The report tells the stories of Vermont renters living with broken furnaces, sparking electrical outlets, cough-inducing mold and leaking toilets.
"I think it's fair to say that the governmental response has been inadequate," said Jack McCullough, a longtime attorney with the nonprofit law office.
Legal Aid's report calls for creating a landlord registry to allow more oversight of rental units, professionalizing the health officer force and increasing penalties for violating the rental housing health code.
Enforcing minimum housing standards is particularly important because of Vermont's aging housing stock — 43 percent of rentals were built before 1950, according to the Vermont Housing Finance Agency — and a dearth of affordable housing statewide, said Maryellen Griffin, a lawyer with Legal Aid.
Under the state's rental housing health code, landlords are legally required to provide necessities such as a sink, a flush toilet, a working sewage system, a source of heat, and a structure that is weather-tight and rodent-free. (Fire safety regulations are separately enforced by the state Department of Public Safety.)
Vermont law "would seem to put tenants in a good position to have reliable and well-maintained housing," McCullough said. "The problem is that actually getting those rights enforced has been tremendously difficult."
The health officers responsible are chosen by selectboards and then appointed to three-year terms by the state health commissioner. In addition to housing investigations, health officers respond to reports of rabid animals and help prepare for public health emergencies.
"It's an unfunded position that the state requires each town to have," said former St. Johnsbury health officer Tim Angell.
A few of Vermont's larger communities assign the job to professionals. Burlington has a code enforcement office with five full-time inspectors who, in addition to responding to tenant complaints, proactively inspect the city's 10,000 rentals on a rolling schedule. The City of Rutland inspects all apartments before they're rented. Essex has two paid part-time health officers.
In many of Vermont's small rural towns, the job falls to an untrained volunteer — often someone the selectboard has convinced to take it on.
"Most town health officers aren't compensated," said Karen Horn, public policy and advocacy director of the Vermont League of Cities & Towns. "They're definitely under-resourced."
"The powers that be came and told me I had a new job," recalled Stephen Oaks, who is the health officer for the Windham County town of Athens (pop. 442), as well as its constable and "half a dozen other things." Compensation, in his case, is ad hoc. "When I do something they pay me," Oak said, but "I don't charge 'em much. Half the time, I'm working for nothing."
Steve Edgerly is a retiree who volunteers as a firefighter, a cemetery board commissioner and the animal control officer for Newport. Last June, he signed up to be the town health officer, too. How much is he paid? "I don't have a clue," Edgerly responded. Why'd he volunteer? "You know what P.T. Barnum said: 'There's a sucker born every minute.'"
State government provides limited support to the local enforcers. Last year, that included 10 voluntary trainings for health officers, a manual and a rental unit inspection checklist. The Vermont Department of Health offers advice and guidance when officers call for help.
"We basically serve as the technical support staff for the health officer if they have any questions regarding public health or what their role is or how to accomplish something they need to accomplish," said Lillian Colasurdo, a DOH public health policy adviser.
The department also oversees an email list that allows officers to consult one another for advice. Legal Aid obtained three years worth of those emails through a public records request; the correspondence illustrates the challenges facing local health officers.
One officer asked for advice about approaching a hoarder who was known for screaming at people. Another had to make contact with a landlord who had hung up on him.
When an officer asked how to inspect a unit with bedbugs, another responded, "I have gone as far as picking up a disposable hazmat or painter's suit from [a] hardware store with the booties. I duct-tape the legs and sleeves shut before my inspections and seal everything in a garbage bag when I am done on the site."
Some health officers limit what they'll endure in service to their towns. Edgerly said he's declined to inspect a tenant's complaint about bedbugs: "I'm not going into a bedbug situation — no way."
That sort of attitude frustrates tenants.
"Our clients will make complaints to town health officers and it doesn't really go anywhere," Legal Aid lawyer Sandy Partiz said.
"We know that people are radically underreporting problems because they don't believe in the system," Griffin said.
Carl Poulin, a single dad, said bedbugs started biting him and his two children a few months after they moved into a two-bedroom apartment in Derby last March. When Poulin asked the town health officer, Joseph Noble, to investigate, Noble told him to take up the matter with his landlord and come back if that didn't work.
Noble confirmed the conversation and said he always encourages tenants to work with their landlords because that's the least adversarial approach. Poulin and his landlord disagree about whether it took months or days, but at some point, the landlord sent an exterminator. Months later, however, the bedbugs were back. As proof, Poulin began saving them in Ziploc bags in his freezer.
He again asked Noble to inspect, but it wasn't until the case landed in court — Poulin had stopped paying rent, and the landlord had moved to evict him — that Noble visited the six-unit building. "His Legal Aid attorney kind of browbeat me into doing it," Noble recalled, noting that he told the lawyer he had no expertise in such matters. "I found no evidence of bedbugs, not a dead body."
Even when health officers verify a complaint, it can be challenging to get landlords to address the situation.
Thorsen, the Chester health officer, recalled one case during which it took six months and countless phone calls for her to get a property manager to fix a tenant's broken heater. In another case, she encountered a family living in a house with a lead problem; tests had shown an infant had 10 times the normal level of lead, she said. Not confident she could resolve the matter promptly, Thorsen advised the family to move out.
"We have no civil authority," said the nurse, who has been acting as town health officer for 20 years.
That statement is not technically true. If a landlord won't voluntarily fix the problem, officers can, after a local hearing, issue a health order legally compelling the owner to do so. In potentially dangerous situations, they can issue an emergency order, which doesn't require a hearing beforehand.
But if the landlord doesn't heed an order, the officer has little recourse. He or she can condemn a property if they deem it uninhabitable, but then the tenants lose their housing. The officer can ask a selectboard to take the matter to court, but for many small towns, this option is unaffordable. Some municipalities, including Burlington, allow code enforcers to impose fines, but most health officers cannot.
Thorsen thinks the threat of a fine could make health officers more effective. Legal Aid, which is also advocating for financial penalties against landlords, suggests that revenue from fines could help towns establish a landlord registry.
Legal Aid, which plans to advocate for some of these changes during the legislative session, says steps such as investing in a better-paid, more professional force of town health officers will save the state money in the long run. "Something that might have cost a landlord a few hundred dollars to fix, like a mold problem, can end up costing thousands of dollars in health care expenses to treat a tenant's resulting respiratory illness," the report says.
Thorsen agreed that the status quo isn't acceptable: "The sad thing is, people are paying to live in dumps."