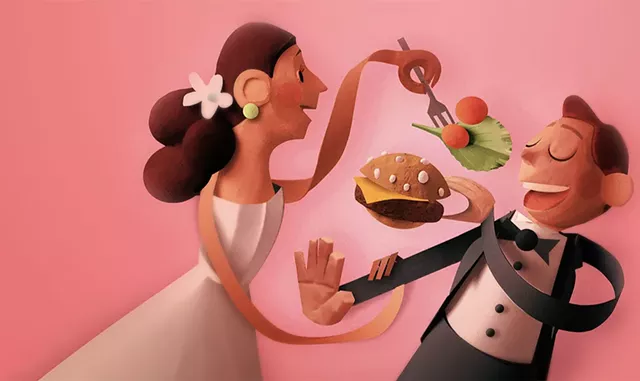 My husband, Dan, likes to tell people about the first time I cooked for him. I was 23, a senior in college; he, a 26-year-old union carpenter. "She was wearing this hot little black slip," he'll say, recalling my youthful tendency to skip wearing clothes whenever possible.
I remember it, too: a languid lunch in my carriage-house kitchen on a quiet, tree-lined street in Colorado Springs. We were new lovers who'd spent the morning exchanging sweet nothings between the sheets.
The meal? Miso soup with instant ramen noodles (no flavor packet) and bits of seaweed, cubed tofu fried with garlic, greens and maybe a splash of lemon juice. Sriracha on the table for spicing things up.
Dan: "It was like choking down weedy ocean water. It was all I could do to keep from gagging."
Nothing says sexy time like gagging on tofu.
Dan and I, see, have different palates: He grew up in a meat-and-potatoes paradise on Long Island. Mayonnaise — being French and all — was so exotic he was never exposed to it (except in tuna salad) until he was 10 years old, at a friend's house. Veggies came from the freezer or a can. When he started feeding himself, he didn't change much, aside from adding daily trips to McDonald's and perhaps eliminating the roughage altogether.
When we met, I was working in restaurants and just coming off eight years of vegetarianism. My diet was vegetable forward, let's say, and skewed adventurous. Growing up in Vermont, I consumed fresh vegetables — lots of them, many from our garden — and ate meat that my parents either raised or hunted themselves. Processed foods? Fast food? As a young ideologue, I kind of thought they were the devil.
But we were in love. After seeing Dan maybe four times, I drunkenly confessed my feelings with a slurred "I love you" after too much whiskey. Moments later, I rolled out of bed, crawled across the hall and vomited all over his bathroom. His response? "I love you, too."
After college, I decamped to Montana — alone — to work as a ranch hand. I spent my days in the farm's organic garden, growing heirloom tomatoes and spicy mustard greens, pattypan squash and Purple Viking potatoes. At night, I helped prepare and serve dinner for overnight guests. The chef, Aaron, liked to listen to Frank Zappa and referred to large, elongated food objects (carrots, eggplants, beef shanks) as "home wreckers."
Eventually, Dan came to the ranch. He fixed fences, did odd carpentry, threw hay bales. By August, the garden was providing far more than the kitchen could use, so we helped ourselves. In the ranch hands' cabin, the other workers and I would eat plump, wine-colored Cherokee Purple tomatoes like apples, with salt and maybe a bit of oil, juice dripping down our chins. Dan stuck steadfastly to his usual "high-fat, high-protein" diet. Clearly, he was totally missing out.
Finally, I took a stand. "Dan," I said, holding a fist-size German Green tomato in my hand, "you have to try this. You don't have to like it or eat the whole thing, but I need you to try it, just once."
Hesitantly, he agreed and took a nibble. His face twisted from a cringe to one of incredulous pleasure. "Whoa," he said. "This tastes like a steak." The wild world of fresh, homegrown vegetables began to open up for him — a little, anyway.
In January 2007, we moved back to Colorado. We found a room in a garden-level apartment in Boulder and — scheduled to wed that August — set about learning how to live together. First stop: grocery store. I was horrified when Dan engaged a grocery cart: Why would you ever need one of those?
When it came to food shopping, I was very much in the a-basket-is-plenty camp. I'd dash in, grab what I needed, get the hell outta Dodge. Toting a grocery cart seemed so ... middle-aged.
Dan trucked up and down the aisles, reading the discount tags and filling our cart (our cart?!) with stuff like Cheerios and tater tots. "Sweet," he said, peering into an open freezer at the back of the store. "Corn dogs are on sale." I followed, anxiety welling in my chest. WTF am I doing in the cereal aisle? Who spends money on this shit?
My stress level advanced to full-on hostility when Dan noticed the half-off Hamburger Helper — and grabbed four boxes.
"Really?" I whined.
"So good!" he said, confused by my angst.
I pouted. I'd never eaten Hamburger Helper in my life. But I was positive that it was a potent poison crafted by slave-worker children in China — definitely cancer-causing — and I told him as much.
After an hour of enduring my scowling and passive-aggressive jabs, my husband-to-be lost his temper. We fought. Right there in the grocery store. About what constitutes food (whole meats, fruits and vegetables, said I) and who was buying it (him; I was dead broke at the time) and how a comfortable household consumes calories.
He expected a pantry stocked with food so that we could cook and sit down together for meals like a typical American family. I was accustomed to a single gal's fridge with just the basics: eggs, cheddar, tortillas, maybe a few veggies.
On the way home, I looked out the window and sulked. How was this ever going to work?
For dinner later that week, Dan browned a pound of beef and stirred in water, milk, preportioned macaroni and the powdered flavor packet contained in a box of Hamburger Helper. "I can't believe you're making that," I said, no longer angry but still skeptical.
He plopped a heaping portion of meaty yellow pasta goo in a bowl — splat! — and handed it to me. "You're gonna love it," he said.
I frowned and took a bite: salty and creamy, like mac and cheese, but with beef, which somehow made it even better. "Yum," I said, smiling in spite of myself.
We devoured our bowls, and I sheepishly went back for seconds.
In that first year of living together, Dan schooled me in the virtues of making Eggo-waffle egg sandwiches for breakfast and eating cereal (as a form of dessert) during after-dinner movies. I recalled that I always was a fan of Cinnamon Toast Crunch and Frosted Mini-Wheats.
When I cooked, I kept him in mind. I called my mom for her meatloaf recipe. After we finally ate our way through that first Easter ham, I introduced him to pea soup, a winter staple in my house growing up. Who can resist the allure of pork-flavored legumes?
Dish by dish, we got to know each other better; meal by meal, we learned to accept one another's differences.
When we moved to New York, my jobs were at increasingly high-end restaurants; at one point, I spent much of my time at Michelin-starred establishments. At home, my cooking grew more ambitious. Then I became a food writer, and things only escalated. But, thanks to Dan's willingness to try anything once, his palate continued to expand. And my repertoire of classic comfort cookery grew, even as I nursed a growing propensity to make freaky stuff like pressed organ-meat terrines.
Now, we can both enjoy a bomber breakfast scramble with lots of veggies, or perfect penne alla vodka (one of Dan's Italian favorites) made with our own homegrown tomatoes (canned in August), peas (frozen in June) and local cream. Often, we eat Annie's (organic!) Mac and Cheese, with hot dogs and sometimes broccoli mixed in.
And sometimes we still fight. Like when I hire a tractor to dig up our yard (while Dan is at work) and put in a dozen beds so I can experiment with eight kinds of heirloom grain corn — the first year we have a garden. Sometimes those fights last a long time (all summer?!), because, as it turns out, couples should talk before one person embarks on a major household project that the other will inevitably have to help out with.
Then, once the dust has settled and the corn has been harvested, dried and milled, we buy a pack of hot dogs, mix that corn into batter and fry ourselves some heirloom corn dogs.