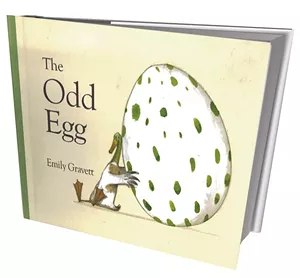 The Odd Egg, by Emily Gravett
All of Duck's friends are laying eggs, and he feels left out — until he finds a large green, speckled egg to call his own. While waiting patiently for it to crack, he knits a scarf and web-footed booties for the little one inside. The egg finally opens to reveal an unexpected hatchling.
"I will happily read [this book] over and over again in story times, as well as to my own children," says Tricia Allen, youth services librarian at the Ilsley Public Library in Middlebury. She has three kids, ages 2, 4 and 6. "The narrative is simple enough that a toddler can appreciate it, while the deceptively simple illustrations hold details to be delighted over during repeated readings." Be prepared to discuss the different types of animals that hatch out of eggs, Allen adds.
Who Took the Cookies from the Cookie Jar? by Bonnie Lass and Philemon Sturges, illustrated by Ashley Wolff
The classic kids' sing-along is adapted into a story set in the Southwest. Skunk bakes a batch of cookies, but when he opens the cookie jar he finds only crumbs. He ventures out to find the culprit, meeting many creatures, including Raven, Beaver, Rabbit and Raccoon, along the way.
"This has the kind of repetitive text that's good for little kids, but the illustrations are so fully formed that they give a great sense of the place and enhance the story," says Abby Adams, librarian at the Platt Memorial Library in Shoreham and mom to a 2-year-old daughter. There's a lot to look at and point out in this picture book, which "helps keep parents' attention, too," she says.
Dancing Feet! by Lindsey Craig, illustrated by Marc Brown
In this board book (also available in hardcover), little ones guess who's dancing across the pages by looking for clues in the artwork and listening to rhymes: "Creepity! Creepity! / Lots of purple feet! / Who is dancing / that creepity beat?" Spoiler alert: It's a caterpillar.
Kate Hunter from the Orwell Free Library says this book — which has "bright pictures and simple, rhythmic text" — has been a favorite for the past year with her now-19-month-old daughter, Willa. "Together, we stomp and snap our way through the book," says Hunter. "These days Willa even assists by reciting lines and encouraging movements."