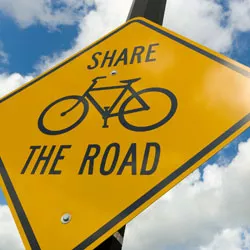 Vermont and its largest city, Burlington, enjoy top billing on nearly every U.S. quality-of-life ranking — best outdoor town, fittest city, healthiest state. But one category attracts surprisingly few accolades: bicycle friendliness.
In the 2010 appraisal of Bicycle Friendly States, recently released by the League of American Bicyclists, Vermont ranked just 34 out of 50. That's down from 21 in 2009 and 17 in 2008. The state is now ranked behind states such as Kentucky, Mississippi and South Carolina — none of which is known for being progressive.
Despite new legislation passed this year aimed at making the streets safer for pedestrians, cyclists and motorists, Vermont still falls far short of expectations. Nancy Schulz, executive director of the Vermont Bicycle & Pedestrian Coalition, says Burlington saw progress in accommodating bicycles during Peter Clavelle's mayoral terms, and the state also made strides during the Dean administration — but not much legislative change has happened since.
"There's been a lot of backslide," Schulz says. "I hope this shocks people into recognizing what we've been saying for years — we can't just rest on our laurels from the '70s."
The number of bicycle-related road accidents in Vermont has increased, according to Chapin Spencer, executive director of Local Motion, the Chittenden County bicycle-and-pedestrian advocacy group. That's why Local Motion has been working with the city council and the Burlington Police Department to change and enforce local bicycle ordinances. One revision the team is considering is the addition of a "3-foot rule," which has long been the standard preferred by safe-streets advocates.
The rule would require Burlington motorists to give cyclists a 3-foot buffer when passing them. States that ranked high on the list of Bicycle Friendly States all had a 3-foot law in place, including Florida and Tennessee, which both spiked in the ratings this year. Advocates in Vermont proposed a statewide 3-foot law two years ago, but were told by legislators it would never pass, Schulz says. Instead, advocates settled for a "Safe Passing" law.
That new law requires cyclists to use flashing red lights on the backs of their bikes when it's dark out. It allows them to signal right- and left-hand turns with either hand, and to ride in the left lane when turning left. Finally, the law prohibits motorists from throwing anything at cyclists.
This provision was added after an avid cyclist — who happened to be a Northfield police officer — was targeted by a passing motorist. He tracked down the offender, but because of the relative weakness of laws regarding cycling safety, could only cite the driver for littering.
The Safe Passing law, which takes effect July 1, is a "good first step," says Spencer. But it does little to help cyclists like Derek McIntire. Recently, says McIntire, he and his girlfriend were biking on North Winooski Avenue when a car began laying on its horn behind them, and the driver screamed at the couple to "get out of the road." At the time, McIntire had a camera attached to his helmet and recorded the altercation.
After more words were exchanged, the passenger threw a glass bottle at the pair; it shattered on McIntire's girlfriend's bike. McIntire called the police. The officer who arrived told them he could do nothing, even though McIntire had the license plate number and a description of the vehicle.
"He was completely disinterested," McIntire says of the police officer. "The first thing he asked was, 'Could he get around you?'"
After viewing the video, Spencer and others from Local Motion met with Burlington Police Chief Mike Schirling. The matter is currently being investigated.
McIntire's incident is only one of many reported in recent months. Glenn Eames, owner of the Old Spokes Home bike shop, says he was clipped from his bike after a teenager with a learner's permit cut him off while he was riding in the bike lane on Riverside Avenue. The driver was issued a ticket for driving without a license, but not for hitting Eames.
Morganne Rascoe, a student at the Community College of Vermont, was pedaling up the bike lane on North Union Street when a truck allegedly drove into her. She was knocked from her bike and sustained a broken shoulder and a torn rotator cuff. The truck drove off.
The time has come for serious change, says Spencer. After nearly half a century of declining figures, the numbers of people walking and cycling for recreation and transportation are now increasing, according to the U.S. Census. In Chittenden County, bike-shop owners report big increases in bicycle sales, and Eames says bicycle commuters account for the greater part of his shop's business.
"I think [the number of bicycle commuters] would be bigger if people really felt safe, and if they had an issue, that there was something that could be done about it," says Eames, who estimates Burlington's cycling population has tripled since his shop opened 15 years ago.
Bicycle advocates such as Schulz and Spencer say they hope to see bike and pedestrian safety standards institutionalized soon, ideally by responsive police who have learned the new rules of the road at the police academy. Also, says Spencer, the more people report bicycle-car accidents, the stronger the advocates' case for reform.
"In a lot of ways, the rules haven't been laid out clearly, and cyclists and pedestrians lose out," Spencer says. "Motorists are the ones police understand the best."