Paul Adams, Essex Junction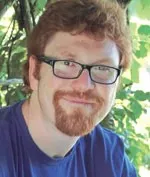 English teacher, Burlington School District
My 6-year-old recently began going on her own. It just kind of happened. There was no conversation or advance plan. We didn't consult our baby center or a developmental chart. I went up to the door of the women's room one day, looked down at her and said, "Why don't you just go in there by yourself?" And she was like, "OK!" So, she trucked off in there and I stood outside and then she came back out and flashed her hands at me to prove that she'd washed them. And, lo and behold, she was going to the bathroom on her own.
I've only been worried once. I sent her into one where the sliding door lock made me nervous that she might lock herself in. But it didn't happen.
She's recently become a little, shall we say, dishonest about the washing of her hands. I should carry around a washable marker, put a big "X" on the back of her hand every time and say, "That has to be gone by the time you come back!"
Kirk Flanagan, Burlington
Insurance agent/local musician
Actually, because they're sisters, my two girls just started going in there together and sort of looked out for each other. They were probably kindergarten age — 4 or 5 years old; they're teenagers now. If I was alone with them, I might just stand outside the door.
It also depended upon the venue. In some public places, like JFK airport, I remember shuttling them into the men's room with me when they were 5 and 6 years old, and we'd all go into a handicap-accessible stall so they could do their thing.
But once they started going on their own, they were pretty independent and resourceful. I never had to send anyone in to check on them. It was bringing them into the men's room that was the weird thing, with all these guys lined up at the urinals.
Erik Filkorn, Richmond
Public outreach manager, Vermont Agency of Transportation
My daughter is 9 years old and has been using public restrooms on her own for the better part of a year. A lot of it has to do with the kind of restroom and the overall scenario. Early emancipation locations going back a couple of years include Cochran's Ski Area, the Richmond Free Library, the ECHO Center and a number of airport terminals — especially when there was a "family" facility available.
We've been in some sketchy locations, like Porta-Potties at music festivals in New Orleans or less-than-appetizing gas stations, accompanied and not. It's a balancing act between their confidence and your own confidence and familiarity with the facility itself and the people around you. Sometimes I worry, but mostly I don't. She can handle herself pretty well and has no problem telling me when it doesn't feel right to her.
Mike Brown, Fairfax
Health and physical-education teacher, BFA-Fairfax
No one in the family remembers exactly when it happened for our two girls, who are teenagers now. But a dad will know it's time when his daughter's nervousness about being alone in the ladies' room pales in comparison to the embarrassment of following her dad into the men's room.
Bigger picture, I believe dads play an important role in helping their daughters grow into strong, confident, independent young women. It's our instinct to take care of our little girls and to keep them safe. When appropriate, we need to fight that instinct. By doing so, we challenge our daughters and teach them the same lessons of responsibility we teach our sons.