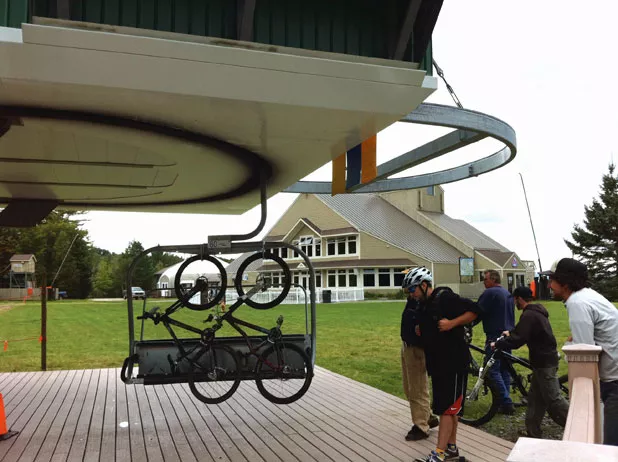 bikes loaded on the Shelburne Express quad at Burke Mountain
I've dressed carefully for my day of biking at Burke Mountain — Louis Garneau padded shorts and skirt; Chiba padded fingerless gloves; Giro helmet.
But my gear just gets a laugh from Carrie Tomczyk, the buff, blond and bronzed co-owner of Lyndonville's Village Sport Shop.
"A skirt?!" she says mirthfully. "Well, at least you can borrow my hard gloves. And you'll need a full-face helmet — adult orthodontist bills are definitely a racket!"
Gulp. A few minutes later I look like a cross between a Star Wars stormtrooper and something out of Mad Max: black body-armor jacket, knee and shin guards, and the full-face helmet. The skirt stays, but the wimpy stuff I've brought from home has to go, along with any preconceptions of what mountain biking might involve.
We're here to try out the newest addition to the Northeast Kingdom's adrenaline-fueled nirvana: lift-served mountain biking from Burke's Sherburne Express quad and a downhill bike park. The official, ribbon-cutting grand opening is this Saturday, June 25, but my husband, Carlton Dunn, and I have come a week early to take a sneak peek at what may become the crown jewel of the Kingdom Trails.
Everything is so new that Tomczyk's coworker, Sean Wallace, is still unpacking Giant full-suspension downhill bikes in the Village Sport Shop's satellite store at the Burke base lodge, and a Burke employee is stocking a fridge for the first time with sandwiches and water bottles. "Nice day out there," he says. "Bugs are gonna eat."
Not us. At the speeds we'll be reaching, we'll be picking the mosquitoes out of our teeth.
Mention the Kingdom Trails to savvy mountain bikers, and they're likely to get that glazed-over, puppy-love look in their eyes: The 100-mile trail network is among the finest destinations in the world for two-wheeled thrills. It's also an extraordinary result of partnerships among local landowners, businesses, volunteers, park officials and a nonprofit organization founded in 1994 that keeps the whole thing clicking. If there's any doubt about how seriously people take the sport here, consider that a Catholic priest will be blessing the bikes at the picturesque Chapel of the Holy Family on Darling Hill in Lyndonville on July 2.
The Darling Hill area contains most of the Kingdom's singletrack, including the much-lauded Sidewinder and Kitchel. The other side of the playground is at the 3267-foot Burke Mountain ski area. Long-established trails wriggle down Burke's slopes, but until now, the only way to get down was to pedal up. And up, and up.
All that changed last fall, when Burke and the Kingdom Trails decided to do a test run of ferrying riders halfway up the hill on the 2005-installed Sherburne detachable quad. The idea had been discussed for as long as 10 years, says Hannah Collins, the marketing and events manager for Burke, but it only came to fruition with the advent of new technology. "The experience is safer and more enjoyable for all ages and abilities than it ever has been in the past," says Collins.
Certainly, it's not everybody's cup of tea. As Carlton and I wheel our bikes up to the base of the Sherburne Express, folks wandering in for the Vermont Invitational Lumberjack Competition look at us like we're aliens. "Reactions have been mixed," admits Tomczyk. "Some people are super stoked and can't believe this is in their backyard. But other people look at the gear, and they're terrified — What are you people doing up here?"
I'm kinda wondering the same thing myself as I step off the lift after a six-minute ride, our bikes hung from hooks on the chair in front. For our virgin run, Tomczyk has warned us to stay away from a trail called Knight Slayer, so Carlton and I choose the tamer-sounding Enchanted Forest. The trees swallow us almost immediately as we carom on berms, over roots and through the mud while large cutouts of woodland creatures grin from the shadows. (I learn later that this is a beginner glade for skiers in the winter.) I'm definitely white-knuckling it, riding the brakes hard and failing to negotiate muddy spots.
To get some pointers on handling the precipitous terrain, we decide to hook up with instructors Lilias Ide and Sasha Yakovleff of IdeRide, an East Burke-based coaching and trail-building company that is offering lessons at the mountain all summer.
A New Hampshire native who moved here for the mountain biking, Yakovleff has spent years crafting these runs both by hand and with machines. "We have really good soil," he says on our ride up the Sherburne Express, explaining how Burke is different from other lift-served areas. Instead of grappling with rocky terrain and removing multiple obstacles, he and others can go with the natural flow of the mountain. (There are now four runs open from the lift, but riders can still pedal farther up the mountain to access a total of 14 trails.)
Ide and Yakovleff lead us down Enchanted Forest again, giving us tips on keeping our feet neutral, looking ahead and trying to stay relaxed. All right, I think — and immediately smack into a tree stump, which sends me flying off my bike onto the forest floor. Spooked at the thought of a broken collarbone and wrist — the most common injuries among mountain bikers — I balk at the next super-steep section, and have to walk my bike around a couple of tricky turns on our descent of another trail, called Black Forest.
It's OK, insists Ide, explaining that Burke's mountain-biking park was strategically built for 80 percent of riders to handle; the cautious can just avoid the über-tricky parts. (Case in point: A gray-bearded man in jeans who passes us on a hybrid bike simply disembarks on a sticky, muddy section.) We're able to handle Knight Slayer, the notorious new machine-excavated run with rollers, tabletops, bridges and drops that Yakovleff says is probably the most advanced jump rail of any resort in the country.
Beth Fox, a Lyndonville local who works at Burke's Tamarack Grill and took up downhill riding just this season, is euphoric after flying over the jumps. "Nothing makes me feel more bad ass or more empowered," she declares.
Not every moment is a test of our body armor. Our last trip down the mountain is on the easiest run, the wide, smooth Lodge Trail that winds through fields of wildflowers before dropping back into the woods. In the distance we can hear the buzz of chainsaws from the lumberjack competition; up close, I hear my own breathing muffled by the helmet. With the mowed grass, the pine trees and the promise of a cold drink ahead, this feels like the essence of summer. There's nothing quite like the rhythmic flow of a souped-up bike swooping down a Northeast Kingdom mountain.
By the time we return our bikes to the base area, the fridge is fully stocked, and Wallace has neatly organized his rental fleet of bikes, body armor and helmets. Things are quiet. But the bad-assness has only just begun. I think back to something Yakovleff said on one of our chairlift rides: "Burke has a laid-back attitude. In the winter, there are no lines, and the same goes for mountain biking — at least for now."