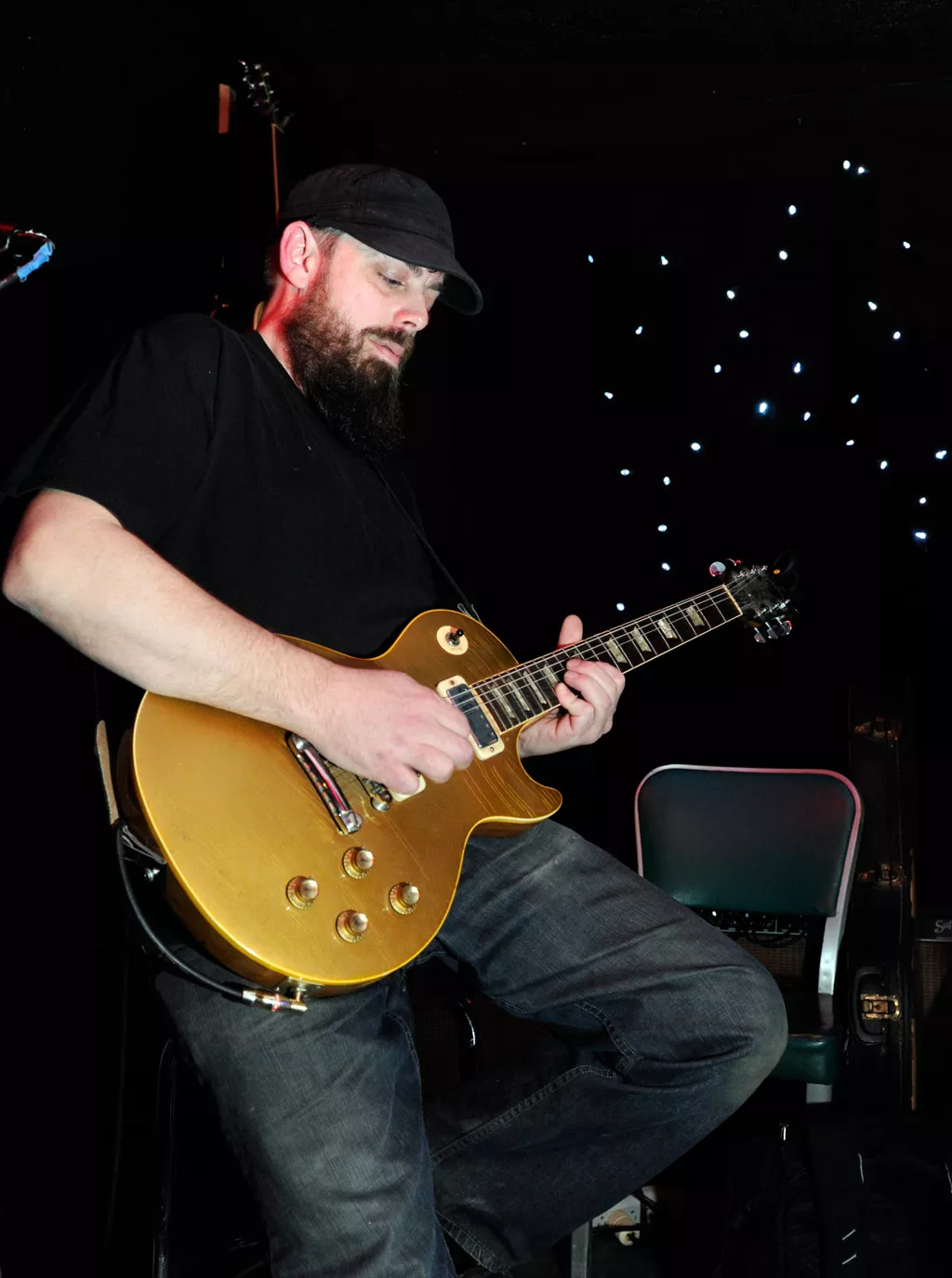 Boston-based Americana band the Big Lonesome are well into their second set at Sweet Melissa's in Montpelier when they sit their guitar player down and invite a guest player onto the stage. The show has been great so far, and it's about to get better. The band launches into a cover of Radiohead's "High and Dry," and the new picker, an affable if intense guy with a dark, scruffy beard and short-billed cap, comps nicely. But when he takes his first solo, it's pure fucking magic, line after line of creamy, cascading runs and mouthwatering licks. The crowd cranks it up a notch, too, hooting and shouting encouragement. Still, the player only sticks around for one tune. He's got coolers to stock, tables to wipe down, maybe even some dishes to wash. His name is Jason Merrihew, and he owns the joint.
Drop in at Sweet Melissa's just about any night, and you'll find Merrihew mixing the sound for a visiting band or grabbing his Les Paul or his Guild acoustic to sit in. It doesn't matter who's playing, or even what they're playing. You might catch him picking bluegrass at the biweekly Wednesday-night jam, laying down some old-time jazz with Americana picker Andy Pitt on a Saturday afternoon, or flat-out wailing with the Eames Brothers Band late on a Saturday night. Merrihew always brings something special to the mix.
"I think it's about being one with your instrument," says Seth Eames, speaking on the phone from his Hyde Park home. "He's a blend master," he says of Merrihew. "He just listens and he can find the thing the song needs."
Now 41, Merrihew tuned his ear the hard way. Born and raised in Wichita, Kan., he played guitar and bass in blues and funk bands before moving to Austin, Texas, at 23. In Austin, he subbed in a number of local outfits and toured nationally as the bassist for Austin rap icon MC Overlord. Lured to the Jersey shore by a friend at age 30, Merrihew worked as a sideman, fronted his own bands and met his future wife, Melissa. He also befriended a bartender named Tom Moog, who would later become his business partner.
Moog made the move to Vermont first. Merrihew and his wife followed, and in April 2011 they opened Moog's Place, a Morrisville music club. That meant an interruption in Merrihew's professional musical career, and the beginning of his career as a club owner, stage manager and soundman. And although Merrihew had helped pay his bills over the years doing construction and restaurant work, the rigors of the new club took things to a different level.
"I've always had a strong back," says Merrihew, leaning on the bar at Melissa's on a quiet Tuesday afternoon. "But when I opened my own place, I learned what heavy lifting really was about."
At Moog's, Merrihew worked nonstop to get the club up and running. On the side, he managed to get in some drop-in and after-hours picking with visiting artists. But it wasn't until he and Moog opened Sweet Melissa's in July 2013 that Merrihew found anything resembling a regular gig. The opportunity came courtesy of Montpelier country tunesmith Mark LeGrand, who revived his popular Honky Tonk Happy Hour — a Friday staple at the now-defunct Langdon Street Café — with Merrihew as his guitar player — kitchen emergencies notwithstanding.
"I know a ton of songs, and he's a great lead player, so we've got a pretty good act right there," says LeGrand, sitting behind his desk at Montpelier's Bethany Church, where he works as office manager. Then he adds, "The only time it gets screwed up is if the cook quits."
For Merrihew, the honky-tonk gig offered a chance to relive old memories — and strike out in a new direction.
"My earliest musical influence was [country music TV show] 'Hee Haw,'" he says. "Buck Owens and Roy Clark. I had never really played country music before. But my mother's father was a country picker. It was kind of a full-circle effect."
Though Merrihew isn't a hillbilly vet, visitors to Honky Tonk Happy Hour wouldn't know it. He brings serious twang and countrypolitan finesse to Johnny Cash covers and LeGrand originals alike. But it was Merrihew's versatility that convinced LeGrand to invite him to play guitar and bass on his new record, Burn It Down. LeGrand will release that record with a show at Sweet Melissa's this Saturday, March 15.
Recorded at Colin McCaffrey's Green Room studio in East Montpelier, Burn It Down showcases the best of two worlds: LeGrand's pull-up-a-chair-and-listen stories and Merrihew's skills as a picker and arranger. LeGrand says arranging is where Merrihew's ear and ability to translate his ideas to the fret board played a critical role.
"In Americana, there is a strong temptation to go into the studio and follow formula, but I didn't want to do that," LeGrand says. "Jason reminds me of George Harrison. It's not just a guitar lick he's playing. It's a little composition. And all off the top of his head."
LeGrand recalls a particular song from his new record, "Loving You Too Hard," on which Merrihew's unique ear had a transformative impact on the arrangement.
"We're in A-minor," LeGrand recalls. "And Jason says, 'No. I hear this.' And we go to an F and he plays this blistering, beautiful Les Paul guitar thing. Who would have ever come up with that?"
For Merrihew, sitting in at Melissa's and working with LeGrand is a chance to do what he loves best — and maybe avoid some things he doesn't love.
"I really don't miss having to pay my rent by going to play some music," he says. "Getting to the venue. Loading gear. Keeping track of my booking calendar. I've freed myself from all that."
With the recent addition of chef Daniel Staples to Sweet Melissa's, Merrihew may have freed himself from some kitchen duties as well.
"I can concentrate on what happens on the stage," Merrihew says. "And if anybody needs me, I can fly off and be what they need me to be. It's the job I was born for."
The original print version of this article was headlined "One Man House Band"