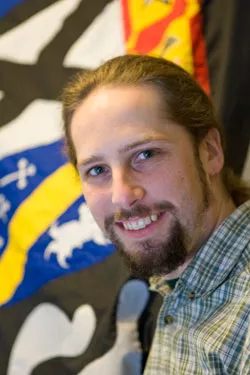 According to the North American Vexillological Association, Vermont's state flag is a fluttering example of bad design. Along with fellow flag offenders belonging to West Virginia, the Canadian province of Manitoba and the tiny island nation of Dominica, Vermont's flying emblem is too complicated and insufficiently distinctive. It includes lettering and a coat of arms — both no-no's in the eyes of the nation's flag experts.
Greg Stone is hoping to change that. The Bradford man, an amateur vexillologist and self-described "flag nerd," has launched a campaign to update the state's unoriginal banner. And legislators are listening. Both of his Caledonia County senators, Democrats Jane Kitchel and Matt Choate, offered Stone their thoughts on how he might proceed.
"Generally, I deal with statutory changes — people wanting their unemployment benefits, health care issues. This is unique," Kitchel says.
Some may see an attempt to alter the state flag as an exercise in futility. At a time when Vermont is facing a massive budget crisis, entertaining this proposal hardly seems like a priority. But the 32-year-old Stone insists it's a worthy pursuit. "We have such a long history of such unoriginal flags in Vermont," Stone says. "It's sad for such a unique state."
From a distance, Vermont's flag is virtually indistinguishable from 20 other U.S. state flags that feature a coat of arms on a blue field. Unlike the iconic flags of New Mexico, Texas and Maryland, the Green Mountain banner lacks a single striking design element that represents the state, Stone says.
It's a safe bet that most Vermonters couldn't describe the state flag beyond the fact that it's navy blue with some sort of design in the middle. The flag features a shield with images of Camel's Hump and Mt. Mansfield, a pine tree, a red cow and "three erect sheaves" of wheat, as the official statute describes it. Underneath the shield is the state's motto, "Freedom and Unity," surrounded by two crossed pine branches. A crest composed of a buck's head on a blue and yellow scroll sits atop the shield.
The flag was adopted in 1923 by order of the legislature. Three other state flags preceded the current iteration. The most recent design was meant to depict the view from the living room of Gov. Thomas Chittenden's Williston homestead, says Ray Plagge, owner of Montpelier Stove & Flag Works. All the elements must be accurate according to the state's official flag description, and it is illegal for flag producers to sell state flags that are not in accordance with official state statutes, Plagge says.
Stone, an engineer estimator with a long brown ponytail and a tiny gold hoop in his left ear, began his crusade in January after reading NAVA's online pamphlet, "Good Flag, Bad Flag." The website makes an example of Vermont for its poor flag design.
"I thought, I have to do something about this," Stone says.
His first step was to email his proposal to Kitchel and Choate. It took a while to get a response, he says, but when it finally came, he was spurred to action.
Kitchel directed Stone to speak with David Schutz, curator of the Vermont Statehouse, to help identify "key groups" Stone would need to engage before lawmakers would even consider a proposal. "Before the legislature would entertain changes to the flag, there would have to be a lot of public support and review," says Kitchel, who has not seen Stone's flag redesigns. Kitchel is not endorsing a flag change, though she is committed to remaining "open minded."
In an effort to drum up interest, Stone sent letters to a handful of newspapers around the state. "I am confident that changing our flag to represent our distinctiveness would serve us well," Stone wrote in the missive that wound up published in just two papers. In it, he encouraged people to visit his website and vote for their favorite new designs. The slight uptick in online traffic was not the bumper-to-bumper response he hoped for.
One of Stone's biggest complaints about the current flag is that it doesn't highlight the state's colors of green and yellow. His own designs feature a green field — or background — with a variety of other elements, including stars, maple leaves and pine trees.
Stone also attempted to illustrate the simple, slower pace of life in the state with his new, uncluttered designs. "That's Vermont in a nutshell, right?" he says.
Adopting a new flag would take an act of the legislature, and Stone says he thinks his representatives would sponsor a bill to that end. In recent history, no one has attempted to update the Vermont flag, says state archivist Gregory Sanford, though his office received a number of complaints about the state song before it was changed by an act of the legislature in 2000. "We've had several flags in the past, so it doesn't mean we couldn't change it now," Sanford says.
Stone is aware that altering a state symbol would take more than just some votes and a swipe of the pen. It would take money. Since every state office building is required to fly the United States flag, the Vermont flag and the POW flag, replacing one of the three would be costly. Depending on the size and quality, state flags can cost more than $50 each, says Plagge.
Stone is undeterred. He thinks he has a "100 percent chance" of getting the flag changed. "I'm going to take it as long as I can," Stone says, then suggests that his biggest challenge is precisely what proves his point. "I just have to find a way to get people motivated, because most people don't even know what the flag looks like."