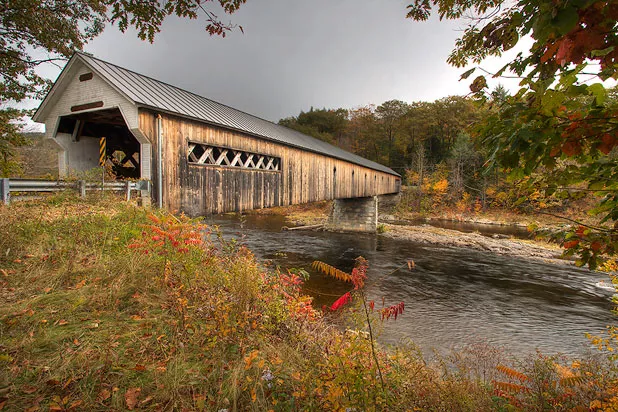 Living in Vermont, you become accustomed to the sight of certain totems that outsiders associate with the state — red barns, foliage, maple syrup. What perhaps you don't expect to see are these state icons staking out a social-media presence. Specifically, maintaining Twitter and Facebook accounts.
But, since we're living in the future and are all about the Internet (even though most Vermonters are still using Prodigy-era dial-up technology), it is understandable, if a little jarring, that our rural touchstones would find a home on the web. One symbol of Vermont's country idyll that has established quite a digital following is the handsome and stalwart covered bridge.
Local Twitterati may recognize the handle @VermontBridges. At press time, the feed had 1107 followers and had produced 278 tweets. Most of them consist of photos of — you guessed it — covered bridges. There are red covered bridges and long covered bridges. There are covered bridges spanning gushing rivers and covered bridges crossing mere trickles. Some of the covered bridges have windows; others none.
What is confounding about the @VermontBridges feed is its popularity. Do that many people — more than 1000 — care that much about covered bridges? If so, perhaps I need to add a few photos of iconic, albeit inanimate, objects to my own Twitter feed.
So what's the deal with Vermont covered bridges taking over the Twitterverse? Clearly, their popularity is enough to make @ladygaga (9.5 million followers) quake in her lobster-claw heels.
It turns out @VermontBridges is the work of Harold Stiver, a 61-year-old amateur photographer and partner in a mutual fund company. In Canada. Yes, the Vermont covered-bridges Twitter account (and Facebook page) is managed by a Canuck. Figures.
But, says Stiver, the covered bridges in Vermont are just so damn good looking, he can't help but take pictures of them and share them with the public. The @VermontBridges account isn't his only Twitter presence. He also has feeds set up for Ontario waterfalls, old Ontario mills and New York covered bridges. Stiver, who has been doing photography for 10 years, says his foray into the world of social media began as a way to promote a photography e-book.
To advertise his work, Stiver set up accounts with all the social media that people with something to promote need to be plugged into these days. Then, with the help of a software program that automatically generates Twitter updates, he pushed his photos out into the digital abyss.
People are paying attention, which is heartening, Stiver says. "I didn't really know what to expect, because I'm new to Twitter." Now, people he doesn't even know are retweeting his photos and engaging him in dialogue about bridge construction and photo lighting.
Erica Housekeeper, director of communications for the state's Department of Tourism and Marketing, isn't surprised Stiver's photos have drawn some followers. People love covered bridges, she says: "They're a popular attraction and something that's a part of our history."
Bridges were built with roofs to protect the wooden decks from the elements. A covered bridge was apt to last longer than a traditional span, which made the design attractive to builders. Vermont is home to 106 covered bridges, 80 of which are publicly owned — more covered bridges per square mile than any other state in the country. Some of them are in storage, waiting to be restored and reinstalled. But most remain where they were built a century or more ago.
Stiver first discovered Vermont's covered bridges while taking the long route from his home in Paris, Ontario, to Westfield, Mass., where his daughter lives. "That just kind of hooked me on them," he says.
He explains his love of covered bridges like this: "Often, they're in a nice, natural setting, and they have original craftsmanship." In the last three years, Stiver has visited about half of Vermont's covered bridges. He intends to hit the remaining structures on a long trip this fall.
Does Stiver have any favorites? The covered span across the Green River in Guilford, Windham County, is a top choice. The bridge, which is still used for vehicular traffic, was built in 1870 and is visible from some distance.
Stiver also fancies a striking group of roofed spans in Northfield called the Second, Third and Station covered bridges. These red, windowed structures, which cross Cox Brook (the first two) and Dog River (the third), were built around the same time as the Green River bridge and are arranged so they can all be seen from three different vantage points.
But what makes Vermont's covered bridges more special than those of other states, or even Canada? We take care of them, Stiver says. To wit, the Vermont Agency of Transportation instituted a Historic Covered Bridge Preservation Plan in 2003 to maintain the historical and structural integrity of the spans. The state understands just how important they are to the Vermont brand. Housekeeper notes that journalists who call her office looking for Vermont-y photos always request images of covered bridges.
"The covered bridges in Vermont are in excellent condition," Stiver says. "Pennsylvania has twice as many, but they aren't nearly as nice."
Outraged, or merely curious, about something? Send your burning question to wtf@sevendaysvt.com.