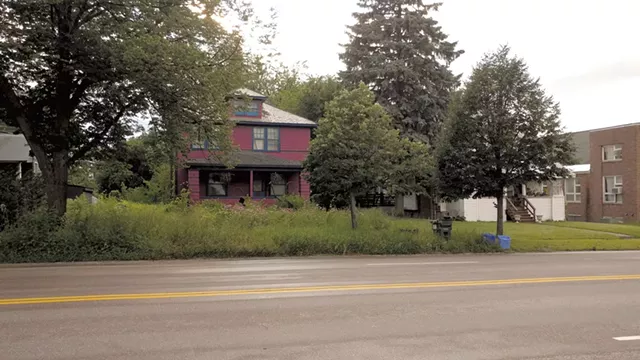 Jordan Adams
The yard at 431 Shelburne Road
Most of Burlington's residential lawns are well kept. On any given weekend afternoon, the city's neighborhoods are abuzz with the sounds of gas-powered mowers and weed whackers, even the signature rattle of the odd push reel. But, while most homeowners are busy keeping their grass at bay, one prominently located home in Burlington's South End district exhibits the opposite.
Perhaps you've seen it — the magenta Craftsman at 431 Shelburne Road, just north of Lyman Avenue on the west side of the street. While the house itself is vividly painted and finely detailed, what lies before it is, well, kind of a mess. A mix of grass, wildflowers and weeds grows upwards of five feet tall. And it's not just the front yard. The building's green belt — the strip of grass between the sidewalk and the street — and the sides of the property are completely overgrown, as well.
Yet some of the flora seem deliberately planted — specifically, pink daisies, cornflower and echinacea. Furthermore, the presence of two large metal sculptures hints at a deliberately subversive bent. WTF?
For Linus Owens, the homeowner, the rationale isn't terribly complicated.
"I hate mowing grass," he tells Seven Days while sitting in his living room. Owens cites his disinterest in investing the time and energy it takes to maintain a yard and makes passing, disdainful mention of "the politics of manicured lawns" and "hegemonic aesthetics." These complaints are understandable, given his line of work.
Owens, 47, is a professor of sociology at Middlebury College who formerly taught at Wesleyan University. He's offered courses titled "The City and Its People" and "Social Movements and Collective Action." He's also an active participant in the North American Anarchist Studies Network. It seems he's familiar with the concept of disrupting the status quo.
Owens purchased the house in 2007 and decided to let nature take its course out front. It wasn't long before Burlington's housing code enforcement officers came a-knockin'.
"They said they were going to fine us every two weeks until we dealt with the yard," says Jessica Evans, Owens' housemate. Evans, 37, is also a college professor — she teaches classics at the University of Vermont.
"[The city officials] said, 'It just has to look nice,'" she says. "I said, 'What does that mean?' And they said, 'Mowed.' I said, 'How high?' And they said, 'It just has to look like the house is lived in.'"
That's when Owens and Evans decided to scatter some wildflower seeds in the towering grass.
But to which section of Burlington's code of ordinances were the officials allegedly referring? Patti Wehman, a code enforcement case manager for the City of Burlington, is unsure.
"There's no requirement that a house appear lived in," says Wehman over the phone. But she and director of code enforcement Bill Ward do point out a few relevant sections of the code.
Chapter 18, article III, section 106, subsection B states, "Every owner or his agent of a dwelling unit or units shall maintain the shared or public areas of the dwelling unit or units or yard in a clean and sanitary condition."
"It has a lot to do with the specific circumstance," Ward tells Seven Days over the phone. "Windblown things — [such as] recycling or trash — tend to get stuck in [tall grass]. It's acting as a net."
There's nothing in Owens' yard except vegetation and his metallic abstract sculptures, which he purchased a few years ago from sculptor Gerald Stoner at the South End Art Hop. So it probably doesn't qualify as unsanitary.
Appendix 3-212 of the city charter states, "The city council shall have the power and authority to declare weeds, underbrush or any unsightly or detrimental growth on any lot of land adjacent to any park or street in said city a nuisance."
"Generally, [the overgrowth] has to have an impact on the public," Ward explains. "And where it has the most impact on the public is where it blocks the sidewalk or if it impedes the view of a person coming in or out of a side road."
An unusual detail about the block in question is that none of the houses between Lyman and Ferguson avenues have driveways that open onto Shelburne Road — so impeding drivers' view is not an issue in Owens' front yard.
An abundance of common chicory and other weeds do slightly encroach onto the sidewalk. We ask Owens whether that growth may need to be beaten back, especially in light of the risk of Lyme disease this year.
"She was concerned about it," says Owens, pointing at Evans. "[But] we don't cut through [the yard]. I guess ticks may jump on you as you walk on the sidewalk, but I don't think that's how ticks operate."
That's true. The little bloodsuckers don't jump. But they do live on low-lying plants and cling to things that brush against them.
Concerned about a neighbor's yard? Ward notes that SeeClickFix.com is a useful tool for alerting city officials to nonemergency concerns.
As for Owens and Evans, they say they've gotten only positive feedback from neighbors and passersby. "It seems like the negative stuff is directed toward the city," says Owens.
For now, he's set on keeping his yard an "urban meadow." "I think it looks better," says Owens. "It makes me happy."