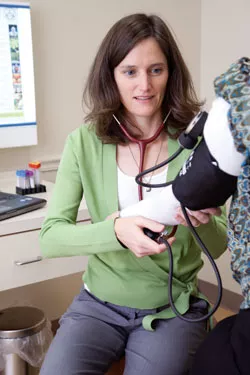 Matthew Thorsen
Dr. Alicia Cunningham
Michael Sakash admits he's not the kind of patient who gets in and out of a doctor's office in 15 minutes. The 62-year-old Stowe resident has a long and complex medical history that includes diabetes, diverticulitis, depression and substance-abuse issues. Then, in July 2012, Sakash suffered a stroke, which left him unable to work.
A few months ago, Sakash was notified by his primary care physician of more than 20 years, Dr. David Bisbee of Stowe, that he was switching to a "concierge" practice. For the patients who choose to enroll, Bisbee now charges an annual fee of $1500, for which they receive 24-hour-a-day access to their doctor. He gives patients his cellphone number, accommodates them with same-day appointments and makes house calls.
Office visits are less rushed and more comprehensive — an annual physical can take two hours — with virtually no time spent in a waiting room. And, regardless of the medical reason for it, every office visit costs just $25. Despite the annual fee, which isn't covered by his insurance policy though Blue Cross Blue Shield of Vermont, Sakash says he'd never consider looking for a different doctor.
"Dr. Bisbee knows my background," he says. "If I need 25 minutes, he'll give me 30 because he won't leave until he's done."
To some, the term "concierge," "boutique" or "retainer" medicine conjures up images of high-end practitioners who cater exclusively to rock stars and Park Avenue socialites. But though Sakash resides in the Stowe area, he's no member of the 1 percent. A former school bus driver of 13 years, he was working in the maintenance department of a maple syrup processing plant in Hardwick when his stroke occurred. He now gets by — and pays Bisbee's annual fee — on his disability checks.
For Bisbee, the son of a seventh-generation Waitsfield dairy farmer, the motivations for switching to a concierge practice a month ago were only partly financial. The 59-year-old family practitioner says he was driven more by a desire to regain his "autonomy" as a physician and get back to the basics of why he got into medicine 27 years ago.
"I do house calls, I deliver babies, I go to the hospital and the nursing home," explains Bisbee, who's also the medical director of a long-term nursing facility in Morrisville. (He waives his annual fee for most of his elderly patients and allows others to pay in installments.) "This is what I call a modern medical practice with a lot of old-fashioned notions."
Bisbee is hardly alone in this desire. Increasingly, Vermont's independent physicians say it's never been harder for them to make a living. Faced with declining reimbursement rates, rising overhead costs, and excessive time spent filling out paperwork and obtaining insurance company pre-authorizations — not to mention the confusion and uncertainty of the shift to a more centralized insurance system — many say they face a difficult dilemma: either join a large, hospital-affiliated medical practice and become salaried employees, or leave Vermont to practice in another state where they can make more money.
Evidently, many doctors have chosen the former. A decade ago about half of all primary care practices in Vermont were independently owned. That's according to Dr. Paul Reiss, president of a Vermont-based association, Healthfirst, that bargains to get independent physicians better rates on their malpractice insurance, equipment and contracts with the state. Today, Reiss says that figure has dropped to a third.
But some doctors, like Bisbee, have found an attractive third option: Set up a concierge practice, which dramatically reduces their "panel," or caseload, from several thousand patients to several hundred. By charging each individual or family an annual fee, practitioners are free to spend more time as doctors and less as bookkeepers.
"I just really like the flexibility of getting back to the one-on-one, doctor-patient relationship. It feels really good," Bisbee adds. "And I feel pretty confident in saying that these practices are going to pop up right and left now."
Dr. Alicia Cunningham agrees. The 38-year-old primary care physician in South Burlington left a Fletcher Allen-owned group practice in February to set up her own concierge practice, which she refers to as "direct primary care." Previously, Cunningham says she was spending more than half her time dealing with "paperwork, bureaucracy and mandates ... time I could have spent caring for people."
Since then, Cunningham has reduced her panel of patients from 3000 to 400, a limit she's fast approaching after advertising her new concierge practice extensively in the Chittenden County market. As she puts it, "You cannot have a personal relationship and be on call for 3000 patients.
"I enjoy caring for my patients, which means being available to them and on call when they're in trouble or have questions, and I don't want them to be limited to a 15-minute visit," she adds. Cunningham keeps her schedule open to see patients in her office the same day they call, and to answer their emails, texts and phone calls.
As with most concierge practices, Cunningham's patients still need insurance to cover their other medical expenses, such as lab work, ER visits, prescriptions and hospital stays. But with all the extra time in her schedule, she's now free to provide more hands-on care to her patients in hospitals, rehab centers, nursing homes and assisted-living facilities. As she puts it, "I wanted to get back to the way medicine should be practiced."
Good for the Few but Not the Many?
Plenty of doctors and patients would likely sign on to providing more personalized care. But critics worry that the growing popularity of concierge medicine will worsen Vermont's already existing shortage of primary care physicians. The state has been struggling to recruit enough doctors to meet the growing demand.
Dr. Paul Harrington, president of the Vermont Medical Society, says Vermont currently has just 600 primary care docs, a shortage of 25. That shortfall is expected to rise to 63 doctors by 2015, he adds, due to Vermont's aging population and a projected 18 percent increase in new patients who will gain coverage under the Affordable Care Act. To date, the Green Mountain Care Board, which concerns itself with accessibility, has yet to take a formal position on the issue, or make it an agenda item at one of its meetings.
Because concierge medicine is so new to Vermont, Harrington doesn't even know how many doctors have switched to it; for its part, the Vermont Medical Society has not yet taken an official stance on the model. Local concierge docs estimate their numbers in Vermont at fewer than a dozen. A 2010 congressional commission convened to study issues of access for Medicare patients put the figure at 756 nationwide, a fivefold increase in five years.
Kevin Goddard, vice president of external affairs and sales for Blue Cross Blue Shield of Vermont, says the jury is still out on whether concierge medicine is good for Vermont — or his company.
"It's an evolving thing for us. Because it's so new, we're still trying to understand the implications for our members," Goddard says. "If it were to unduly limit access to primary care for a large part of the population, that would be a concern."
Even Reiss, who advocates for independent physicians, says there are "definitely downsides" to the concierge model, in that those doctors "have fewer patients and there aren't nearly enough primary care docs as it is."
Reiss emphasizes that he doesn't fault individual physicians for their decision to switch, noting that they shouldn't have to "overburden themselves" to provide access to the entire community. Nevertheless, he says, "We should take it as a red flag that the system needs to be fixed so that these primary care doctors can have a reasonably healthy lifestyle of their own."
Because concierge doctors are few and far between in Vermont, the model has few vocal critics here. But one skeptic at the national level includes the powerful American Medical Association. In its written policy on the practice, the AMA states that, while such practices are part of the "pluralism in the delivery and financing of health care," they also raise "ethical concerns that warrant careful attention," including issues of patient access.
One survey cited on the AMA Journal of Ethics website notes that concierge practices typically retain only 12 percent of their former patients and tend to care for fewer African American, Latino and Medicaid ones. They also tend to treat fewer patients with complex medical histories, including diabetes.
Local concierge doctors such as Cunningham say they're treating a broad demographic of patients and medical conditions. Equally important, she says they're doing something the Affordable Care Act, and the insurance companies, have yet to accomplish: They're increasing the quality of care their patients receive while simultaneously controlling costs.
"Many patients pay a lot of money for insurance and if they don't meet their deductible, they get nothing in return," she says. "My patients receive high-quality, convenient care from their physician who is available 24/7, all for a reasonable cost. Given the time I spend with patients, I can save them money by reducing medications, specialist appointments, emergency-room visits and hospital stays, making the overall cost even lower."
Stopping the Assembly Line
One of the first concierge practices in Vermont was not in Chittenden County but in Rutland. Dr. Seth Coombs and his partner, Dr. Bruce Bullock, made the switch two years ago to turn off the "conveyor belt" of patients.
"In the traditional model, where efficiency is king, basically all your systems are developed to create an assembly line, where you're ... going from one exam room to another trying to get in and out in 15 minutes," he says. "Your time has to be spent making money, and the only way you make money in primary care is seeing patients."
Coombs soon realized that he was also saving his patients, and insurance companies, money. Coombs says that Blue Cross Blue Shield of Vermont has done enough analysis of doctors around the state to confirm that Coombs is more likely than most to prescribe generic drugs and to be more selective about the tests he orders.
Coombs also says he's more likely to treat patients in his office, or over the phone, than he was three years ago. For example, he can review photos of a patient's rash emailed to him, then call in a prescription to a pharmacy, saving his patients time and money.
Likewise, he's also more likely to treat patients in his office for more serious complaints rather than instantly sending them to the emergency room. "I now have the time to explain to someone why they don't need a CT scan for their headache."
Coombs' findings are more than anecdotal. A five-year study of "personalized preventive care," published last year in the American Journal of Managed Care found significant reductions in patient hospitalizations, elective and nonelective surgeries, and unavoidable admissions. For some patients, especially those on Medicare, the rates were nearly 80 percent lower than those not receiving "managed care."
Despite such apparent cost benefits, Coombs reports that some insurance companies, including Cigna and United Healthcare, had "extremely negative" reactions when he changed to a concierge practice. He says Blue Cross Blue Shield is now reimbursing him one-third less than it was previously. Only MVP Health Care of Vermont, he says, seemed unconcerned about the change. (Numerous phone calls to MVP were not returned.)
Goddard acknowledges that Blue Cross Blue Shield of Vermont reduced some of its reimbursement rates for concierge doctors. He notes, however, that while the company initially declined to list them as "preferred providers," it has since reversed that decision. Those practices are now included in its Vermont network on a "pilot" basis.
For his part, Coombs says he cannot understand why insurance companies would object.
"Medicare was looking for reasons to kibosh concierge medicine when it first came out about 12 years ago, but they're much more warm to it now," he says, "I'm sure the other payers will be, too. They just don't have the data yet to show the benefits."
Finally, with patients enjoying 24-hour access to their docs and their cellphone numbers, one might assume that some patients would abuse that privilege. Not so, report Bisbee, Cunningham and Coombs. Equally important, they all say they've never been happier as doctors, which means they're more likely to stay in medicine, and in Vermont.
Notes Bisbee, who's 59, "I don't plan to retire at 65, because I just love what I do."