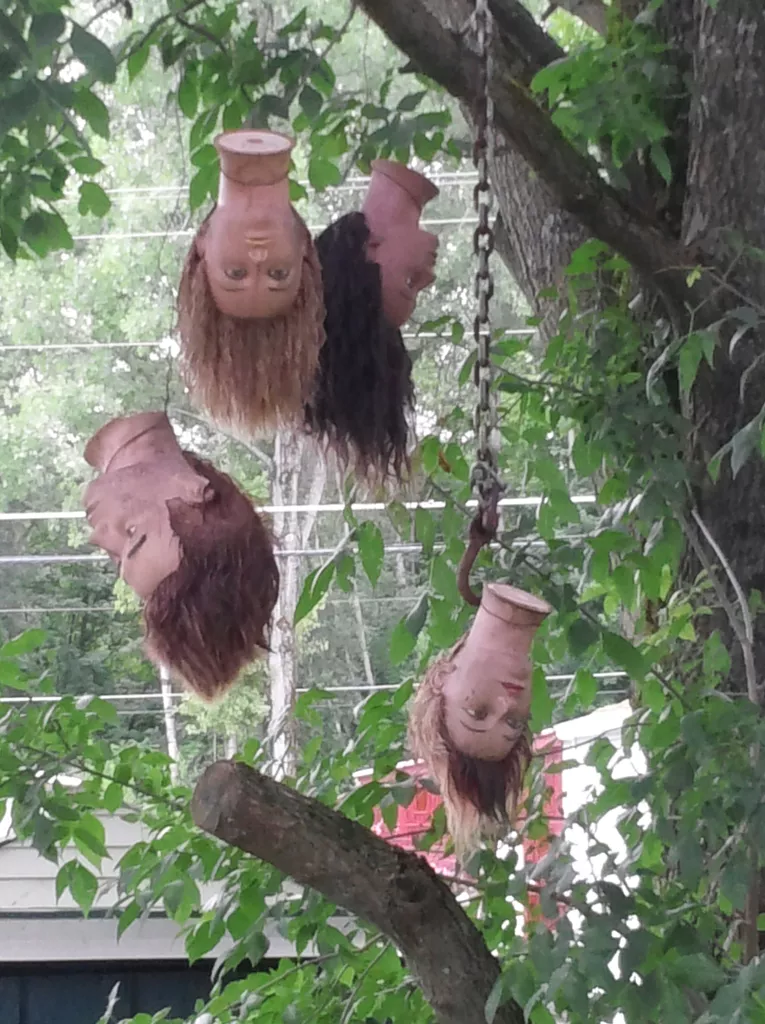 Courtesey Of Ethan De Seife
Hinesburg's Triple L Mobile Home Park is an unassuming place. Most of its 60-some residences squat behind fences near the intersection of Richmond and Texas Hill roads; a cluster of trees further obscures the park from passing motorists.
But if you look closely, an odd roadside attraction rears its head. Make that heads — several mannequin noggins hanging from metal chains in a tree. WTF are they doing there?
Turns out, they're intended to ward off uninvited salespeople. Julie (who asked that only first names or initials be used, for privacy) lives on the property where this particular tree stands, along with her fiancé, G., his son and four yappy but friendly Chihuahuas.
She explains: "We always had solicitors coming to the door ... They wouldn't stop. They were relentless. They were pushing magazines through the sides of our door."
So are persistent pollsters, salespeople and Jehovah's Witnesses meant to take these heads as a threat? "Well, not really a threat," Julie says — more of a jokey heads-up. She and G. got tired of all the unwanted knocks and pamphlets, so they decided to use gallows humor in an attempt to ward off such visitors: "[G.] thought it'd be hilarious if we hung [the heads] in the tree."
She adds, "Some people think it's twisted. I don't think it's twisted. You gotta have a sense of humor."
Julie says that her home has seen far fewer unwanted guests since the mannequin heads were strung up in 2011. "I haven't had one Jehovah's Witness come back here," she says. "Not one."
The heads — now veritable gargoyles — were once trash. About three years ago, G. noticed several hairdressers' model heads in a dumpster near the Burlington garage where he works. After salvaging them, he and Julie gave them weird haircuts and hung them in the tree using heavy-duty chains that G. uses for field-dressing deer.
While creepy, the heads have their admirers. Passing motorists often stop to take photos or honk their horns in, presumably, endorsement, Julie says. When she and G. once took the heads down for a few months, people began to inquire when they would return.
Moreover, Julie insists, no one — not neighbors, the park's landlords or the local police — has complained or requested that this unusual arboreal ornamentation be removed. Indeed, it might not be to everyone's taste, but the Halloween-y display violates no local laws or ordinances.
Hinesburg Chief of Police Frank Koss is clear on that last point. Though he personally finds the mannequin-head tree to be "bizarre," he states unequivocally that there is nothing illegal about it. Koss estimates that his department gets a couple of inquiries a year about the display, and he informs callers that the crania are on private property.
Still, Koss admits, "It wouldn't break my heart to see them go away." He and others will have to grin and bear it: Julie says she'd like to add "10 or 12 more" heads someday.
Like the residents of most mobile- home parks, those at the Triple L typically own their homes but pay rent on the land on which they sit. The Triple L lease agreement — downloadable from the website of Ship Sevin, the South Burlington real estate company that owns the park — contains the following clause: "The Resident shall use the leased premises ... in such a manner as not to be detrimental to any other resident or to the operation of the park for health, safety or aesthetic reasons."
Depending on one's point of view, the mannequin heads might violate aesthetic standards, but they don't interfere with the operation of the park. It's not clear if Julie and G.'s landlord has any opinion about the display, as Seven Days' calls to Ship Sevin's owners, Chip and Kevin Spillane, and to Triple L manager Catherine Joachim, were not returned.
Julie's amiable demeanor suggests that she's inclined to use humor to address her problems. Traveling salespeople may not be welcome here, but they actually have little to fear from the trailer's residents or their platoon of small, yippy dogs. Those four Chihuahuas have only two full sets of teeth among them.
INFO
Outraged, or merely curious, about something? Send your burning question to wtf@sevendaysvt.com.
The original print version of this article was headlined "Whiskey Tango Foxtrot"