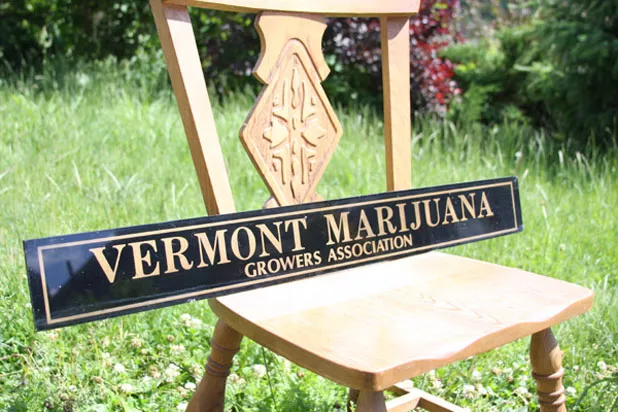 This week's question came from a reader in Medina, Ohio, which is about 25 miles south of Cleveland. Several years ago, Scott McChesney was browsing what he calls the "totally bizarre" category on eBay — "Actually, I was looking for shrunken heads," he confesses — when he came across an item that intrigued him: a 3-foot-long glass sign with gold lettering on a black background that reads "Vermont Marijuana Growers Association."
Believing the sign was a rare antique, McChesney purchased it for an undisclosed sum, but he couldn't verify its authenticity or find any historical references to such an organization. Internet searches using those keywords turn up thousands of references to medical marijuana, drug busts, legalization debates and weed porn, but, alas, no Green Mountain ganja granges. Nevertheless, McChesney says he's convinced the sign is genuine; he suggests it dates back at least to the 1930s, and certainly predates the Marihuana Tax Act of 1937, which outlawed the plant's sale or possession in the United States.
A quick check with the Vermont Secretary of State's office turned up no past or present registrations for any such organization. Likewise, the Vermont State Archives and Records Administration has no information on a Vermont Marijuana Growers Association — though state archivist Gregory Sanford did come across what may be one of the earliest mentions of marijuana in Vermont records.
Several years ago, Sanford recounts, he was reading the minutes of a 1945 Senate Public Health Committee hearing when he came across a committee clerk's reference to warnings from federal agents about a "Mary Warner." At first he was baffled and wondered, Who was this Mary Warner and why was she considered so dangerous?
But, as Sanford read on, he noted that the clerk mentioned Mary Warner was grown in Mexico, and "the lights went on." Though Vermonters have long been stereotyped as granola-munching stoners, evidently the word "marijuana" wasn't in common usage in the 1940s, at least not around the Vermont Statehouse. The clerk had spelled it phonetically.
However, Sanford points out, Vermonters could buy Cannabis sativa with a doctor's prescription well into the 1940s. This even though in 1935 the general sale of cigarettes or cigars containing marijuana had been outlawed and carried penalties of $100, 60 days in jail or both.
There's no definitive proof that early generations of Green Mountain farmers didn't grow green bud, but it's far more likely they cultivated its cannabis cousin, hemp. Actually, Vermont has a long history of industrial hemp dating back at least to the 1820s, some of it tied to the state's most famous inventor.
Thaddeus Fairbanks (1796–1886), for whom the Fairbanks Museum and Planetarium in St. Johnsbury is named, invented a number of items that would have been found on many 19th-century Vermont farms, including the cookstove and the cast-iron plow. But Fairbanks is probably best known for inventing the platform scale, aka the "Fairbanks scale," which allowed objects as big as hay wagons to be measured accurately.
These Fairbanks scales were originally designed to measure hemp bales. In fact, Fairbanks and his brother, Erastus, raised and processed hemp together; Thaddeus Fairbanks also patented a machine for processing the fibrous plant, which he later put to use when he managed the St. Johnsbury Hemp Company.
However, the suggestion that Fairbanks or other 19th- or early-20th-century Vermont farmers were widely raising psychoactive strains of cannabis sounds dubious to Adam Krakowski, a graduate in the University of Vermont's historic preservation program and a historian of Vermont hops — as in beer.
As Krakowski explains, 19th-century Vermont wasn't exactly known for its partying lifestyle; the state was under alcohol prohibition and firmly in the grip of the temperance movement from 1853 until the repeal of the Volstead Act in 1933.
Krakowski, who is also a decorative-arts conservator with Meeting House Furniture Restoration in Quechee, has another reason to doubt the authenticity of McChesney's sign. In those years, he explains, glass signs were made using black paint that was applied with a brush or roller, leaving behind brushstrokes that would still be visible today. Based on the photo McChesney provided, his sign looks too uniform. That is, it's "a modern creation."
Allen St. Pierre, executive director of NORML — the National Organization for the Reform of Marijuana Laws — drives a final nail into this coffin. "There were no 'marijuana' trade groups or associations in the 1930s or '40s," he says, "in Vermont or any other state."
That doesn't mean there won't be one someday, though a Vermont Hemp Growers Association is currently a stronger possibility. On May 16, Gov. Peter Shumlin signed into law H.747, which allows the Vermont ag secretary to issue permits to grow hemp once the federal government removes its own decades-long hemp prohibition.
On June 13, Sen. Ron Wyden, an Oregon Democrat, introduced an amendment to the 2012 federal farm bill that would legalize industrial hemp production in the United States — the first time such an amendment has come to the floor of Congress for a vote since the 1950s. That vote is expected any day now.
In short, McChesney probably should have stuck to buying shrunken heads. While the sign looks genuine, it's more likely to have hung outside a Vermont frat house than a farmhouse.
Outraged, or merely curious, about something? Send your burning question to wtf@sevendaysvt.com.