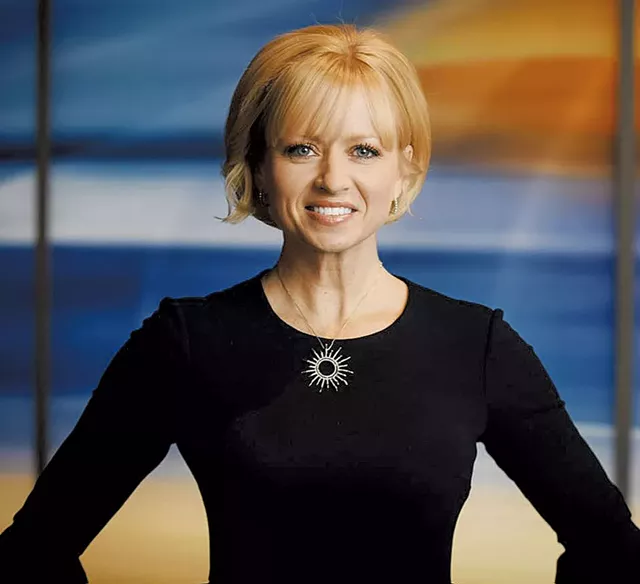 Courtesy Of David Seaver Photography
Céline McArthur
This story must begin with a confession: We were skeptical at first. A reader suggested we look into the story behind Céline McArthur's sun-shaped necklace, a signature piece of jewelry that glistens frequently around the neck of the WCAX-TV news anchor and investigative reporter. How much intrigue could there be in a single piece of jewelry?
But when we googled McArthur's name, the first result was "necklace." And on McArthur's public Facebook page, fans make happy comments nearly every time the necklace appears in one of her photos. Clearly, this iconic artifact merited some serious investigation.
On air, McArthur does on-the-ground investigative reporting — she once bought $40 worth of heroin on the street in Massachusetts for a story. She also goofs around with coanchor Galen Ettlin. In a recent clip, the two segued into the weather segment by duetting the opening lines of the Temptations' "My Girl."
In person, McArthur is fast-talking and charming. She's amazed that people care so much about this piece of jewelry, and she's always happy to share the story behind it, even if it starts in a less-than-sunny time in her life.
In early 2017, McArthur was working at a television station in Concord, N.H., called NH1 when it was abruptly shut down after being sold to the Federal Communications Commission. (The station's air rights were sold to a cellphone company to be used for high-speed internet in a process called a "spectrum auction.") The staff was given no notice and told that the previous day's show was their last day on air.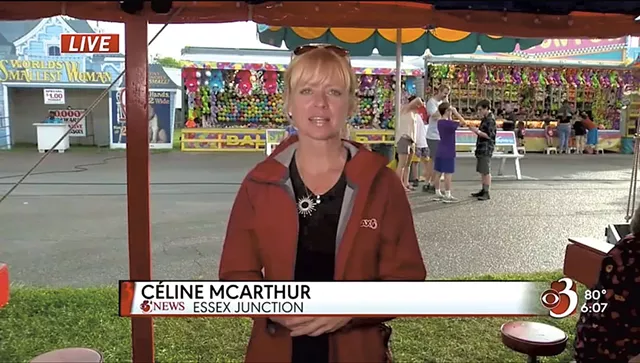 As she and her longtime photographer Freddy Wheeler carried their boxes of personal belongings out of the station, McArthur wondered what this meant for the project she had just started: uncovering a source of New Hampshire's illegal drugs. She had various contacts in law enforcement and had been planning to follow the trail of heroin and fentanyl all the way to the Caribbean.
"This was my plan," McArthur said. "The only problem is, we ran out of a TV station. We had no TV station. So Freddy and I used our three-month severance pay, my cellphone, eight GoPros and two DSLR cameras ... We shot the one-hour special, and it aired on WCVB in Boston, and we actually won an Emmy for it in 2018."
The one-hour television special "Beyond the Border: The Opioid Pipeline" premiered in December 2017. In 2018 it won a New England Regional Emmy Award for Societal Concerns Program/Special.
After McArthur and Wheeler finished shooting the special, they decided to commemorate the occasion by tackling a different achievement: hiking Mount Washington, the highest peak in the northeastern U.S.
"Because we were unemployed, when we weren't working on the special, we'd go hiking," McArthur said. "I was like, 'I want something to commemorate this' ... I knew this was the last project we were going to work on together like that for a while."
After hiking the mountain, the two went to the Omni Mount Washington Resort for drinks, and McArthur stopped at a jewelry store in the resort called Sterling Works. That's where she saw the necklace, a circle with extending spokes like a drawing of the sun.
"My kindergarten teacher used to call me Mary Sunshine," McArthur said. "My mom would always remind me of this, and she would call me Mary Sunshine."
Between the occasion and the shape of the necklace, McArthur felt like it was fate. She bought it. In the summer of 2018, when she joined WCAX in Burlington, most of her belongings and other jewelry were still at her home in New Hampshire, so she wore the necklace nearly nonstop for a few weeks. That's when the emails started.
"People started asking," McArthur said. "I wasn't even thinking about it, and I would share the story. And then people kept asking, and they haven't stopped asking, and sometimes when I don't wear it, they ask why I haven't worn it."
Last year at a farm show, when McArthur was trying to complete a story on deadline, she heard a woman yelling to her partner, "Yeah, honey! It's her. I see the necklace!"
McArthur finds the attention ironic, because when she worked at NH1, she was loaned expensive jewelry to wear on air — and nobody asked about it.
"Diamonds you could die for, like $30,000 diamond earrings," she said. "And a beautiful medallion, all of diamonds. It's something Beyoncé would wear. No one ever mentioned it, though, when I was on the news."
The sun necklace is sterling silver and cost McArthur $150. She returned to the store and bought a backup when it became her signature look.
According to Susan Briggs, the owner of Sterling Works, McArthur's necklace is called the Mount Washington Starburst and was created specially for the shop. It comes in four sizes; the smallest is priced at $29.95. Briggs said the prices haven't changed in nine years because she wants anyone who visits the resort to be able to buy the necklace as a souvenir.
"It's so gorgeous that we sell thousands, literally thousands," Briggs said. "We make it so anybody can buy it."
Left: Céline McArthur and Galen Ettlin
Briggs said plenty of people mention that they first saw the necklace on McArthur, and Briggs also tells everyone about the newscaster who wears it. Neither woman is sure what the small, sparkly stones are encircling the sun shape.
McArthur doesn't mind the fact that the public now expects her to wear the same piece of jewelry almost daily. She said her work outfit of choice would be "jeans and a bulletproof vest" in the field, but for anchoring she often resorts to a black dress.
"I'm sort of a creature of habit," she said. "I would be perfect in uniform. When I like a pair of jeans, I buy four of them."
McArthur said she likes how the necklace facilitates a connection with her viewers. She does occasionally get nasty emails about what she wears — an experience that is common among female news anchors and is well documented. In 2018, a study in the Journal of Broadcasting & Electronic Media found that most broadcasters say such criticism has increased in the age of social media.
McArthur said she doesn't take it personally.
"They're not saying, 'I don't like your work,'" she said of comments about her clothes. "If that's all that's bothering you, we're doing a good job."
Disclosure: Seven Days and WCAX-TV are media partners; Seven Days staffers regularly appear on the evening news.