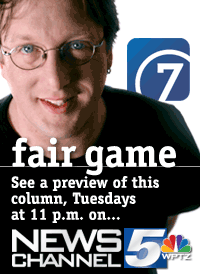 The Vermont House is ready to approve legislation that would advance one of Gov. Peter Shumlin's key priorities: overhauling the state's health care system.
But opponents continue to ask pesky questions, such as: What will it cost? How will it be financed? What will the benefit package look like? Will unions and businesses be able to buy supplemental insurance? How will costs be contained?
Details.
Supporters continue to laud this effort as one small step for Vermont and one giant leap for single-payer health care — a system they claim will lower health care insurance expenses for most businesses and help control future costs.
To be honest, it's hard to see why either side is getting so worked up. The bill, as written, doesn't do much more than create a high-paid board charged with redesigning Vermont's health care system.
Shumlin cautioned skeptics to let this five-member board — handpicked by the governor — do its work. "To get all panicked about details that haven't been worked out, I think, is a mistake. Let's design the system, then let's pick on it," Shumlin told reporters last week.
He's got a point.
Call me negative, but I don't see how Vermont will ever manage to enact the single-payer proposal that is being held up as the Holy Grail.
Given the GOP takeover of the U.S. House in 2010, a scenario likely to be replayed next year in the U.S. Senate, getting the necessary federal permission before 2014 amounts to a Sisyphean task.
Washington politics aside, Shumlin last week almost jettisoned his one true health care reform proposal of the year in order to keep hospitals, docs and the state's largest insurance provider — Blue Cross Blue Shield — from opposing the broader reform legislation.
In January, Shumlin announced plans to merge Catamount Health — a publicly subsidized but privately managed health care plan — with the Medicaid-funded programs run by the Department of Vermont Health Access. DVHA runs Dr. Dynasaur and the Vermont Health Access Plan, among others. The proposal would save about $16 million, largely by cutting reimbursement rates for hospitals and docs.
The idea was to create a single insurance pool for publicly funded health care as a step toward a single-payer system, with one claims-processing and billing system and a common benefit plan. Catamount covers about 12,000 people, while DVHA's programs cover 150,000 Vermonters.
The Vermont Medical Society and Vermont's hospitals vowed to fight the Catamount merger due to the lower reimbursement rates, calling it a violation of the "social contract" providers agreed to when Catamount was first introduced in 2007.
As a result of increasing opposition, which threatened to sink the broader, long-term reform efforts, Department of Banking, Insurance, Securities and Health Care Administration Commissioner Steven Kimbell reached out to Blue Cross Blue Shield of Vermont to see if the insurer could offer another way to cut Catamount costs.
As "Fair Game" noted earlier this year, Kimbell counted BCBS and other "Blues" among his clients during his successful lobbying career at Kimbell Sherman Ellis, now KSE Partners.
On March 9, Blue Cross Blue Shield of Vermont's vice president of external affairs, Kevin Goddard, sent a memo to Kimbell outlining a plan to keep Catamount Health in the hands of private insurers. The plan had the support of docs and hospitals, according to a copy of the memo obtained by "Fair Game." The memo went to other top Shumlin aides, too.
Administration Secretary Jeb Spaulding said he gave Kimbell the green light to work with BCBS in order to hammer out a proposal that could be presented to lawmakers.
"We said from the beginning that if there's a better idea out there, we'll look at it," said Spaulding.
Under the BCBS proposal, reimbursement rates for providers would be cut by a fraction of what Shumlin's initial plan proposed. As a result, the BCBS variation saves less than $5 million — $11 million less than the gov's target. It's not clear how the administration, or the legislature, will make that up.
In their haste to cobble together a plan — as the broader reform bill approached a floor vote — the players failed to call BCBS' rival MVP Health Care to let them in on the new version. Whoops.
Kimbell told "Fair Game" that he "screwed up" by not calling MVP about the deal. In an apologetic phone call, he promised to keep MVP in the loop moving forward.
So, let me see if I have this right: The state's top health insurance regulator reaches out to a former lobbying client, BCBS, that just happens to be to the state's largest health insurer, in an effort to help his new boss. But in the long run, the effort is more likely to help his old boss by allowing BCBS to make money off publicly subsidized health care.
That's a prescription for change?
Taxing Talk
Gov. Peter Shumlin continues to say he's opposed to raising taxes on wealthy Vermonters — despite growing consensus among Democratic leaders to do just that.
Rep. Johannah Leddy Donovan (D-Burlington), a prominent Dem, recently joined the call. She cosponsored legislation that would levy about $40 million in short-term taxes — nearly enough to cover cuts to state human-service programs.
The bill failed Tuesday when too few House Democrats supported the measure, just as they have balked at previous ones introduced by Progressive lawmakers.
Donovan told "Fair Game" she cosponsored the bill to send the message that not all Democrats want to cut spending as a way to close the $176 million budget gap.
"When we talk about closing the budget gap, it's like we're just pulling rabbits out of a hat," said Donovan. "And it seems as if we're running out of rabbits."
Shumlin claims there aren't many rich rabbits, either. Based on a report from his tax commissioner, Shumlin said only roughly 200 people earned $500,000 more than once during a recent nine-year period. The governor is one of them.
"When you talk about taxing all of those rich Vermonters, there aren't thousands of them out there driving around in Rolls Royces and living on Lake Champlain," Shumlin said.
You Can Call Him Al
U.S. Sen. Al Franken (D-Minn.) does a pretty decent impression of Sen. Bernie Sanders (I-VT). The former "Saturday Night Live" comedian delivered that — and more — last Saturday as the keynote at the annual Curtis Awards fundraiser event for Vermont Democrats.
The first-term senator also referenced a recent gaffe by his fellow Minnesotan Rep. Michele Bachmann, a Republican. While in New Hampshire recently, Bachmann said it was great to be in the state that hosted the shot heard around the world — apparently mixing up Concord, N.H., with Concord, Mass.
In his opening remarks, Franken joked with the Vermont audience: "I'm sure you're proud to be from the state that borders both states where the shot heard around the world was fired."
Aside from his Vermont-based Senate pals, Franken knew at least one other face in the crowd: Bill Lofy, who is Gov. Peter Shumlin's chief of staff.
Lofy worked for the Democratic Senatorial Campaign Committee that helped get Franken elected in 2008. He stuck by Franken's side during the months-long recount process, which dragged out his official victory party until June 2009. Franken was sworn into office in July 2009.
"I got to the Senate a little late," Franken noted dryly. "People asked me, 'Are you still funny?' I lost my sense of humor during the recount and really haven't gotten it back."
Standup Shumlin
Sen. Al Franken wasn't the only pol entertaining the audience with one-liners at the Curtis Awards. Gov. Peter Shumlin — the first Democratic governor to attend the gala event in eight years — got in a few good ones.
One of the two toughest things he's done so far as governor?
"Go on vacation," quipped Shumlin. The crowd laughed. "I didn't get this tan from the sun; I got it from the TV cameras."
Dropping the Bomb
Vermont Democrats have always been willing to criticize U.S. military operations. Some even suggested former Republican President George W. Bush should be impeached for illegally invading Iraq.
They'd probably protest Vermont National Guard flyovers at Fenway Park, one "Fair Game" reader recently suggested on Twitter.
People must have been riled up at the Curtis Awards dinner, then, right? After all, it was on the same day the U.S. started bombing Libya. Attendees U.S. Rep. Peter Welch (D-VT), Sen. Patrick Leahy (D-VT) and Sen. Bernie Sanders all opposed the Iraq invasion. Surely they'd call President Barack Obama, a Democrat, to task for getting the country into yet another major military operation.
Nope.
Obama went on TV to speak about the military operation, called Odyssey Dawn, at 5 p.m. The dinner started around 7 p.m. None of the speakers — not even Sanders — took the opportunity to mention the "war" and spoil dessert.
Media Notes
Kudos to the Burlington Free Press editorial duo of Aki Soga and Mike Townsend for taking home a first place "First Amendment" award from the Scripps Howard Foundation.
The pair will be honored in May for a series of 20 editorials they wrote last year on the subject of freedom of information: Soga wrote 17, Townsend three.
The paper will be awarded $10,000 and a trophy "for its aggressive editorial stance that made open government a paramount issue in the 2010 elections and spurred reforms."
The Freeps bested finalists from the St. Petersburg Times and Washington Post to take the top prize.
William Arkin — one of two reporters who penned the near-winning Post series — lives in Vermont. Seven Days profiled Arkin last year.