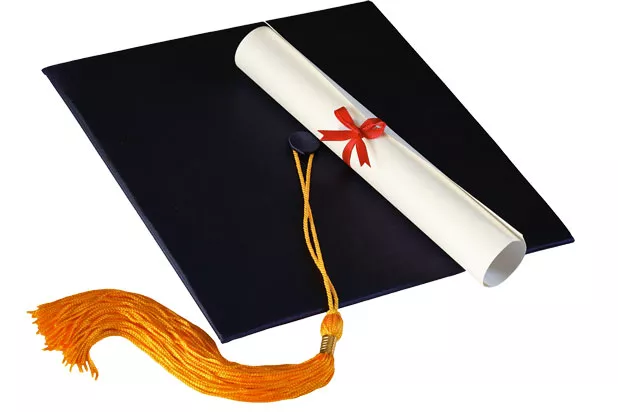 It's that time of year again. Tulips are in bloom, motorists are distracted by swerving skateboarders and bare midriffs, and Vermont's colleges and universities are announcing their 2013 commencement schedules.
This year's grads presumably will have completed four years of studies and dropped as much as $58,000 a year for their degrees. In return, they'll hope to land gainful employment and chip away at a mountain of student-loan debt.
But amid all the pomp and circumstance of commencement ceremonies will walk a handful of degree recipients who have neither burned the midnight oil nor popped Adderall to bolster their GPAs. They are the recipients of the honoris causa, or honorary degree. These lucky few will be honored for the accomplishment of, well, being honorable and accomplished. As they used to say in Latin, quid irrumabo?
Awarding honorary degrees is nothing new — the earliest known such honor was given by Oxford University in the 1470s. For centuries, honorary degrees were bestowed on those least in need of a leg up, i.e., the landed gentry.
To modern observers, the honorary degree retains a whiff of its elitist past. Last year, Burlington Free Press higher-ed writer Tim Johnson wrote a cynical takedown of the University of Vermont's honorary degree "business," suggesting it's used merely as a fundraising tool. As he noted, cash donations from UVM's honorary degree recipients totaled more than $13.6 million over the last decade. However, one 2002 honorary degree recipient, Victor Swenson, forked over a mere $18.
Gary Derr, UVM's VP of executive operations and chair of the university's honorary degree committee, defends the practice, explaining it has to do with recognizing individuals for outstanding achievements or service to the university, state, nation or world. A degree is not, he insists, just a thank-you for writing a fat check.
"It's usually because the person has made a significant contribution to the institution or to society that the college wants to recognize," echoes Sarah Ray, director of public affairs at Middlebury College. This year, Middlebury will award five honorary degrees, including one to Jonathan Safran Foer, author of the best-seller Everything Is Illuminated. "It's nice to be recognized for all your work by an institution you respect," Ray says.
Similarly, Champlain College will give out two honorary degrees this spring: a doctor of fine arts to its undergraduate commencement speaker, Vermont novelist and Free Press columnist Chris Bohjalian, and a doctor of commerce to Vermont Captive Insurance Association founder George Chaffee. Champlain, like many Vermont institutions, doesn't pay its commencement speakers, but issues them honorary degrees as formal thanks. The graduate commencement speaker, former governor Madeleine May Kunin, already got an honorary degree — a doctor of public service — from Champlain in 2008.
UVM will grant five honorary degrees this spring, including one to jazz trumpeter and 2013 commencement speaker Wynton Marsalis. Another will go to Jim Douglas — the former Vermont governor's third honorary degree in five years. (Champlain gave him one in 2011, Green Mountain College in 2008.) GMC's honorary degree recipients have been a diverse bunch, ranging from Gov. Peter Shumlin (doctor of laws) to Tom Magliozzi, cohost of National Public Radio's "Car Talk."
The faux degree bestows few rights or privileges other than, well, the honor. An honorary doctor of divinity may conduct a wedding ceremony in Vermont, but an honorary doctor of science cannot remove a gall bladder.
While honorary degrees are meant both to celebrate the honoree and boost the institution's prestige, they can be controversial. Former UVM prez Dan Fogel discovered as much in 2009 when he offered a degree to actor, writer and conservative pundit Ben Stein. Fogel's choice sparked a campuswide furor, especially among those who condemned Stein's view on scientific evolution — which he's called "a painful, bloody chapter in the history of ideologies." Stein called the firestorm over his intelligent design ideas "chicken shit" and withdrew.
UVM was hardly alone in its embarrassment. In May 2008, this reporter's alma mater, Northwestern University, withdrew its offer of an honorary degree to the Rev. Jeremiah Wright, Barack Obama's former pastor, as a result of his inflammatory sermons.
That same year, the University of Massachusetts rescinded the honorary degree it had awarded to Robert Mugabe in 1986. UMass deemed Mugabe's postdoctoral work in political repression, corruption, torture and other human-rights abuses in Zimbabwe "so egregious as to warrant this ultimate expression of disapproval."
Just last November, Tufts University withdrew a 2006 honorary degree it had awarded to now-disgraced pro cyclist Lance Armstrong. That decision was prompted by reports of Armstrong's systematic doping of his Tour de France team, which Tufts called "inconsistent with the values of this university."
But the practice reveals heroes to be heralded, too. This year, one of the cooler stories to emerge about an honorary degree recipient is that of Dr. Ray Griffin, a longtime fan and supporter of Lyndon State College. The 91-year-old Vermonter briefly attended Lyndon Teachers College back in September 1940 before enlisting in the Air Force during World War II.
Upon his return from war, Griffin trained as a dentist at the University of Maryland, then returned to Vermont, where he practiced for 29 years in the Northeast Kingdom. According to Dan Smith, director of community relations and public policy at Vermont State Colleges, Griffin has always maintained a deep personal fondness for Lyndon State.
Later this month, Griffin will finally earn an honorary teaching degree from Lyndon State — 73 years after first arriving on campus. Nice work, doc, and best of luck in your teaching career.
Outraged, or merely curious, about something? Send your burning question to wtf@sevendaysvt.com.