Not long after I moved to Vermont, someone informed me — by way of helpful orientation — that my new home state enjoys nine months of winter and three months of damn poor skiing.
In years since, I've dug out of some epic snow dumps (Valentine's Day 2007, anyone?), justified owning multiple winter coats, come to a deep understanding of how Eskimos could have dozens of words for snow, and added the terms "nor'easter" and "wicked cold" to my vocabulary. As someone whose fingers go numb in the grocer's dairy section, it's high time I learned how to take the chill off.
My husband and I are shopping for a fireplace insert. Basic homework taught us that we have three fuel options: natural gas, wood and pellets. And burning logs in the fireplace isn't an option. Wood-burning fireplaces typically lose more heat than they generate. "We call them wood evaporators," said Roy L'Esperance, who owns the Chimney Sweep Fireplace Shop in Shelburne. Also, ours smokes up the house, owing to a cold exterior chimney that can't help but comply with the laws of thermodynamics.
I arrived at the Chimney Sweep thinking we'd settled on a wood-burning insert. Then I met L'Esperance. "Well, the wood's romantic, cozy and traditional, and a very practical alternative when you have expensive heat sources such as propane or oil," he said, knowing that we have natural gas. But then he pointed a remote control at the Fireplace Xtrordinair 616 and clicked. Within two seconds, flames danced in the natural-gas insert, faux embers glowed and my resolve melted.
Despite that revelatory moment, we haven't yet settled on a purchase. My husband still rallies for wood, arguing that it offers honest work for our kids. While I also prefer wood for its authenticity, I suspect the work it entails would translate to far fewer cozy nights in front of a fire.
To pick the freestanding stove or fireplace insert that's right for you, you need to consider your lifestyle, your access to fuel and whether you want the unit to provide ambience or the lion's share of your heating — which all three fuel options can do.
And consider this: In addition to choosing fuel type, you need to pick a material. Stoves and inserts commonly come in three: steel, cast iron and soapstone. Steel is the strongest, heats the fastest and loses heat the fastest. Cast iron and soapstone offer softer heat. They take longer to heat up and radiate heat longer, with soapstone being the slowest to heat and to cool.
Read on for insight from L'Esperance, as well as from Lee Miller, an installer and salesman at Stove & Flag Works in Williston; and Adam Sherman, who runs the Biomass Energy Resource Center at Vermont Energy Investment Corporation.
Pellet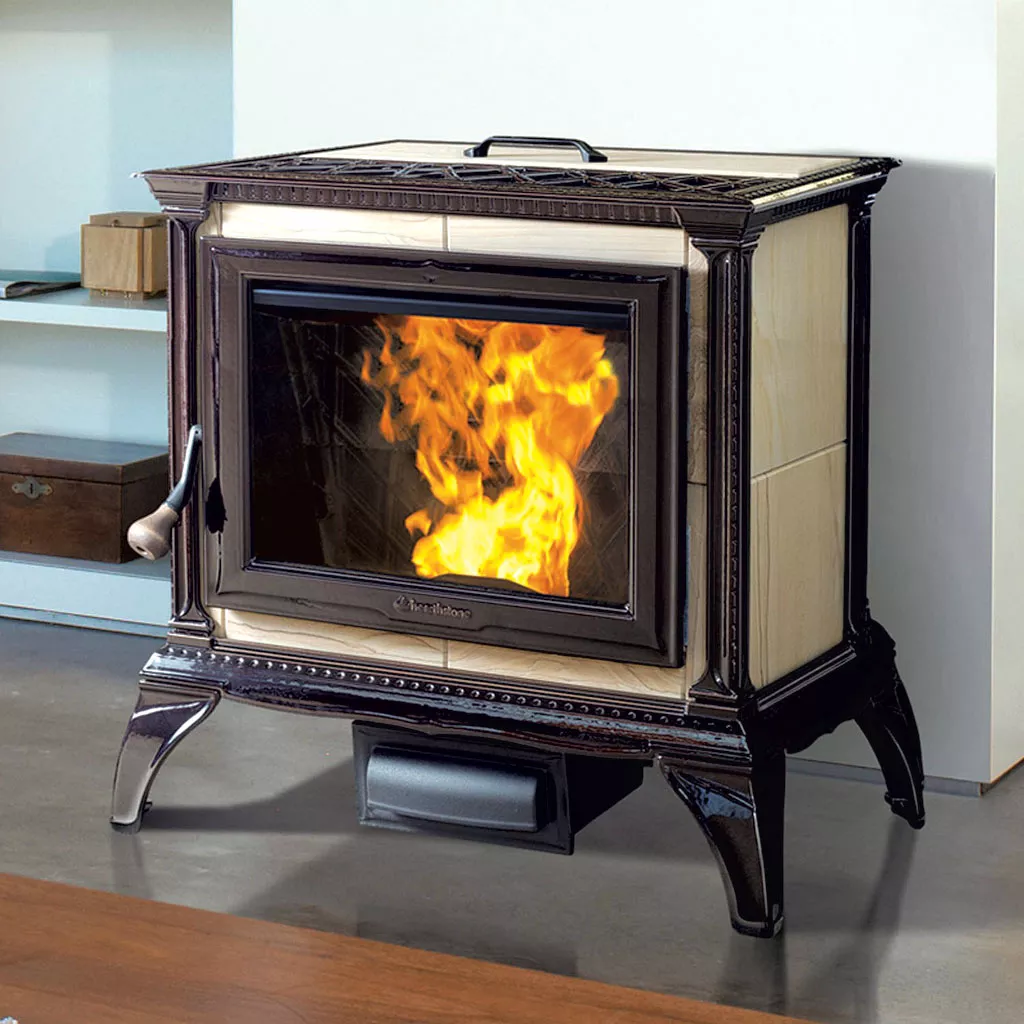 The Pros: Pure sawdust compressed into cylindrical pellets that look like rabbit food, these burn hot and clean. The units are thermostatically controlled, blowers circulate heat, and you don't have to have a traditional chimney. Eight years ago, Sherman put a pellet stove in his new home in Richmond, which had propane heat. He paid $2,800 for a Harman stove rated for 30,000 BTUs per hour, on which he now relies to provide 100 percent of the space heat for his 1,800-square-foot house. "We paid for that investment in less than 18 months," Sherman said.
Pellets are more efficient than cord wood — though the wood industry doesn't regulate efficiency, so particular manufacturers' claims can't be verified. Another plus: They're wood, and we grow wood in Vermont.
"We think about eating locally; people should also think about heating locally," Sherman suggested. He noted that forests comprise 78 percent of Vermont and are an important part of the state's working landscape. Yet, when it comes to fuel, Vermonters use 186 million gallons of heating oil each year, Sherman said. At $4 per gallon, that's $744 million leaving the state.
The Cons: Though credited with being cleaner than firewood, pellets are dusty, which can bother people prone to asthma, L'Esperance pointed out. Units rely on electricity and require the most consumer maintenance of the options: Owners must empty ash once or twice a week, ensure that air holes are clear, clean the burn pot two or three times weekly, and clean the heat exchanger monthly. Equipped with motherboards and multiple motors, these units have more parts to break. While the fire can be mesmerizing, it doesn't have lazy, wavy fireplace flames. "It's like a blowtorch," L'Esperance said.
Natural gas
The Pros: Clean, quick and economical, gas can be controlled by a thermostat or a remote and used without a traditional chimney or electricity — though you wouldn't have use of the blower in a blackout. Compared with cord wood and pellets, gas is the most efficient and emits the least particulate matter. It's ideal for people living in the Chittenden and Franklin county towns that are on natural gas lines, L'Esperance said.
"When you're doing gas, you're looking at a busy lifestyle where you can basically have a fire for 20 minutes while you're having your coffee in the morning." And you can have warmth without turning on your central heating system in early spring or late fall — the so-called "shoulder seasons."
The Cons: It's a fossil fuel sourced elsewhere. "The flames can leave much to be desired for some people," Miller said. Though manufacturers have improved the appearance over the years, critics still find that the flames look mechanical.
Cord wood
The Pros: Tradition! Ambience! Miller calls wood the biggest heater for the money. And, of course, it works without electricity. "In a pinch, you can burn just about anything if you need to," Miller said. L'Esperance sees wood as ideal for people who live on 10 acres and outside Burlington, have trees that need to be cleaned up and can substitute wood dollars for oil or propane dollars. And, he said, you get to cut and stack wood — invigorating labor in the great outdoors.
The Cons: You have to cut and stack wood. Wood needs to dry. It can be messy. You have to have a chimney. Creosote can build up, though stoves and inserts typically offer secondary burns to help prevent that. Of the three fuels, cord wood is the least efficient and emits the most particulates, Sherman noted.
But with new technology, both wood and pellet units have improved in both those areas. Look for the permanent metal EPA-certification label on the back of the stove.
The original print version of this article was headlined "Getting Warmer "