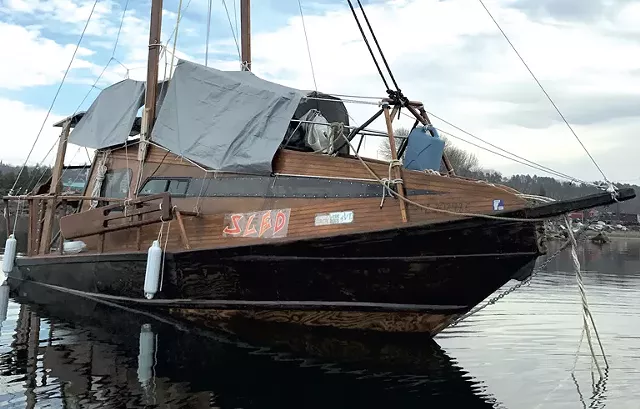 Courtesy of Burlington Parks, Recreation & Waterfront
Sled
If you've noticed a funky-looking boat moored in Burlington Harbor in recent months, you're not alone. The rust-colored vessel is draped in plastic tarps and sports the word Sled on its side, hand-lettered in red and gold paint. Frequent waterfront visitors report rarely seeing signs of life aboard.
The odd craft, anchored just south of Perkins Pier between the wastewater treatment plant and the breakwater, has attracted considerable public attention, especially since all the other sailboats and docks have been hauled out of the lake for the winter. Because the boat's stern sits so low in the water, the U.S. Coast Guard station in Burlington has received a slew of phone calls in recent weeks from citizens concerned that it's sinking. WTF?
When this reporter checked out the boat last week, a passing jogger said he'd seen the owner hauling foam boards into the cabin. Noting that the harbor often freezes over in winter, the runner remarked, "If he's not from around here, he has no idea what's coming."
Actually, the captain lives in Vermont, and he not only knows something about ice but is hoping for it. Turns out, Sled isn't just some cryptic moniker, like Rosebud or Monkey Business. It describes the ship's design and function — or so its builder hopes to demonstrate.
The three-ton, 26-foot sailing vessel is the handiwork of Steve Lobb, a 72-year-old retiree and former shipwright who's been sailing for more than 30 years. Though Lobb calls Montpelier home, it's probably more accurate to call it his home port. In recent decades, he says, he's spent more time at sea than on land, navigating waterways from the North Sea to the South Pacific.
Lobb says it took him six months to build Sled, his "retirement project." He conceived the idea five years ago after noticing a "radical change" in sailing conditions on the high seas, which he attributes to global warming.
As a response to the rapid disappearance of Arctic sea ice, Lobb designed and built Sled as a cross between a modern racing hull and a catamaran. On board is a five-ton winch that makes it possible for the vessel to be hauled out of the water, then dragged across the ice on its catamaran hulls like a sled and pulled by a dog team or snowmobile. Lobb built the craft from quarter-inch plywood, which he acknowledges is thin but essential for keeping it lightweight.
Lobb says the power winch also enables him to raise and lower the mast at sea. The craft is outfitted with a 60-horsepower outboard engine, which Lobb calls "extreme for a sailboat" but necessary for outrunning storms, especially in the North Atlantic. Ultimately, he hopes to sail to Greenland or Nunavut, in northernmost Canada, to see if Inuit fishermen are interested in employing him to build them similar watercrafts.
courtesy of Steve Lobb
Steve Lobb
Lobb claims some experience in navigating icy waters, such as the southern Tasman Sea between New Zealand and Australia. It was there, he says, that a gale generating 60-foot waves once blew him 1,000 miles off course. But Lobb confesses he's more comfortable in tropical waters and says Arctic sailing "would be a new experience for me."
"I'm a teenager at 72 who wants some excitement," he adds with a chuckle.
Lobb, who grew up in Orlando, Fla., dropped out of college at 27 when his soon-to-be first wife got pregnant, he says. Because she was Korean, Lobb decided to move their family to Hawaii, where, in the 1960s, interracial marriages were more accepted.
In Honolulu, Lobb learned to be a shipwright. He claims to have built dozens of boats over the years, including five from scratch. Lobb also raised six kids, all of whom were homeschooled at sea aboard a 52-foot catamaran that he built.
"It didn't make hobos out of them as it did me," he says. "They all found meaningful careers."
Evidently, Lobb is married to the sea. Like several of his boats, his two marriages ended on the rocks, and he's been single ever since.
As for his current nautical plans, Lobb admits it's "a little bit strange and a little bit unprecedented." Because he is retired and has only a modest income — working part time for ORCA Media in Montpelier as an intern videographer — he's doing this project on the cheap.
"But even if I had any money, I'm not sure I'd do it any different," Lobb notes, "because the lifetime of this boat could be very short."
That's a big worry for Burlington's maritime authorities.
"Our biggest concern with it is that there's fuel on board," says U.S. Coast Guard Petty Officer Second Class Matt Harris. "If the boat sinks, we'll have fuel everywhere." That said, Harris reports that the Coast Guard inspected Lobb's vessel last week and deemed it seaworthy, at least for now.
Erin Moreau, Burlington's waterfront manager, says that although it's legal for Lobb to be anchored where he is, she's concerned that drifting ice could demolish his vessel even if the harbor doesn't freeze over.
"It'll snap chains and twist wood," she says. "In the past, we've had damage to our docking system because of the ice, and that's a steel structure." If necessary, Moreau adds, the city harbormaster has the authority to remove the boat from the water.
Lobb says that, while he appreciates the community's curiosity and concern, he's prepared for whatever winter blows his way. He'll spend some of the winter sleeping on his craft with a propane space heater.
"I'm pretty foolhardy. I'm the cat with nine lives," the white-bearded seaman says with a smile. "I've been bashed and beaten, sunk and crashed, and knocked around a lot. But it's all part of the experiment. I'm testing myself as well as the boat."