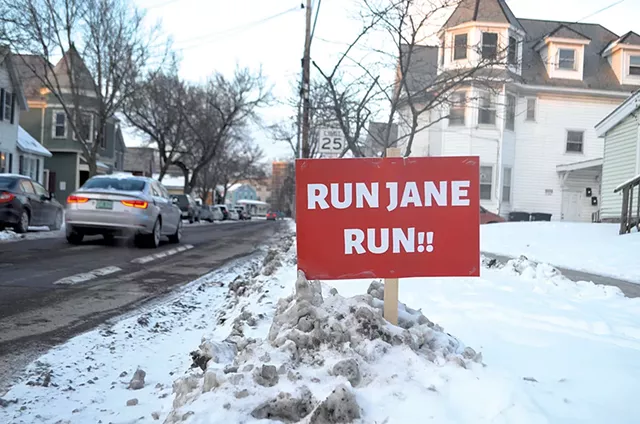 Katie Jickling
Signs like this popped up in the Old North End
Voters at the Progressive Party caucus had a clear choice, City Councilor Brian Pine (P-Ward 3) told the crowd during the January 6 event in Burlington's Old North End.
To endorse Central District incumbent City Councilor Jane Knodell was to support someone who understood the principles upon which the party was founded: pragmatism, moderation and a willingness to compromise to ensure progress — even incremental progress, said Pine.
His pitch fell flat. Instead, voters backed political neophyte Perri Freeman by a wide margin: 85 to 55.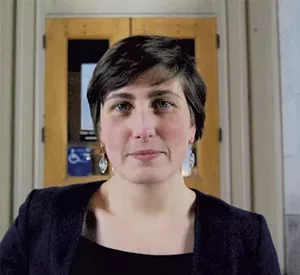 The 27-year-old Connecticut native was one of four first-time candidates — the oldest of whom is 30 — endorsed by Progressive voters at the Sustainability Academy that Sunday evening. The candidates include Jack Hanson, 24, in the East District; Mohamed Jafar, 22, in the South District; and Kienan Christianson, 30, in the North District. Only the Central District race was contested.
The young cohort claims it represents true Progressivism, espousing a commitment to grassroots organizing and tackling big problems such as climate change and affordability.
"We're getting back to the roots of being Progressive as economic and social and environmental justice," Freeman said in an interview, suggesting that Knodell's positions don't reflect the views of her constituents.
The casualty of said shift is the party matriarch: Knodell has served on the council for 20 of the past 26 years and received the Progressive endorsement in each of her 10 campaigns. She may yet decide to run as an independent, but some of the Progressive old guard is nonetheless mourning her defeat as the end of an era and a shift in focus for a party Knodell helped shape.
"The loss of someone like Jane is a personal loss but also a loss to the community," said former mayor Peter Clavelle, a Progressive who served in city government with Knodell in the 1990s. "It raises some interesting questions as to what is the future of the Progressive Party: Is there room in the Progressive Party for folks who want to govern to get things done rather than oppose things?"
Knodell became a core member of Burlington's nascent Progressive Party soon after moving to the city in 1986 to take a job teaching economics at the University of Vermont. She chaired a statewide coalition to help meet the banking and credit needs of low-income Vermonters and served on the organizing committee for both the city and the state party. She was first elected to the council in 1993 — two years after Freeman was born.
At the caucus, Knodell, who has a PhD from Stanford University, touted her work on affordable housing initiatives and her ability to secure money for neighborhood organizations. But in recent years, she's faced backlash from members of the party who say that she has strayed from Progressive ideals, prioritizing political expediency over transparency and supporting controversial development projects.
In 2016, Knodell, along with Pine and Clavelle, encouraged voters to pass two ballot items that would allow developer Don Sinex to construct his 14-story CityPlace Burlington. The measures passed citywide, but one failed in Wards 2 and 3, which comprise the Central District Knodell represents.
Last year, Knodell initially supported selling Burlington Telecom to the co-op Keep Burlington Telecom Local, but she later led negotiations with Republican City Councilor Kurt Wright to sell to Indiana-based Schurz Communications.
Progs at the caucus also criticized her for voting against a resolution to halt the arrival of the F-35 fighter jets at Burlington International Airport and her support for keeping a controversial downtown mural on display until 2022.
Her latest — and perhaps most egregious — transgression? She publicly backed Wright in his November bid for reelection to the Vermont House, a race he lost to a Democrat that Freeman helped elect.
That endorsement was a "point of frustration for a lot people," Freeman said, hypothesizing that it may have been the final straw for those who questioned Knodell's council priorities.
Knodell offered a simpler analysis of her defeat: "It's just who does a better job getting people to show up on a Sunday night to a Progressive caucus," she said, noting that turnout was relatively high. "Everyone who has always supported me has continued to support me."
That's not entirely true.
Former party chair Emma Mulvaney-Stanak, who campaigned for Knodell in 2013, offered a speech at the caucus nominating Freeman. Terry Bouricius, a former city councilor and state representative who helped found the party, now backs Freeman. So, too, does Max Tracy, a Progressive city councilor who represents Ward 2 in the Old North End.
The caucus-goers wanted "someone who's more consistently populist, leftist, than a more civic-minded administrator, as it were," Bouricius said, adding that Knodell is a "wonderful person."
Tracy said the problem is a perceived lack of transparency. "People feel like they're not being heard," he said.
But in an interview three days later, Knodell seemed rueful that constituents hadn't acknowledged her contributions. If she did run, her campaign slogan would be "Quietly getting stuff done for decades," she quipped.
Some newer party members, Knodell suggested, may have strong ideology but are "no longer thinking about what can actually get done."
Such a divide isn't new, but it appears to be growing. Knodell's husband, Ted Wimpey, left the party three years ago. He'd moved to Burlington in the 1980s because of then-mayor Bernie Sanders' progressive policies. But, in 2016, Wimpey declared on Facebook that the party's "effective anti-development stance" against the downtown mall project led him to "sever ties."
His wife stuck with the party, though it barely stuck with her. Knodell actually earned the Democratic endorsement — along with Progressive backing — during her 2017 council campaign. She went on to eke out an 81-vote victory over Genese Grill, who ran as a far-left independent. Grill was a member of the Coalition for a Livable City, a group that opposed the Sinex redevelopment.
Last year, it was Infinite Culcleasure who took on the establishment. He mounted a challenge to Mayor Miro Weinberger, offering voters an option to the left of Carina Driscoll, who ran as an independent but earned the Progressive endorsement. Both upstarts ultimately lost, but Culcleasure got 28 percent of the vote in the Old North End — Knodell's home district.
This year's slate of Progressive candidates seems cut from a similar ideological cloth. They emphasized their ability to relate to those they'd represent. Freeman, for example, is queer, she said at the caucus, "and never really fit in" while growing up in more conservative Madison, Conn. She's a renter, doesn't own a car and works multiple jobs.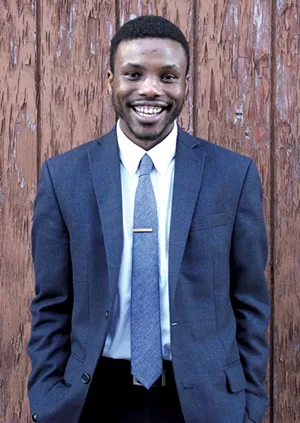 Jafar said his experience as a Somali refugee would allow him to engage the New American community in city politics. Christianson, who's gay, described how he came to Burlington because Vermont was part of the vanguard in legalizing same-sex marriage. Hanson, who worked for Sanders' 2016 presidential campaign, described himself as an organizer and a local jazz musician.
Knodell, meanwhile, may seem less relatable as a 64-year-old white woman gainfully employed as a tenured UVM economics professor, Pine suggested.
"The style and the rhetoric is enough to motivate a new crop of activists," he said.
National politics are also influencing local races. President Donald Trump's 2016 election prompted activists to get involved and fix what they saw as a broken, corrupt system, according to Hanson.
When nominating Freeman, Mulvaney-Stanak compared the candidate to U.S. Reps. Ayanna Pressley (D-Mass.) and Alexandria Ocasio-Cortez (D-N.Y.), both of whom ousted longtime left-leaning incumbents in 2018 as part of a "new wave of representative democracy."
Mulvaney-Stanak dismissed the theory that the new Queen City candidates represent a substantial shift in party ideology. Instead, "I think it's a real pushback against Miro and Miro-style Democrats," Mulvaney-Stanak said, referring to Weinberger, who was first elected mayor in 2012. "I've seen more and more factions of people organizing and feeling not heard in city hall."
Councilor Tracy gave Knodell's opponent personal credit: "A lot of it is Perri and her ability to turn people out," he said.
Indeed, Freeman prides herself on her skills as an organizer. Since she moved to Burlington in early 2017, she's canvassed for Vermont Public Interest Research Group, worked for Rights & Democracy advocating for paid family leave and a livable wage, and also worked as a home care provider.
She said she led the campaign to oust Wright and personally knocked on nearly 1,000 doors as part of that effort. And when it came time to bring people to the caucus, she made dozens of calls and reached out to various progressive organizations, including Rights & Democracy and the Democratic Socialists of America — of which she's a member.
Freeman joined the steering committee of the Wards 2 and 3 Neighborhood Planning Assembly and has started attending every city council and committee meeting she can fit into her schedule.
She's soft-spoken and listens intently, leveling a blue-eyed gaze on the speaker. During an interview, she vowed to invest in affordable housing initiatives, limit exemptions from the city's livable wage policy, communicate frequently with her constituents, and push to limit the city's dependence on fossil fuels in the heating and transportation sectors. She spent a recent Friday night researching innovative public transit policies in Spain and Iceland, she said, and has been reading a lot about decolonization.
Younger members of the party, including Freeman, have a greater sense of urgency about their work, said Martha Abbott, who served as chair of the Vermont Progressive Party for more than a decade. "I think they are wanting to move things forward more quickly and don't have necessarily — and this isn't a bad thing — the patience to wait for other things to catch up," Abbott said.
Knodell congratulated Freeman on her victory but made clear that the newbie may be hard-pressed to translate her ideological platform to policy on a tripartisan council.
Knodell recalled Freeman saying that she had been "showing up" to city and neighborhood meetings for months.
With a chuckle, Knodell remarked, "It's like, sister, you do not even know what 'showing up' looks like."
Knodell said she doesn't regret her votes on controversial issues such as the telecom sale, portraying the decision as a necessary compromise that will ultimately benefit Burlingtonians. "I come from the governing branch of the Progressive Party," she said in the measured alto of a seasoned lecturer. Although she's currently on a sabbatical, researching the currency that was used in 17th-century Massachusetts, Knodell spoke with Seven Days in her big corner office in UVM's Old Mill building. She was the university's interim dean of the College of Arts and Sciences for a year and, from 2010 to 2012, served as university provost and senior vice president.
As for her political accomplishments, Knodell highlighted some of the most unglamorous: permit reform, securing city funds for the Janet S. Munt Family Room, and her work on inclusionary zoning and Burlington's senior centers.
None of those contributions were mentioned in the email that Progs sent after her defeat. Their official report did not acknowledge Knodell or her long tenure.
The party does plan to thank Knodell for her service, according to Josh Wronski, executive director of the Vermont Progressive Party. But "it's a little awkward" when she may challenge the nominee. Wronski said he hoped Knodell would agree to stay out of the race and instead mentor Freeman.
Knodell said she would make a decision by the end of the week. If she decides against an independent run, she said, she's got plenty of other things to do: getting her Charles Street home in order, traveling more, maybe taking voice lessons.
Others have different plans for her. A grassroots committee calling itself "Draft Jane" is circulating a list of prominent Burlingtonians who support Knodell. They've started installing "Run Jane Run!!" signs around the Old North End.