Last September, Jon Thornton, chief operator of the Bradford Village Water System, gathered tap water from 10 customers for testing. For the first time in two decades, the samples turned up slightly elevated quantities of lead.
The lab that did the analysis sent its results to Thornton and to the Department of Environmental Conservation, which monitors water quality in Vermont. Four months later, state officials notified Thornton that the samples he took from three of the 10 homes exceeded the allowable level for lead, which is 15 parts per billion. It would be another month before the system's 563 customers received a snail-mail letter letting them know.
That February 29 letter, jointly drafted by the state and Thornton, noted lead's potential ill effects; ingesting the metal can cause brain or kidney damage and affect brain development in youngsters. It also listed steps customers could take to reduce their exposure.
Lead poisoning has been in the news — and in the campaign speeches of both Democratic presidential candidates — since it became a full-blown public-health crisis in Flint, Michigan. Doctors there began finding high lead levels in children 18 months after the city switched its water supply. The new source — the Flint River — was so corrosive that it leached the lead from the old pipes through which it flowed.
Could something similar happen in Vermont?
Bradford's elevated readings represent a miniscule deviation from the allowable level — one or two parts per billion. That's much less than the lead levels in Flint, which ranged from 27 parts per billion to a high of 13,000 parts per billion in one home. Nonetheless, the fact that Bradford residents experienced a five-month delay between testing and notification does raise questions about how long it would take to detect such a problem in Vermont.
Moreover, new threats are emerging: Private wells in North Bennington have recently been found to be contaminated with a chemical that water system operators don't typically test for — residents have been warned against drinking the well water there.
Nearly three in 10 Vermonters rely on private wells, which often don't get tested, period.
So far, "No one has panicked" in Bradford, Thornton said of the four residents who phoned after they got the warning letter. One complained about how long it took to find out there was too much lead in the water.
"I'm not taking it lightly," Thornton said.
The state expects system operators such as Thornton to arrange lab tests on the water they manage and to submit the results to the state for review. They're also supposed to flag any problems, said Environmental Conservation Commissioner Alyssa Schuren.
"In the Bradford case, that didn't happen," she said.
Thornton said he spotted the elevated lead levels and spoke directly with the property owner whose tap water had the highest reading. He contacted the others after the state confirmed the deviations on January 27. "The levels were so close I didn't even know if there was an issue," he said.
The state receives a flood of sampling reports in September and first reviews those from sensitive locations, such as schools, Schuren said. Still, she said the state's slow response on Bradford was unacceptable. "Our goal is a 15-day turnaround," she said, noting that her department is working with the federal Environmental Protection Agency on software changes to speed up review of monitoring reports.
Melissa Gordon, a Bradford water customer, said she welcomed the lead letter. "At least our water gets tested," she said. Gordon, her husband and their three children live in an old home they suspect has lead pipes, she said. As a precaution, they always run the taps for a few minutes before drawing drinking water from them.
Bradford's is one of 419 public water systems that serve 72 percent of Vermont's population. Public systems must regularly test for 90 contaminants including lead, copper, arsenic, radioactive elements and bacteria — and report the results to the DEC on a strict schedule.
Other public establishments, such as restaurants, have to do the same.
The DEC, in turn, alerts water systems and public establishments when it notices elevated contaminants. Each July, the state publishes a report that documents instances of contaminants in drinking water and errors in reporting results. In 2015, there were 317 violations of the standard for coliform bacteria, which many businesses, as well as drinking water systems, must test for monthly.
The state also keeps tabs on compliance with testing rules and schedules. Last year, the department tallied hundreds of monitoring violations — meaning that tests either weren't done or were performed late or improperly, or that required notices and reports weren't issued. The state can take legal action to force compliance. It started that process only 17 times in 2014.
The sheer number of reporting violations worries James Ehlers, executive director of Lake Champlain International, a nonprofit organization promoting water quality reforms. "I think people should be very skeptical," he said. "Absence of evidence isn't evidence of absence."
Ehlers also said that he was shocked to see repeated reports of arsenic and uranium in water systems. For example, he noted that the Beebe Plain Water System, serving 142 customers in a village of Derby, had excessive arsenic levels for at least five years.
A recent study by Dartmouth College researchers suggested that low levels of arsenic consumed in drinking water could affect fetal growth. "How, after one year, is that well still in operation?" Ehlers asked. "Why should the public have any confidence in this system?"
The Derby arsenic problem was resolved last year, according to Ben Montross, compliance and support service chief in the state's drinking water division. The arsenic came from a well located in Canada, Montross said. The water system has since disconnected from the well. "They have come back into compliance. That is a success," Montross said. "They are off our list now."
The state's annual report on drinking-water violations notes that many small water systems struggle to meet monitoring mandates. They don't have enough customers to absorb the costs of the tests. But water is a necessity, Ehlers said. If some Vermonters can't be sure about the purity of what flows from their taps, then he suggested the regulatory system needs an urgent overhaul.
Deb Markowitz, secretary of the Agency of Natural Resources, defended the state's oversight. While small systems may get paperwork violations, she said, "We rarely have actual violations that impact the quality of the water."
One such water crisis is unfolding, however. Three weeks ago, Gov. Peter Shumlin announced that a chemical contaminant and potential carcinogen had been detected in five private wells in North Bennington. The chemical — perfluorooctanoic acid, or PFOA — had been used in Chemfab, a manufacturing plant in town that closed in 2002. Its owner, Paris-based Saint-Gobain Performance Plastics, operates a similar plant in nearby Hoosick Falls, N.Y., where dangerous levels of PFOA have been found in the municipal water supply.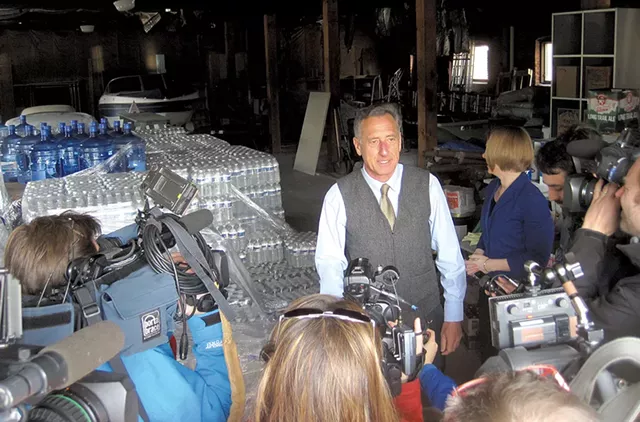 Nancy Remsen
Gov. Peter Shumlin talking to reporters about the water crisis in North Bennington
A regular citizen, Michael Hickey, discovered the contamination after doing research on the kidney cancer that killed his father, who worked for years at the Hoosick Falls plant. A simple internet search lead him to PFOA, a chemical used in the manufacture of Teflon-like plastic products there.
When the mayor refused to let Hickey test water from the system's wells, he used his own money to test samples from two businesses and his own home. Results from his tap showed PFOA levels at 540 parts per trillion — higher than the provisional federal standard of 400. Vermont set its upper limit for PFOA at 20 parts per trillion.
PFOA is an emerging chemical of concern, but it's not a substance that water systems currently test for. Nonetheless,the EPA spot-checked for PFOA in 10 water systems in Vermont, including Burlington, South Burlington, Barre, Brattleboro and Bennington.
"They didn't find any," Schuren said.
But publicity about the PFOA contamination in Hoosick Falls led a Vermont resident to email Sen. Dick Sears (D-Bennington) and Sen. Brian Campion (D-Bennington) with worries about potential contamination in North Bennington from Saint-Gobain's former plant. The lawmakers contacted the DEC, which investigated.
The public system in North Bennington tested clean, but some private wells didn't.
Hours after five turned up high levels of PFOA, Gov. Peter Shumlin sprang into action, hosting community meetings, ordering expanded water sampling and providing free bottled water for households awaiting test results. No doubt he was trying to avoid the missteps of Michigan Gov. Rick Snyder, whose sluggish response to the Flint crisis has led to calls for his resignation.
In Vermont, the DEC quickly collected water from 185 wells within a 1.5-mile radius of the closed plant. So far, test results showed 52 of 67 samples had PFOA levels above Vermont's limit, ranging from 38 to 2,730 parts per trillion. State officials have gone door-to-door to discuss results with affected homeowners and scheduled a community meeting at 6 p.m. Wednesday at Bennington College's Tishman Lecture Hall.
Sandy Sumner lives about 400 yards uphill from the former plant. His well was one of first to test positive for PFOA.
The state immediately provided Sumner with a water cooler as a temporary source of drinking water. "It's in the way, so it is a reminder of your situation," he said. State officials are talking about extending town water lines up the hill to Sumner's neighborhood. "It is not going to be a cheap fix," he said, noting that the water would have to be pumped uphill.
Sumner praised the Shumlin administration's response. "They have been remarkable," he said. "There isn't anything I can complain about. I am so proud to be a Vermonter."
State officials have met with representatives of Saint-Gobain. The state expects the company to cover the costs associated with the contamination — from bottled water to potential expansion of the municipal water system.
The state also has begun to gather information about other locations where PFOA has been used.
The Department of Health is fielding calls about the PFOA's health risks, said Sarah Vose, state toxicologist. The health department sent staff to community meetings in North Bennington, called affected property owners and posted a lengthy Q&A about PFOA on its website.
For more routine inquiries, the health department guides callers to the reports that each public water system must issue annually. For those with private wells, the staff urges regular testing; most homeowners have no idea what is in their well water, Vose said. She recommends testing for bacteria annually and for other contaminants every five years. The department has just received a $134,000 grant from the Centers for Disease Control and Prevention to promote testing of private wells.
The department has test kits available, Vose said. The one for lead costs $12; uranium, $45. A kit that tests for 11 contaminants including lead runs $100. The price includes lab analysis.
Back in Bradford, Thornton is still tracking down the source of what could be a serious water problem. Tests showed the lead isn't coming from the village wells. More home and business samples are being analyzed. And Thornton is creating an inventory of lead service lines into homes and businesses while awaiting test results to see if the system's water chemistry has become more corrosive to pipes.
Instead of testing for lead in the water every three years, Thornton is now required to do it every six months — DEC orders. He said he hopes to have new information for customers by late spring, with this caveat: "We may never know what caused it."