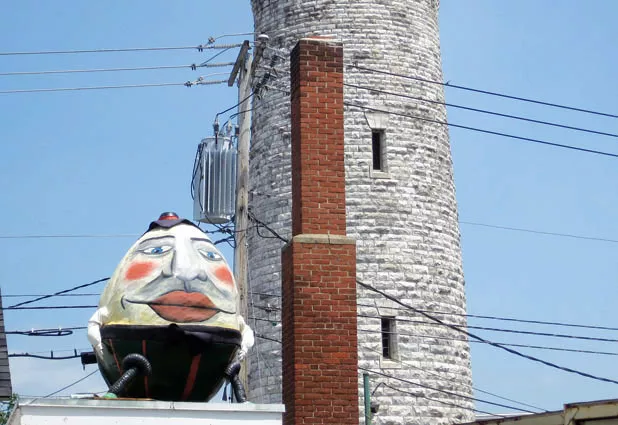 Anyone want to adopt a gigantic Humpty Dumpty? Dude's roly-poly fun, even if he is a bit fragile.
We're talking about the Humpty Dumpty sitting on a roof at the eastern edge of Fort Ethan Allen, right before the intersection with Susie Wilson Road. If you've noticed the nursery rhyme character's Colchester gig, you're probably thinking, "WTF?"
That is indeed the reaction of some customers of New Horizons, the embroidery and screen-printing shop atop which the papier-mâché-and-foam Humpty squats. Anthony Neari, the store's owner, says customers' confusion arises in part from the unclear connection between the eggman and embroidery.
There isn't any, Neari tells them. Humpty Dumpty is perched there solely because the building's owner, William Parkinson, agreed to host the installation. And he and Neari are both big fans of this particular guerrilla artwork. "I think it's pretty fantastic," Parkinson enthuses.
"It sure does inspire conversation," Neari adds, "which is just what the artist wanted."
Humpty's creator is Ann Laberge, a zesty 66-year-old who lives in a nearby condo. Her aim, she says, is simply to delight passersby. "I just want to give people a moment," Laberge says, and explains that she worked for 10 years as a nurse for dementia patients, "who only get a moment" of lucidity at a time. With Humpty Dumpty, she likewise seeks to engender "moments out of the ordinary — moments of surprise, of little pleasures."
Vermont's version of Banksy achieved the same results with two earlier public displays of wit and whimsy.
A couple of years ago, Laberge erected a 430-foot-long cable clothesline 50 feet above a section of the Fort Ethan Allen green across Dalton Avenue from her home. She draped it with XXXL garments that might have been made by the Jolly Green Giant's tailor, except they were actually Laberge's work — over the course of many months, she notes.
Laberge, who studied industrial design at the Massachusetts College of Art, has also painted actual grapevines yellow and suspended them from a high window in the stone water tower close to where Humpty currently sits. Yes, they're meant to be Rapunzel's braids.
Why the predilection for children's tales? The Bridport-born artist says she just delights in entertaining little kids. In response to Rapunzel, "Their faces just lit up," she says. "I love it when that happens."
Laberge may be a guerrilla artist, but she doesn't act on impulse. She's been planning to make Humpty ever since her collaborator, Lucy Stein, was 10 years old. Lucy, who painted the egg's face, graduates from Colchester High School next week.
"That's kind of a dark Humpty Dumpty," Neari observes. "His face reminds me of the monster in Little Shop of Horrors."
Lucy, whose parents are friends of Laberge's, agrees that her Humpty does have a "semi-sinister" expression. "I wanted to make him look animated," the young artist explains, "but the smile lines had to have shadows, and that's what gives him that look."
Humpty measures 15 feet in circumference. It wasn't easy hoisting him into place by hand from the back of a delivery truck, Neari notes.
Although he's been coated with varnish, Humpty won't be able to withstand a protracted stay on the roof, Laberge says. She figures he'll have to come down at the end of this month — not in a great fall, Laberge hopes, but the same way he got up there.
Hence the need for adoption. "I am willing to give Humpty Dumpty to a good home," Laberge reveals.
Humpty's current station embodies an almost uncanny coincidence.
No one knows the exact origin of the centuries-old tale of an egghead named Humpty Dumpty who fell from a height, splattered on the ground and could not be made whole by all the king's horses and all the king's men. One popular theory, cited by Laberge, holds that Humpty Dumpty was the nickname of a cannon used by royalist troops during England's 17th-century civil war. As they fired it from the tower of a church, the attacking troops of Oliver Cromwell, known as "Roundheads", fired back and sent the cannon crashing down from the tower. The royalists were unable to reassemble it, the story goes.
Where did this battle take place? In a town 50 miles northeast of London. That town's name?
Colchester, of course.
Outraged, or merely curious, about something? Send your burning question to wtf@sevendaysvt.com.